"This post contains affiliate links, and I will be compensated if you make a purchase after clicking on my links."
If you thought Keto enchiladas were just a fantasy, think again! Thanks to a couple shortcut ingredients, you can whip a tasty batch of this Mexican favorite in no time at all!
Growing up, we didn't have enchiladas very often, but I really wish we did! It was always at the top of my list for birthday meals, right alongside lasagna.
In most traditional enchilada recipes, the delicious filling is stuffed inside corn tortillas. My recipe is a little different and uses an ingredient that may seem a little strange.
Keep reading, you're going to love this!
You're using what instead of a tortilla?
Instead of a tortilla, sliced chicken deli meat is the star of the show for this low carb meal.
Chicken is not a deli meat I buy regularly. To me, it tends to smell a little funky and can sometimes come off as slimy.
When combined with the yummy flavors of the sauce however, it's completely hidden. You will have a hard time believing that it was even an ingredient in this dish!
It's the perfect vehicle for holding all of your favorite low carb toppings. They're also practically carb-free, which is super helpful too.
What is in Keto Enchiladas?
This recipe is so easy and requires just a handful of ingredients you may already have on hand:
ground beef
chicken deli meat
enchilada sauce
monterey jack cheese
diced green chiles
onion and garlic powder
salt and pepper
Applegate Farms
While you can use any brand of deli meat you like, I like to use Applegate Farms.
I find that this brand is available almost everywhere around me and applaud them for raising animals in humane ways.
These lunch meat packages come in 7 oz servings, which is perfect for this recipe. I keep them unopened in my refrigerator until I'm ready to whip up some of my enchiladas.
Finally, the ingredients list is super clean! Any time I can cut back on added ingredients, I do.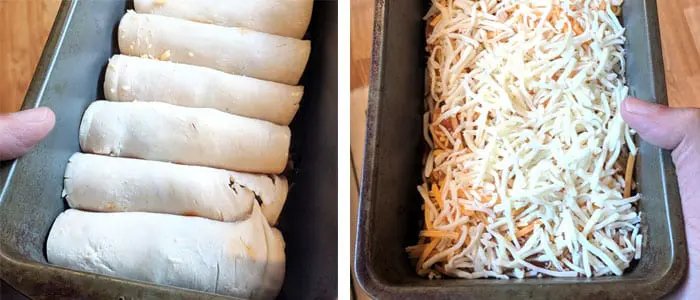 Substitutes for tortillas
If you would rather go a different route, there are plenty of other options as a tortilla substitute.
lunch meat - Try a different meat like ham or turkey.
low carb tortilla - I can usually find the Mission brand at my grocery store.
cheese shells - Undercook some of my Crispy Cheddar Crisps and wrap them around your mixture for a zero carb option.
cabbage - Boil a whole head of cabbage for a few minutes in salted water before wrapping.
zucchini - Darlene has an excellent enchilada recipe with zucchini over at Kind Keto Mama.
When creating low carb recipes, it's important to think outside the box for meals that traditionally use grains.
Using chicken deli meat in place of a tortilla in this recipe is probably my favorite swaps of all time.
Stuffing the enchiladas
The amount of mixture needed to fill the enchiladas will depend on the size of your deli meat. Longer slices (though more delicate) will likely hold more filling.
If at any time your deli meat falls apart, just try to form it together as best as possible.
Any excess meat and remaining cheese will be sprinkled over top of the dish before baking.
This will help keep all of the ingredients together and you probably won't even see any imperfections!
If you're short on time, just layer all ingredients into the dish like a lasgana and bake. Preparing your enchiladas like a lasagna doesn't give the same aesthetic, but I promise it tastes just as good!
Are green chilis spicy?
Green chilis are considered more of a medium heat level compared to other types of peppers, like jalapenos.
For those of us that cannot handle heat, sauteed bell pepper can be a great substitute.
Filling
Like a lot of my other recipes, there are plenty of variations you can try to suit your personal tastes.
Instead of beef, I sometimes use shredded chicken breast or chicken thighs in the filling mixture.
As a shortcut, rotisserie chicken also works well.
For a delicious brunch with friends, try stuffing your enchiladas with a chorizo and scrambled egg mixture.
Serving
I love to serve my enchiladas with a big dollop of sour cream and a sprinkling of cilantro before eating.
Sometimes I will reserve about ¼ cup of cheese and let it melt over top after baking.
Add some shredded lettuce, diced tomato or guacamole for more layers of texture and flavor.
Make it a complete meal and serve over cauliflower rice or buttered broccoli.
Are enchiladas good for meal prep?
Keto Enchiladas are great for meal prep and make awesome leftovers (if there are any!).
Store your leftovers in an airtight container and pop them in the fridge for up to 5 days.
If you would rather freeze your enchiladas, try to eat them within 1-2 months.
Reheating the leftovers
From the refrigerator, cover you enchiladas with a moist paper towel and microwave until warmed through.
For frozen, defrost the enchiladas overnight and prepare using the above instructions.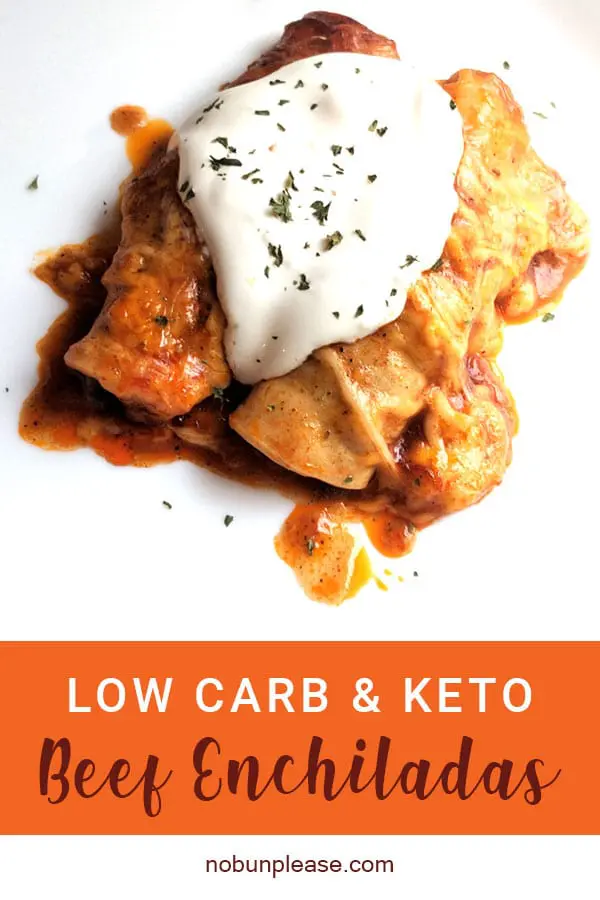 Macros for Enchiladas
For the ingredients I used, the macros come out to:
370 calories
16g fat
6g total carbs
1g fiber
26g protein
That makes this low carb dinner only 5g net carbs per serving.
This recipe is also grain and gluten free, making it a great option for those of us with celiac disease.
Keto Chicken Enchilada Tips
The chicken deli meat can be a little delicate, so be careful when filling and rolling. Even if it tears a little bit, you can just piece it back together.
While my recipe calls for red enchilada sauce, experiment with other varieties.
If you find your enchiladas to be dry, try adding some chicken broth to the sauce before baking.
The carb count for enchilada sauces do vary by company, so always check the labels. I find that most are 2g-3g carbs per serving.
Nutritional information will vary slightly, depending on the enchilada sauce and chicken used.
Real Good Foods enchiladas
If convenience is more your thing, I really enjoy the low carb enchiladas offered by Real Good Foods.
They also use chicken in place of a tortilla and their products are becoming more widely available in grocery stores.
Real Good Foods also offers plenty of other products like chicken-based pizzas, low carb breakfast sandwiches and even ice cream!
If you see these products in the freezer section of your grocery store, definitely give them a try.
Keto Recipes you may be interested in
Looking for something a little different? These recipes are tried and true and are sure to be a hit in your kitchen!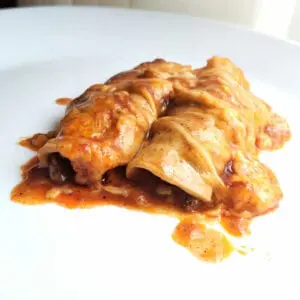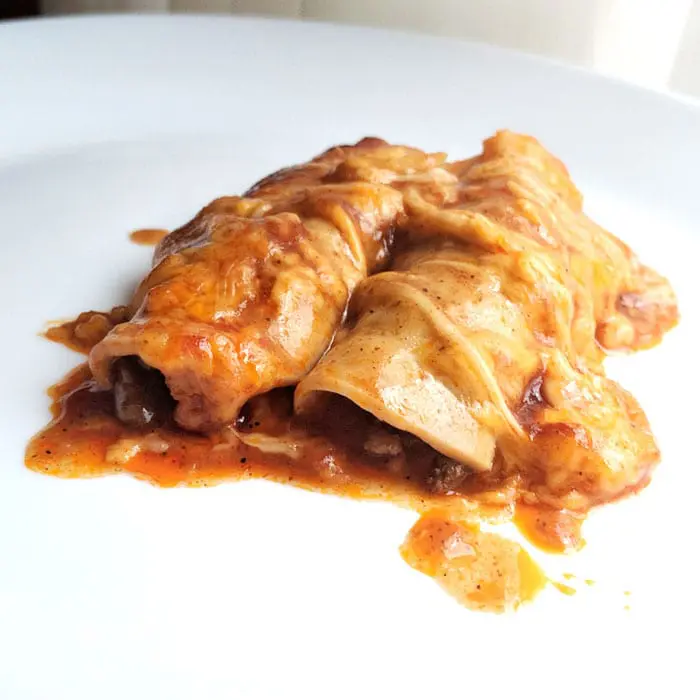 Keto Enchiladas Recipe
You can't go wrong with a batch of my Keto Enchiladas -- one bite and you're hooked!
Instructions
Preheat your oven to 375º F.

Begin by preheating a skillet to medium-high heat. Add in ground beef and begin to brown the meat.

While meat is cooking, add in green chiles, salt, pepper, garlic powder and onion powder. Stir to combine.

Once the meat is cooked through, put the skillet on the back burner and let cool.

While the beef mixture is cooling, spoon about ¼ of your enchilada sauce on the bottom of a loaf pan. This will help prevent sticking.

Lay out each individual slice of chicken in preparation for filling.

Spoon the beef mixture onto each slice of chicken and roll like a cigar. Place each roll seam-side down in the loaf pan. The amount of filling will vary depending on the size of your deli meat.

Do this for all slices until you have a full loaf pan. Add any excess meat mixture directly on top of the rolled enchiladas.

Cover the entire dish with the remainder of the enchilada sauce. Then add the cheese on top.

Pop into the preheated oven for about 15 minutes or until the cheese is done to your preference.
Nutrition
Calories:
370
kcal
Carbohydrates:
6
g
Protein:
26
g
Fat:
16
g
Fiber:
1
g
Tried this recipe?
Tag @nobunplease or #nobunplease on Instagram!
Get started on your Keto journey today!
Here are a few resources that can help you get started today:
Do you enjoy eating Mexican food as much as I do?