"This post contains affiliate links, and I will be compensated if you make a purchase after clicking on my links."
My extra Fudgy Keto Brownies are the ultimate indulgence on a low carb lifestyle.
This classic chocolate dessert is super rich, perfectly sweetened and delightfully dense — just the way I like it!
The process for my Keto brownie recipe takes a little longer than most others, but it's well worth it in the final product.
Ingredients in Keto Brownies
This Keto Brownie Recipe calls for:
unsalted butter
cocoa powder
espresso powder
sugar free chocolate chips
powdered sweetener (I used allulose)
eggs
vanilla extract
oat fiber
almond flour
lupin flour
sea salt
Aside from being Keto-friendly, this recipe is also gluten-free.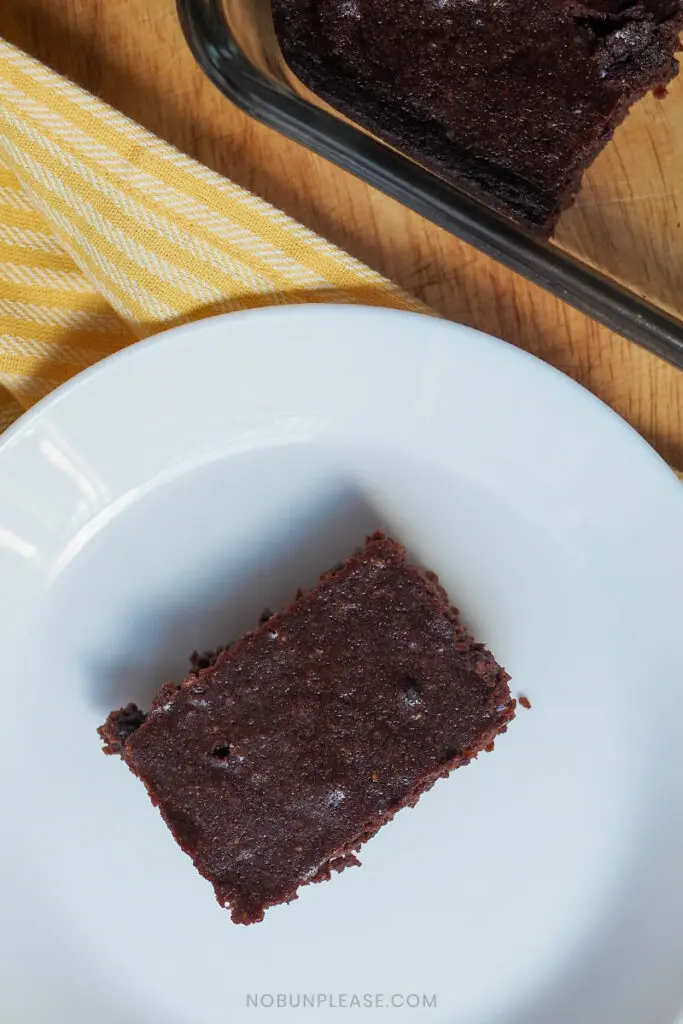 Brown the butter
As the name suggests, a big part of this brownie recipe involves brown butter.
When we heat butter over low heat for about 10 minutes or so, the fat develops an amber color and releases a nutty scent that is purely intoxicating!
When you taste these brownies, you'll be blown away. The result is a deep buttery flavor, almost like caramel.
Browning the butter also adds to the texture of the brownie, giving it a nice chew and bite.
What is lupin flour?
Lupin flour is a fine powder made from pulverized lupin beans.
Lupin beans are considered a low carb legume due to their high fiber content.
Raw lupin flour often has a bitter taste before it is cooked. To me, it has the mouthfeel of an under ripe banana.
After baking, the bitter flavor neutralizes and takes on the other flavors of the recipe.
Oat fiber
Oat fiber is an ingredient that has made an appearance in a few of my recipes, such as my Sausage Stuffing Balls.
I really like using it when I'm trying to mimic textures created by traditional wheat flour.
It's a great dry ingredient for adding structure and a nice crumb to your baked goods, and in some instances, can even impart a bread-like flavor.
If you don't have access to oat fiber, a small amount of coconut flour will produce similar results.
Sugar free chocolate chips
When I first started out on Keto, there were not a lot of sugar free chocolate chip options available.
Times certainly have changed! Now there are a handful of brands available online and even at our local grocery stores.
For this recipe, I used the milk chocolate chips from Lily's. This brand is available at many retailers online, but I've had luck picking it up locally at Walmart and Whole Foods too.
Aside from Lily's, the ChocZero chocolate chips (Save 10% with nobunplease) are another great option. They're available in a few different flavors like milk, dark and white chocolate.
Want to try making your own chocolate chips? Carolyn over at All Day I Dream About Food has a great recipe for homemade chocolate chips you could try!
Which brand of cocoa powder is the best?
In order to have a really great batch of brownies, you need to start with a good quality cocoa powder.
The quality is important for the flavor of the brownies. Quality cocoa also tends to be lower in carbs, which is a win-win.
For this recipe, I highly recommend using Ghiradelli unsweetened cocoa. This is one of my kitchen staples and it never lets me down.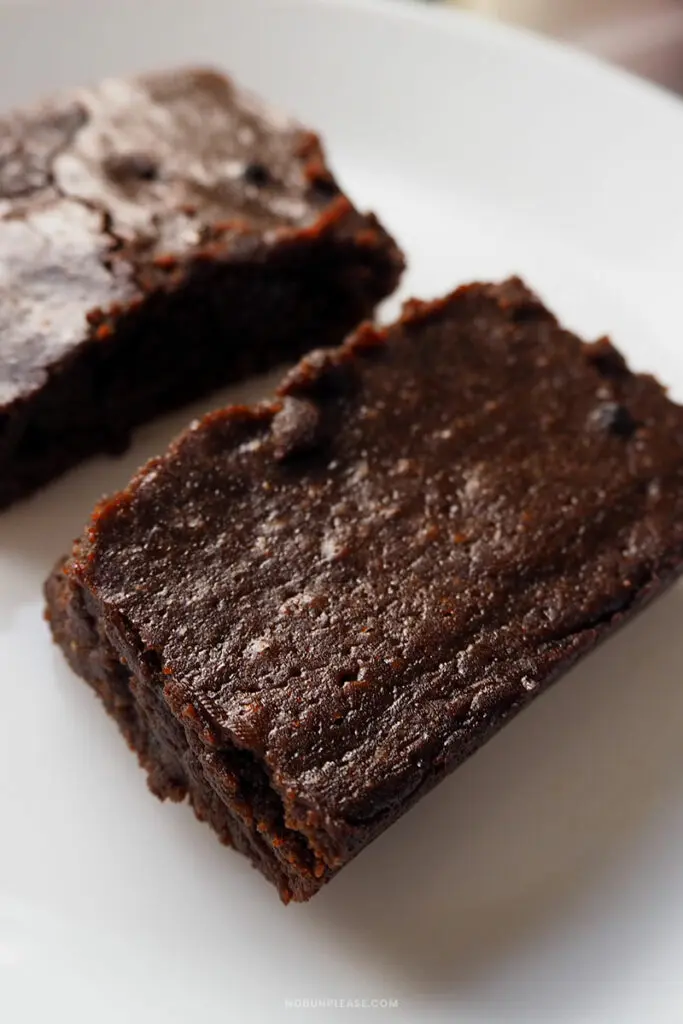 Should I add espresso powder if I don't like coffee?
Even if you are not a fan of coffee or espresso, I still recommend adding it to the batter.
In the end, this dessert will not have a strong taste of espresso. Instead, espresso brings out the natural sweetness of the cocoa and really intensifies the flavors.
If you absolutely must, you can leave the espresso out. But just know that it does make a difference.
Sweeteners
Now that the Keto diet is in the mainstream, there are tons of sugar-free sweeteners available for our kitchen creations.
For this recipe, I highly recommend using allulose — a rare sugar that is found naturally in various fruits like figs and raisins.
While allulose tastes a lot like regular table sugar, it has a glycemic index of zero and does not raise blood sugar. This makes it perfect for a Keto diet.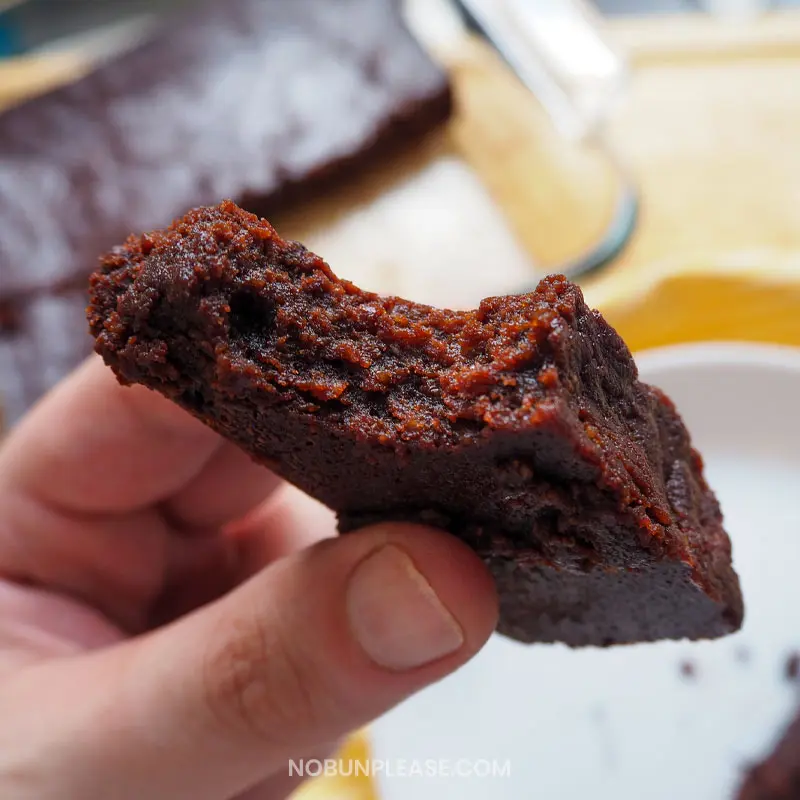 Best baking pan for Keto brownies
For this brownie recipe, I highly recommend using a 8x8 pan with parchment paper. This will prevent the brownies from sticking and will make removal extremely easy.
If you're having trouble forming your parchment paper to the dish, try crumbling it up. It should be much more pliable and form exactly how you lay it.
When you forget to pick up more parchment paper from the grocery store (which I tend to do), a glass dish can also be used. Just be sure to spray your cookware very well with cooking spray (I use coconut oil) when preheating your oven.
Before you taste that raw brownie batter...
If you're like me, you'll probably be tempted to taste the raw brownie batter. I would not recommend this, however.
The batter contains raw eggs which is not recommended for human consumption.
As mentioned earlier, it's also likely that the batter will taste bitter due to the lupin flower.
Do not judge the flavor of the batter before it is cooked through. The final product is a million times better after it has been baked and cooled completely.
Store bought Keto brownie mixes
If you'd rather keep things simple and use a pre-packaged baking mix, there are a few options that I really enjoy. These can be whipped up in less than 20 minutes and into the oven they go!
I'm a big fan of Good Dee's Baking mixes (save 15% with nobunpls) and their brownies are always great to keep in my pantry. The blondies and yellow snack cake mixes are also pretty fantastic, too!
I've also had brownie mixes from Pyure and Kawaii Treats and Eats and thoroughly enjoyed them as well.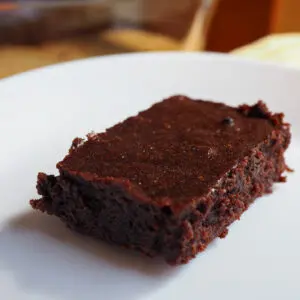 Fudgy Keto Brownies with Brown Butter
Fudgy Keto Brownies are the best low carb dessert you've ever had the pleasure of putting into your mouth!
Equipment
8x8 baking dish

parchment paper
Instructions
Preheat the over to 350° F. Line an 8 inch pan with parchment paper. If you don't have parchment paper, make sure you grease your pan very well.

In a bowl, mix together the allulose, sea salt, baking powder, and espresso. Set aside.

Put the butter in a pan over low to medium heat. You will want to brown the butter, which takes around 10 minutes. Stir frequently until the liquid has a golden brown color and the milk solids are red/brown hue.

While the butter browns, melt chocolate chips in microwave by setting the timer for 1 minute and stirring every 15 seconds. If your chips still aren't melted, add an additional 10 seconds until they are melted. Set aside.

Once your butter is browned, immediately pour it into the bowl you set to the side with allulose, sea salt, baking powder, and espresso. Mix by hand until combined. Let the mix cool for 5 minutes.

In a separate bowl, combine oat fiber, lupin flour, cocoa powder and almond flour. Set aside.

Whisk your eggs into the batter one at a time, making sure they are well combined. The mix will be very thick and shiny. You will then add your vanilla extract, melted chocolate, and mixture of dry ingredients. Beat together continuously for about 2 minutes.

Pour the mix into a parchment-lined 8" inch baking dish and place into the oven on the middle rack. Allow brownies to cook for around 30 minutes at 350° F. Time may need to be adjusted depending on your oven and your location. Check to see if the brownies are done by putting a toothpick through the middle of the bake. The toothpick should come out mostly clean. Once the brownies are done, take them out of the oven and let them cool in the pan for an hour or two.

Once the brownies are completely cool, lift them out by the edges of the parchment paper and transfer them to a cutting board. Use a knife to cut the brownies into 16 squares (4X4).
Nutrition
Calories:
105
kcal
Carbohydrates:
6
g
Protein:
3
g
Fat:
10
g
Saturated Fat:
5
g
Fiber:
4
g
Tried this recipe?
Tag @nobunplease or #nobunplease on Instagram!
What's your favorite low carb dessert?