"This post contains affiliate links, and I will be compensated if you make a purchase after clicking on my links."
One snack that I loved before I embarked on my Keto diet was Cheez-Its. I adored the cheesy flavor, the crunchiness, and the delicious browned edges. It wasn't uncommon for me to polish of an entire box of them in one sitting, either.
Now when I buck heads with my Cheez-It craving, I just whip up a batch of my Crispy Cheddar Crisps. This is just a fancier name for Keto cheese crisps, but I promise you won't be disappointed. They are completely satisfying, super easy to make and very low carb. In fact, I may even like them better than the real thing!
How can I use the Crispy Cheddar Crisps?
This recipe is extremely versatile and can be used for many different purposes including:
a vehicle to scoop up your favorite Keto-friendly dips and salsas
as a mock "tortilla" shell for tacos
adding a wonderful crunch to your soup or salad
a garnish for your dishes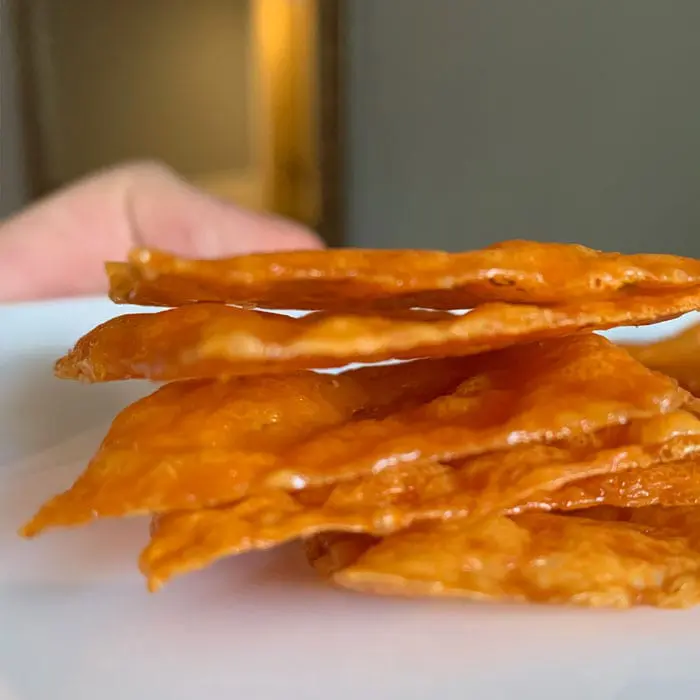 Cheese Chips Variations
Something unique about this low carb recipe is that you can use different styles of cheese to create slight variations.
For a flat, square crisp, I highly recommend using ultra thin slices of deli cheese. Regular slices will also work (and may take a little longer), but the crunch on the thinner slices is fantastic. You can even poke a hole in the center using a straw to complete the Cheez-It fantasy.
For a round, lacy crisp, use shredded cheese and just place them into small piles.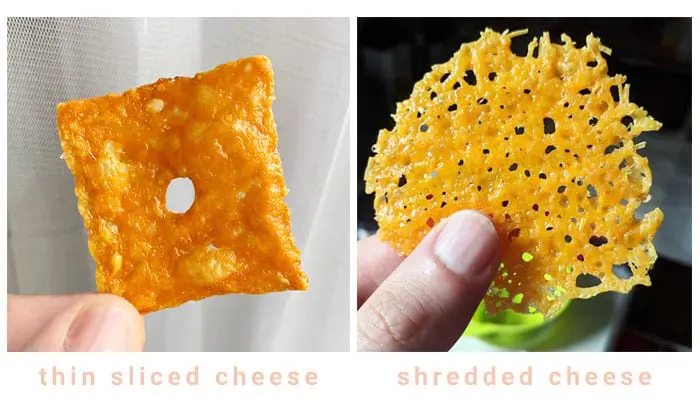 How to store Crispy Cheddar Crisps
The best way that I've found to store these is in an air-tight container on the counter top. If you try storing these in the refrigerator, they'll become soft.
To further avoid softening, you can add a paper towel to the bottom of the container to absorb any excess moisture.
You can't go wrong making this low carb snack.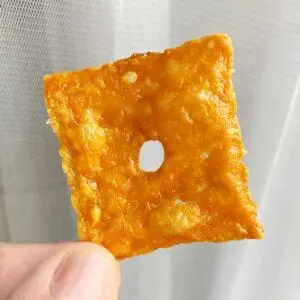 Crispy Cheddar Crisps
My Crispy Cheddar Crisps are the perfect Keto-friendly alternative to chips or crackers!
Instructions
Cut cheddar cheese into quarters and spread out on a parchment-lined baking sheet (about an inch apart). To resemble Cheez-its, you can add a hole to the center of each using a straw (optional).

Put into oven and bake for roughly 30-40 minutes. You want to to look for a golden brown color.

Remove from oven and let cool for 10-15 minutes.
Notes
While this recipe is specifically using the thin deli slices of cheddar, shredded cheese also works. They'll just have a different type of shape.
Nutrition
Serving:
12
crisps
Calories:
130
kcal
Carbohydrates:
1
g
Protein:
8
g
Fat:
11
g
Tried this recipe?
Tag @nobunplease or #nobunplease on Instagram!
Tips & Tricks
Here are a few additional thoughts and ideas:
Try different cheeses -- you don't have to use just Cheddar cheese! Romano and Parmesan crisps are delicious, too.
Focus on the harder/firmer cheeses. Some will not work too well, such as Mozzarella.
DO NOT bake these on foil or wax paper. They will stick. Only use parchment paper or a silicone mat on a baking sheet.
Nutrition information may vary slightly. It shouldn't be too difficult to find cheese with 0g carbs (it's not too difficult for harder cheeses).
A favorite Keto snack of mine is a low carb cheese chip + a smear of peanut butter. This combination tastes exactly like those processed cheddar and peanut butter crackers I used to devour as a kid!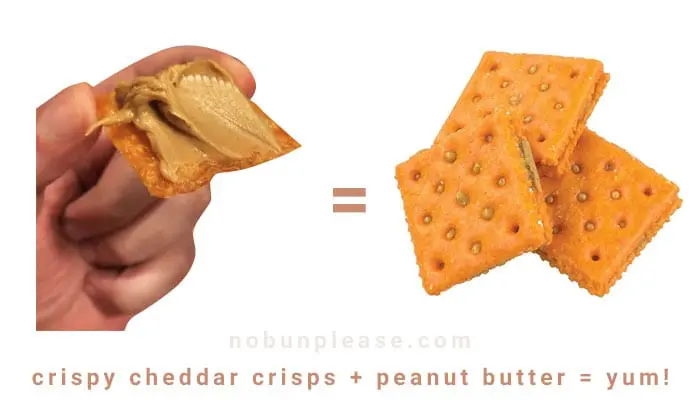 My Favorite Store-bought Cheese Crisps
Short on time but still want some Keto cheese chips? Fortunately, there are plenty of companies out there that make really good products. I like to keep these on hand for days when I don't feel like cooking or I'm away from home.
They're the perfect snack! Here are some of my favorites:
Cheese Bites from Trader Joe's
Moon Cheese (it's salty, but I love that!)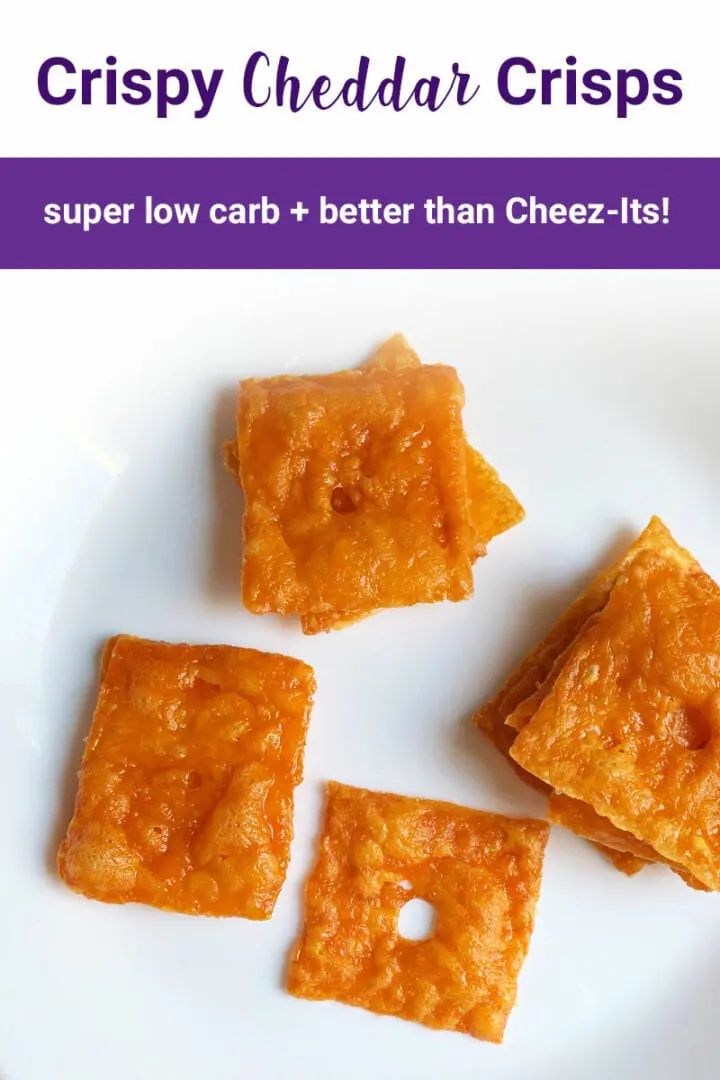 I hope you enjoy my Keto cheese chips recipe! What is your favorite Keto recipe? Comment below!