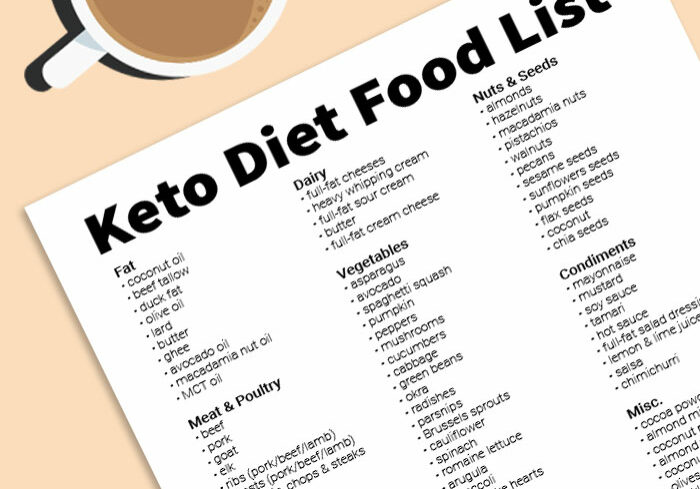 The most difficult part of starting the Keto Diet is learning which foods you should enjoy and those you should limit.  This list should make that a little easier. Print out a copy and stick it on your refrigerator or take it with you to the grocery store.
* has a minor carb count and needs to be moderated
Fat
Aside from animal fat on your meats, you can enjoy the following healthy fats for optimal health benefits.
You will notice that some products contain PUFAs (polyunsaturated fatty acid), such as soybean and canola. In very limited quantities, these are fine. However, for optimal health, these are not a great choice.
Meats/Proteins
When buying meats, you can opt for the fattier cuts if you prefer.  If you are eating lean meat, you can up the fat with butter or coconut oil.
You will see some argue that you should only consume grass-fed and pastured-raised animal products on Keto. If you have the financial means to do so, it is better for you and the animal. However, you can be just as successful with conventionally raised meats if the budget doesn't allow it.
Enjoy various cuts of meat including:
bacon
steak
ground beef
eggs
ribs (pork/beef/lamb)
roasts (pork/beef/lamb)
pork loin, chops & steaks
chicken (skin-on breasts, thighs, wings, drumsticks)
poultry (turkey, quail, pheasant)
ham
sausages
offal and organ meats (liver, brain, tongue, oxtail)
deli meats (double check nutrition for certain brands that use carb fillers)
cured meats (pepperoni, salami, prosciutto)
Seafood
Most seafood is fairly low in carbohydrates and fits easily its into a Keto diet. However, some shellfish and fatty fish actually have a small amount of carbohydrates, so be sure to read up on the nutrition information before consuming.
shrimp
lobster
tilapia
cod
scallops
crab
tuna
albacore
salmon
sardines
oysters
crawfish
octopus
squid
Dairy
The key to finding Keto-friendly dairy products is to look at the carb and sugar content.  Regular cows milk is generally out as it's loaded with lactose (milk sugar), but heavy cream can be a great and tasty substitute.  Personally, I love to explore and try new cheeses.
Enjoy the following dairy products:
full-fat cheeses
heavy whipping cream
full-fat sour cream
butter
full-fat cream cheese
If you find that you're stalling when trying to lose weight, limiting your dairy consumption can help. I find that I am essentially bloat-free when I take a break from cheese and heavy whipping cream.
Vegetables
Most of your carbohydrates will come from vegetables — primarily those that are green and grow above ground.
asparagus
avocado
squash (spaghetti, butternut, pumpkin, etc.) *
peppers (jalapeno, bell, banana, etc.) *
mushrooms
cucumbers
cabbage
okra
radishes
Brussels sprouts
cauliflower
various leafy greens (spinach, romaine, arugula, bib lettuce, etc.)
broccoli
artichoke hearts
seaweed
zucchini
garlic *
onion *
Remember, if you are counting net carbs, you can subtract the fiber from the total carbohydrate count.
Fruits
Most fruits aren't super Keto-friendly, but you can still enjoy the following:
avocado
blueberries *
raspberries *
blackberries *
strawberries *
cranberries *
Nuts & Seeds
Be careful when consuming nuts. They are extremely easy to overeat and they do have a carb content.  This includes nut butters.
almonds *
hazelnuts *
macadamia nuts *
pistachios *
walnuts *
pecans *
sesame seeds *
sunflowers seeds *
pumpkin seeds *
flax seeds *
coconut
chia seeds
Condiments
The following condiments are generally safe for Keto:
mayonnaise
mustard
soy sauce (tamari or coconut aminos if you're eating gluten-free)
hot sauce
salad dressings (full-fat Ranch, Caesar, Bleu Cheese, Italian) *
lemon/lime juice
vinegar
salsa *
As always, check the nutrition information for all of your foods if possible. Some products are very sneaky with their ingredients lists.
Misc.
almond milk (unsweetened)
coconut milk/cream (unsweetened)
olives
pickles
herbs
spices
stock or bone broth
beef jerky * (I like Keto Carne — zero carbs!)
sauerkraut
shirataki noodles (made from konjac flour)
Sweeteners
Sweeteners are a great way to cut carbohydrates and still enjoy your favorite treats. Of all that I've tried and researched, the following are the best options:
Foods to Avoid
The following foods are not all unhealthy, but they contain too many carbs for the Keto diet.
If you eat too much of the following foods, your blood sugar will rise and there is a risk of falling out of ketosis. It can take anywhere from 1-3 days to get back into ketosis, and there's a good chance you'll experience some negative side effects.
Avoid the following:
starchy vegetables (potatoes, sweet potatoes)
grains & flours (wheat, corn, rye, rice, oats)
processed grains (bread, pasta, naan, pita, tortillas)
sugar (white table sugar, honey, maple syrup)
Is <insert food> Keto?
Foods are not inherently Keto and non-Keto. Ketosis is a metabolic state triggered in the absence of carbohydrates.
If you keep your carbs between 20 – 30g per day, you are essentially ensuring a state of ketosis.
Therefore, if a food fits within your carb limit, enjoy!
Keto Food List PDF
Looking for a printable Keto Diet Food List PDF to share with your friends and family? I've got you covered!
Did I miss one of your favorite foods in my Ketogenic diet food list? Comment below!
Dominic is a passionate cat dad and Keto enthusiast from Pittsburgh. When he's not motivating the Keto community on Instagram, you can likely find him in the kitchen cooking up something delicious with his husband, Seth.