"This post contains affiliate links, and I will be compensated if you make a purchase after clicking on my links."
Keto Mozzarella Sticks
are a kid-friendly snack that is super tasty and easy to prepare.
In addition to being Keto-friendly, they're also gluten-free -- enjoy without the guilt!
Keep a few batches stocked in the freezer for a delicious appetizer whenever you like.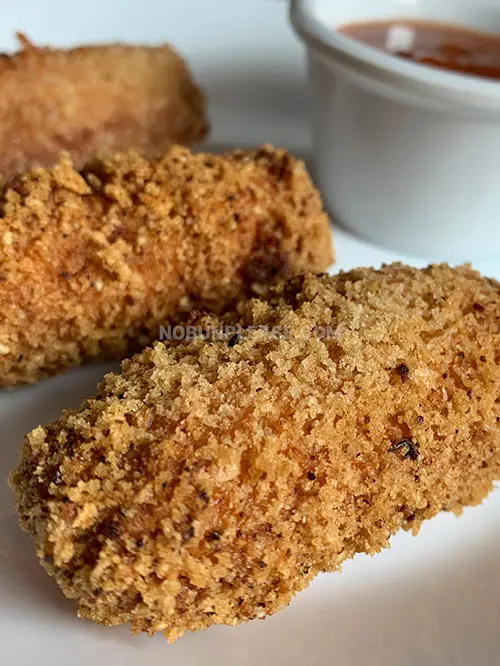 I've always been a fan of mozzarella sticks. If they were offered on a restaurant menu, you better believe that I was going to order them.
When I started following a Keto diet, I had all but accepted that they were off limits. They're typically coated with a bread crumb and wheat flour mixture, which translates to a high carb count.
For this lower carb recipe, you can enjoy 6 mozzarella sticks for just 5g net carbs!
Ingredients in Keto cheese sticks
mozzarella cheese sticks
pork rind crumbs
whey protein powder
splash of heavy cream
garlic powder
dried parsley or Italian seasoning
salt and pepper
oil for frying
Best method for cooking
I've tried multiple methods of cooking these low carb mozzarella sticks and deep-frying or pan-frying seems to work best. The cheese stays in tact and does not leak out. The crust on the outside also crisps up nicely and provides a nice crunch.
The air fryer does work to some degree, but they tend to leak if you overcook them. They're pretty easy to overcook. If you do try to cook these in the air fryer, I suggest doing so on parchment paper. Otherwise, they may melt through your basket and make a mess in the bottom of your air fryer.
When baked in the oven, these did not hold up too well, either. They melted into delicious piles of cheese goo that I still happily gobbled up with a fork.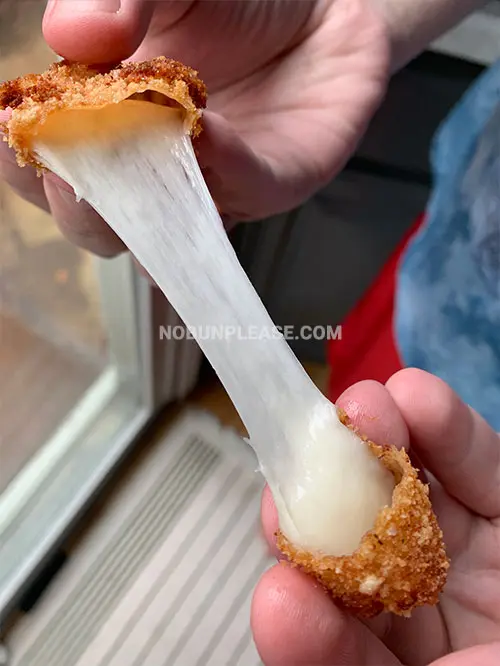 Which oil should I use for frying?
Typically, most restaurants use some form of vegetable oil such as canola, corn, sunflower or safflower.
This often gives a neutral flavor for frying, but it quickly alters and damages the integrity of the oil.
Olive oil is not a good option because it doesn't have a high tolerance to heat. It also has a strong flavor that will transfer to the mozzarella sticks.
I like to use refined coconut oil because it has a high tolerance for heat without imparting any flavor.
Avocado oil, palm oil, tallow and lard are good fats to use as well.
Unrefined, virgin coconut oil can also be used, but it will transfer a tropical-tasting flavor.
Get the coating to stick
With this mozzarella sticks recipe, I was initially running into some issues with the breading. It would sometimes clump and detach from the cheese, which still tasted fine in the end. It just wasn't very aesthetically pleasing.
I found that using toothpicks to transport the cheese sticks to be the most efficient way to coat evenly and prevent it from fall off.
This method also kept the mess to a minimum, which is something I can always appreciate.
Watch the video near the top of this post to see how easy toothpicks make this process!
Step-by-step breading instructions
Dip mozzarella cheese in beaten egg mixture and coat evenly.
Jab with tooth pick and transfer to a small bowl with pork rind breading mixture.
Using a fork, pile the breading onto the mozzarella stick.
Tap to remove any excess breading.
Using another toothpick, carefully slide onto plate.
Place into freezer overnight or until cheese is frozen solid.
Freezing before cooking is essential
As you prepare this recipe, you'll likely want to cook them as soon as possible.
However, it is super important that you give these time to rest in the freezer. I like to freeze mine on a baking sheet lined with parchment paper. This prevents the breading from sticking to the bottom of the tray.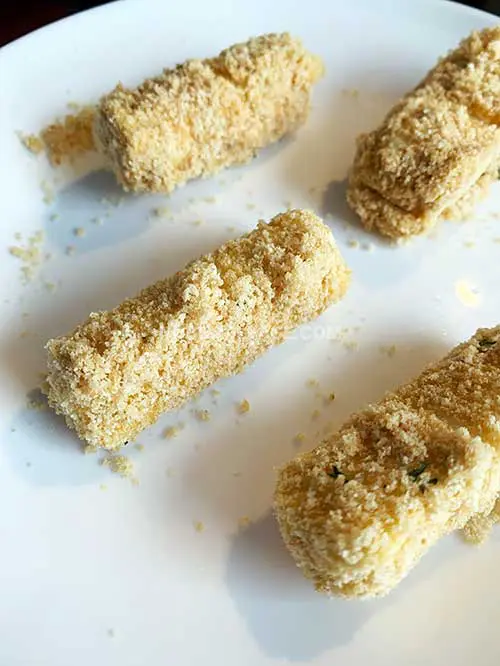 If they are not cold enough, they will melt and not keep their shape.
The idea is to have the cheese as cold as possible to prevent this from happening.
As a minimum, I'd say freeze for at least one hour.
After they have frozen solid in the freezer, they can be transported to a freezer bag for easy storage.
How to prepare pork rind crumbs
The coating of the mozzarella sticks are made of pork rind crumbs and whey protein powder.
To make things easy, I always keep a container of Pork King Good pork rind crumbs in my pantry for this recipe.
I love having these on hand because they taste great and the container keeps the crumbs fresh for a long time.
If you don't have these, you could just as easily take your favorite brand of pork rinds and crush them yourself.
A food processor will make this super easy, but you could also just flatten them in a plastic food storage bag.
Crush the pork rinds with a rolling pin or wine bottle.
Dipping suggestions
This recipe is great for dipping into your favorite condiments. Traditionally, mozzarella cheese sticks come with a side of marinara sauce.
While I enjoy eating them this way, I also love dipping them into ranch dressing or yellow mustard.
I bet they would taste amazing dipped into chipotle mayonnaise or blue cheese dressing, too!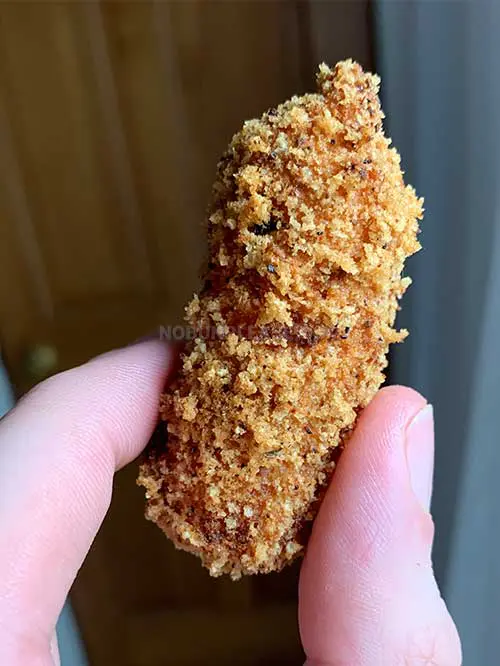 Great recipe for kids to help with
I don't have kids, but my nephew loves to help me experiment in the kitchen. This is one of the first Keto-friendly recipes we made together and it was an instant hit!
We pair our cheese sticks with a couple slices of Fathead pizza and a side salad.
Perfect for Friday pizza nights in our house!
Can I use a different type of cheese?
Different types of cheese can be used, but try to make sure they are at least semi-solid.
Personally, I would stick to cheeses like provolone, cheddar, pepperjack and gouda.
Avoid using super soft cheeses like brie, cream cheese, and ricotta. While the combination sounds delicious, the filling will likely leak out during cooking.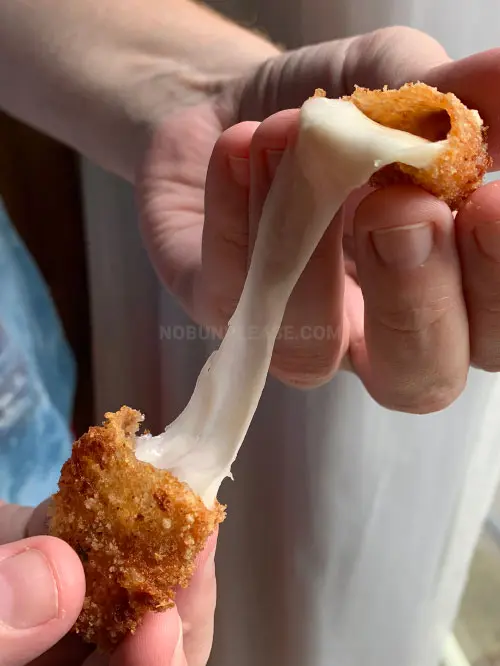 What can I use instead of pork rinds?
While pork rinds work well for this recipe, I know that not everyone likes or can eat pork.
Consider some of these other suggestions for breading your mozzarella sticks:
almond flour
coconut flour
lupin flour
crushed nuts
flax meal
More recipes with pork rind crumbs
Pork rind crumbs are such a fantastic ingredient that I use them in a few of my recipes.
If you liked this recipe, be sure to try: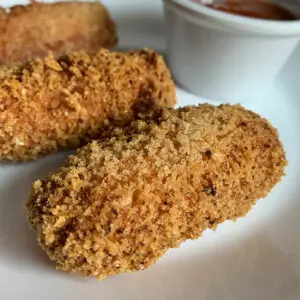 Keto Mozzarella Sticks (Low Carb, Gluten Free)
Keto Mozzarella Sticks are super easy to prepare and totally fulfill that comfort food craving. Even the kids will love these low carb delights!
Instructions
In a small bowl, beat together egg and heavy cream.

In a separate small bowl, add pork rinds, whey protein, garlic powder, salt and parsley (optional). Stir to combine.

Slice mozzarella cheese sticks in half.

Dip mozzarella cheese into egg mixture. Using toothpicks, transfer to breading mixture.

Using a fork, pack pork rind mixture onto mozzarella.

Tap off any excess breading. Remove from toothpick using another toothpick and place in a single layer on a plate.

Freeze all pieces overnight or until frozen solid.

When ready to fry, heat up coconut oil in a small sauce pan to 375º F.

Carefully add breaded cheese sticks, careful not to overcrowd the pan.

Fry for roughly 4-5 minutes until golden brown on all sides.

Carefully remove from oil onto a paper-towel lined plate.

Serve with your favorite sauces.
Notes
Less than 1g carbs per mozzarella stick!
Nutrition
Calories:
483
kcal
Carbohydrates:
5
g
Protein:
42
g
Fat:
34
g
Tried this recipe?
Tag @nobunplease or #nobunplease on Instagram!
Like this recipe? Let me know what you think in the comments!