"This post contains affiliate links, and I will be compensated if you make a purchase after clicking on my links."
My chicken crust pizza recipe is an absolute staple of mine for when I'm in the mood for comfort food. This low carb pizza crust is versatile, crispy, and very simple -- all it takes is about 15 minutes of prep work.
Now, I know there are many great keto pizza recipes out there. I mean, have you tried the Fathead Pizza Crust?
However, I notice that a lot of them are very heavy on dairy. I take no shame in admitting my love for cheese, but sometimes it's just a little much. My chicken crust pizza is the perfect alternative.
This pizza crust recipe is also: dairy-free, gluten-free, nut-free, and even paleo!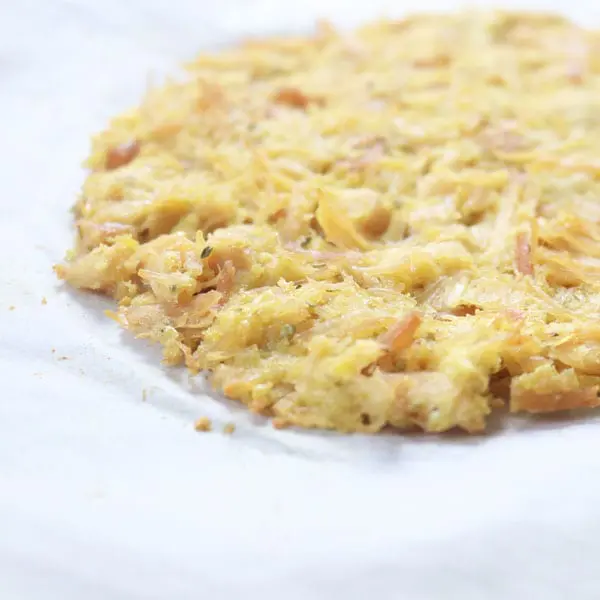 I typically bake my crust on a parchment-lined cookie sheet. Use what you have access to. I'm sure a pizza pan or stone would work great, too!
Canned chicken? Say what?
My chicken crust pizza recipe calls for canned chicken breast. I love using canned for a few reasons:
Cheap. You can keep a small stockpile of canned chicken on hand for a quick and delicious dinner at any time.
Filling. It's full of protein and it tastes great. What's not to like?
Tender. The chicken is surprisingly tender from the can.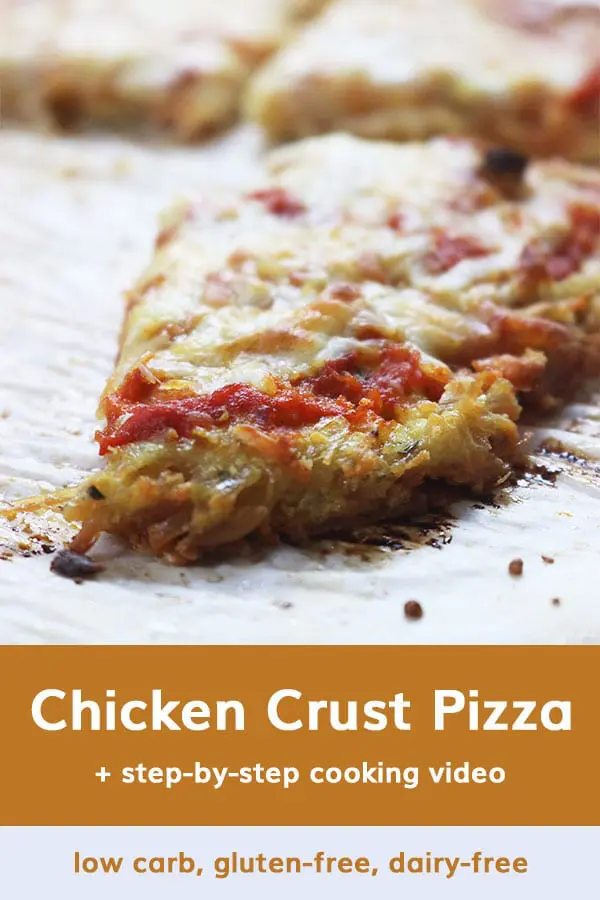 Chicken Crust Pizza variations
My low carb chicken crust pizza is super versatile and acts as a great base for all of your favorite toppings. It is without a doubt one of my favorite keto recipes.
If you're unable to find or use pork rinds (or you may see them labeled as chiccarone), you can substitute a half cup of Parmesan cheese. This will make a very crispy crust.
Some variations that I've had that work well include:
Adding buffalo sauce, ranch and sharp cheddar cheese for a buffalo chicken pizza
Layering with creamy alfredo sauce, crispy pancetta, spinach and mushrooms
Topping with garlic butter, parmesan and mozzarella cheese
Prepared or ground chicken (including chicken thighs) can also be used, but the cooking times and textures will vary. Ground turkey could work, too.
For a smoother dough, combine all ingredients in a food processor and pulse it until it you get your desired consistency.
Will it freeze?
Yep, these freeze great, too! After preparing, let the chicken crust come to room temperature and then double wrap in plastic wrap + foil. As far as how long these will store, I'm not entirely sure. I've always used mine within a month, so your mileage may vary.
This is a great time-saving recipe that can be made quickly if prepared in advance. All it takes is a little prep work and a series of quick bakes for about 20 minutes.
Instead of pizza...
This recipe can serve many purposes. For example, you could:
Try using the chicken crust pizza recipe as a flatbread instead
Cut into small squares and use with your favorite dip recipes
Layer sliced of it like pasta as you would in a lasagna
Use it as a crust for your favorite casserole dish
The possibilities are endless. Add additional seasonings to the mix and try different flavors.
How to Prepare the Chicken Crust Pizza
A quick video showing you the steps to making your own chicken crust pizza. Follow these steps and you'll be making them in your sleep!
Do be mindful - this recipe is for one personal pizza. If you are cooking for more people, be sure to take note of the ingredients needed.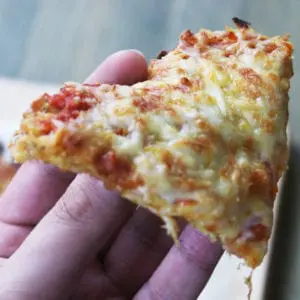 Chicken Crust Pizza
A low carb chicken crust pizza that is crispy, filling and super simple!
Instructions
Open and drain the canned chicken. Using two forks, break chicken into smaller pieces. On a cookie sheet lined with parchment paper, spread the chicken into a single layer and pop into the preheated oven.

After drying out in the oven for about 10 minutes, remove chicken and let cool for about 10 minutes. While that cools, turn the oven to 400º F

Place chicken into mixing bowl with the rest of the ingredients. Mix until it is well incorporated.

Dump the contents of the chicken mixture onto a parchment-lined cookie sheet. Form pizza crust into the shape you desire.

Bake the crust for an additional 5 minutes.

Remove crust from oven and add your favorite toppings. Place back in the oven for roughly 10 minutes or until all toppings are heated through and/or melted.
Nutrition
Serving:
1
crust
Calories:
542
kcal
Carbohydrates:
3
g
Protein:
63
g
Fat:
20
g
Tried this recipe?
Tag @nobunplease or #nobunplease on Instagram!
Don't feel like cooking but still want chicken pizza? Check your freezer section for products from Real Good Foods -- they're yummy!
What toppings would you put on your chicken crust pizza? Comment below!