"This post contains affiliate links, and I will be compensated if you make a purchase after clicking on my links."
I've been seeing pickle brine chicken all over Instagram recently and just knew I had to give it a try!
I've always been a lover of pickles and am proud to say that even on Keto, they're still a staple in our home.
Why pickle juice?
There are a few things about pickle juice that make exceptional chicken:
Tenderness - the salt and acid start to breakdown the protein when you use a pickle brine, and the end result is a perfectly tender piece of chicken.
Flavor - the marinated chicken imparts an amazing pickle flavor that transfers and develops throughout the cooking process
Less waste - many people just toss their pickle juice when they run out of pickles. Save money and eat great by reusing it!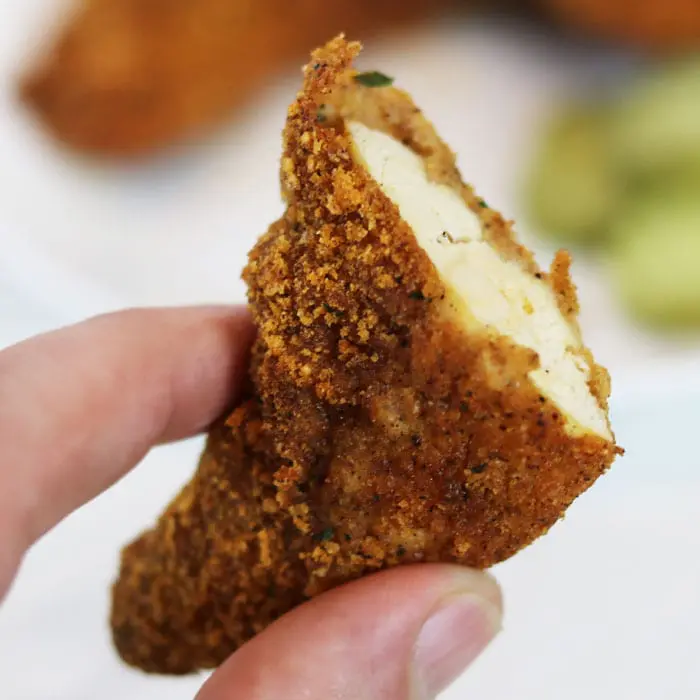 How long should I pickle brine my chicken?
In my opinion, this depends on how much time the chef has to prepare the chicken. I put a standard 8 hour time as a baseline, but really you could prepare these in advance and cook whenever convenient.
I've had decent results marinating the chicken for as little as 2 hours.
I've also had the best results by marinating for 24-48 hours.
What should I do with the extra pickles?
Eat them. Haha, seriously though. If you're following Keto, pickles are great for restoring electrolytes and they're often my first life of defense when I'm feeling a little dehydrated.
If you're not a fan of pickles, I highly suggest picking up a gallon of pure dill pickle juice. This will cut down on pickle waste and will save you some money in the long run.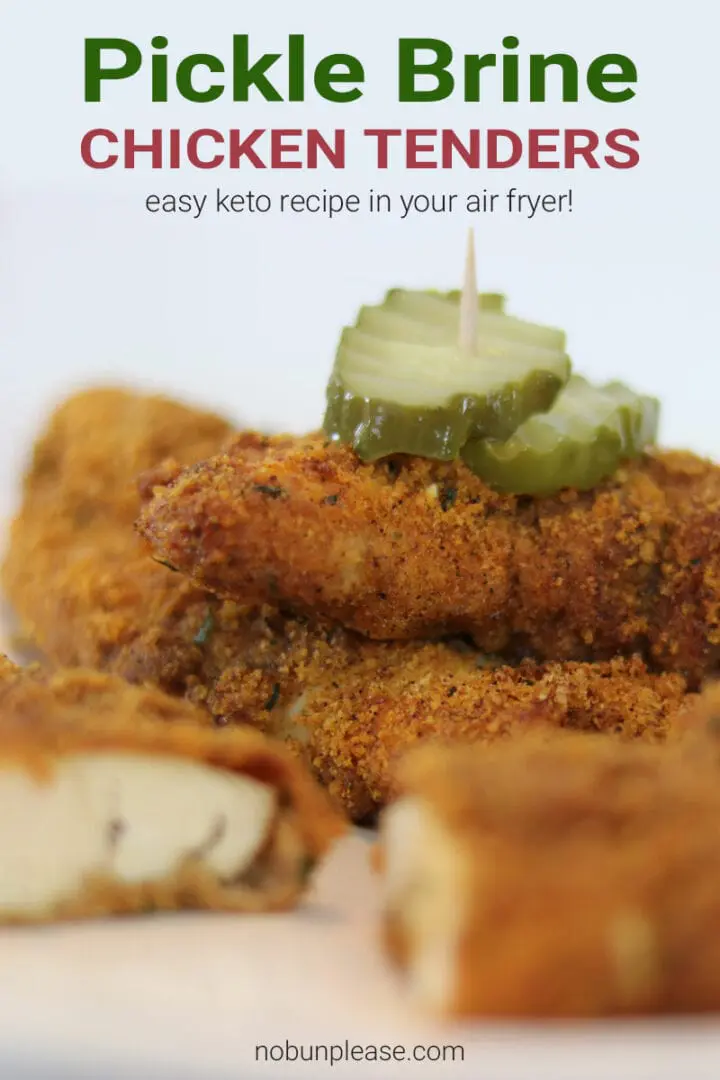 I don't have an air fryer. Can I bake them?
Absolutely. Instead of using the air fryer, line the chicken tenders on a baking sheet and bake at 420º for about 15 minutes, turning them half way through. Just enough time that they're cooked and golden brown.
I personally like using the air fryer because it makes almost anything crispy and these are no exception.
If I'm looking for that full fried chicken fantasy, the air fryer is the way to go!
This is the one that I have and absolutely love it. Next time I'd get a larger one, though!
Because of the size of my air fryer (3.7 quart), I find that I have to cook my chicken tenders by working in batches. If you have a larger air fryer or you're only making one serving at a time, this will likely not be an issue.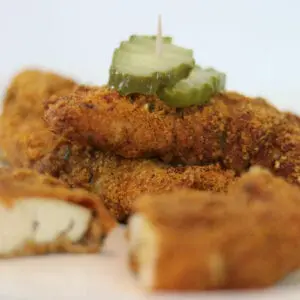 Pickle Brined Chicken Tenders
Extremely tender and super crispy, these Pickle Brined Chicken Tenders are life-changing!
Ingredients
Brined Chicken
4

chicken tenders

⅓

cup

pickle juice

⅓

cup

water

½

teaspoon

salt
Instructions
In a bowl, combine chicken, pickle juice, salt and water. Cover, refrigerate and let mixture brine for at least 6-8 hours (24+ hours is ideal).

In the meantime, you can prepare the chicken breading mixture by dumping all of the remaining ingredients into a plastic storage bag and shaking to mix.

When your tenders have brined long enough, you are ready to prepare them. Spray your air fryer basket with cooking spray before putting the chicken in the air fryer basket.

Using a fork or tongs, grab each chicken tender from the bowl and shake off any excess liquid. Then, toss directly into the breading mixture.

Seal the bag and shake it around, ensuring that the each tender gets a nice coating of the breading. I like to coat mine one at a time to prevent clumping.

Gently assemble the tenders in the air fryer basket. Spray the tops of them with cooking spray.

Cook at 400º for 7 minutes, flip, and cook for an additional 5 minutes. That's 12 minutes total.

Remove from air fryer and check if fully cooked through. If not, put back in the air fryer in 1 minute increments until chicken tenders are fully cooked.
Nutrition
Serving:
4
chicken tenders
Calories:
420
kcal
Carbohydrates:
5
g
Protein:
60
g
Fat:
17
g
Tried this recipe?
Tag @nobunplease or #nobunplease on Instagram!
Can I use different cuts of chicken?
Yep! If you don't have tenderloins, you could just as easily slice up a chicken breast into strips and prepare as suggested.
Chicken thighs and wings also work well. The time will vary however, as bone-in chicken typically takes a longer time to cook.
Pork rind breadcrumbs
Traditional recipes for fried chicken call for a flour mixture as breading. I like to use a pork rind crumb base instead -- the perfect substitute for breadcrumbs in Keto-friendly recipes.
The easiest way to make them is to crush them yourself. For this method, I like to pour the pork rinds into a plastic storage bag and crush them using a rolling pin or wine bottle.
Using a food processor will result in pork rind crumbs that are super fine and even in size. It's totally worth doing, but I hate cleaning my food processor.
If you're all all about convenience (I'll be honest, I kind of am), the Pork King Good brand of pork rind crumbs are amazing! I love that all of the work is already done for me -- they're crushed to a wonderful consistency, seasoned well for an all-purpose breading, and they even come in a great little storage container!
They recently sent me a couple flavors to try -- the original and Cajun. I'm hooked. These are a definitely a new staple in my pantry!
What's your favorite Keto chicken recipe? Comment below!