"This post contains affiliate links, and I will be compensated if you make a purchase after clicking on my links."
It's berry season here in Pennsylvania, which means my Keto jam recipe has been getting it's fair use!
Of all the jams and jellies I like to make at home, blueberry is a particular favorite.
The flavor profile is unique and I absolutely love the deep, rich purple color.
This sugar-free jam recipe is great for spreading on your favorite low carb bread. It tastes amazing in ice cream and yogurt, too!
At just 1 net carbs per serving, this recipe is also gluten free and suitable for just about anyone!
Jam vs Jelly
Jam and jelly are similar, but most don't know the difference (myself included).
Traditional jelly recipes tend to be made with pure fruit juice, creating a beautiful (yet still transparent) color. All fruit and fiber get strained out to create a silky smooth consistency.
Jam on the other hand, uses the entire fruit. It's also lower in sugar and I love seeing the bits and pieces of real blueberry throughout.
Ingredients for Sugar-free Blueberry Jam
Like almost all of my recipes, I try to keep it simple with the ingredients list.
You'll need:
blueberries
water
lemon juice
sweetener of choice
thickener of choice
Pectin who?
If you look through traditional jam recipes, you'll see that many call for adding an ingredient called pectin.
Pectin is a type of starch that is naturally found in fruits and vegetables.
Unfortunately, pectin is a concentrated source of carbohydrates and is not a Keto-friendly option.
Thickening your jam
My recipe uses a thickener called xanthan gum. It's extract from seaweed and does an excellent job of thickening sauces.
That goes without saying, be careful when adding your xanthan gum! Too much can turn your jam into a thick glob of goo.
Looking for another way to thicken your jam? You can also try:
gelatin
chia seeds
guar gum
sunflower lecithin
Can I use frozen blueberries?
When in a pinch, frozen blueberries will work just fine.
The only main difference will be the texture. Frozen fruit tends to get mushy fairly quick, so adjusting your cooking times may be necessary.
Surprisingly enough, frozen fruit is sometimes even better than fresh. This is because frozen fruit tends to be processed at exactly the perfect time of ripening.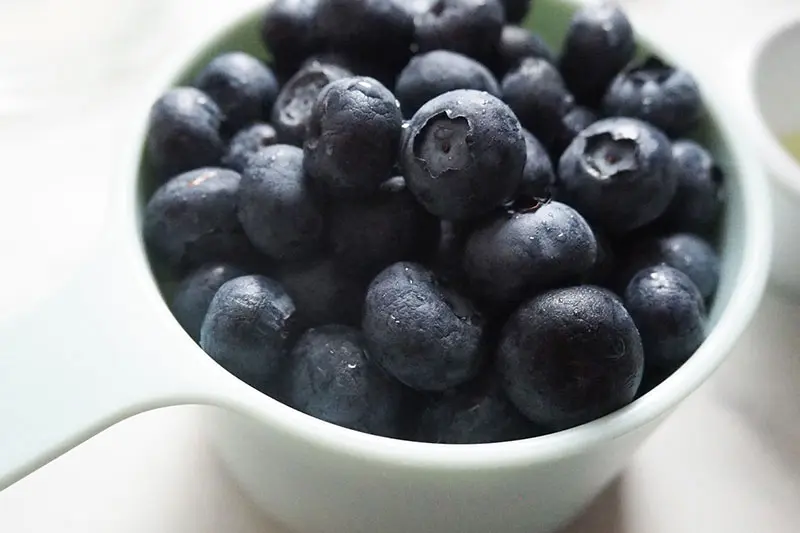 Switch it up with these variations
This recipe serves as a great base for a variety of other spreads. For example, Keto strawberry jam with fresh strawberries is another favorite that I crank out on the regular.
You could just as easily switch up the blueberries for:
cranberries
raspberries
blackberries
I also suggest playing with the citrus types to create something uniquely your own:
add orange or lime juice for a refreshing twist
zest your citrus for a pop of flavor and interesting texture
Allulose
Per usual, you can swap out the sweeteners with your favorites, too. I go for allulose in this recipe because it blends and tastes just like sugar with no cooling effect. This brings out the natural sweetness of the blueberries and it is fantastic!
Not a big of sweet flavors starting Keto? You can lessen the sweetener amount to ¼ cup or even remove it completely!
Even without added sweetness, this recipe is very forgiving and will still work out in the end.
Can I can this jam recipe?
Because of the simplicity of the ingredients, this is not a recipe that would work well for canning.
When canning jams and jellies, acids are used to preserve the flavors of the fruit.
While this recipe uses lemon juice (citric acid), it's not enough to maintain the qualities of the jam.
Because of this, I recommended serving within one week of preparation or freezing in ice cube trays.
Recipes that go well with jam
In place of the raspberries, try swirling this blueberry jam into my Raspberry Swirl Cheesecake recipe.
Spread a layer over cream cheese on a Zesty Cheddar Biscuit for a salty-sweet flavor combination!
Surprisingly, this sauce works with savory foods, too. I like to create my own version of IKEA's Swedish meatball and sub in my blueberry jam for the lingonberry.
Tips for successful jam
If you like your blueberry pieces to be on the smaller side, do not cook longer. Instead, use a wooden spoon or potato masher to break them down. An immersion blender will work even better.
One of my favorite low carb bread recipes is actually a mix! It's the all-purpose bread mix from Good Dee's.
Trying to think of ways to incorporate jam into your meals? I like to add mine to spicy dishes to balance out the levels of heat.
If you find your jam burning quickly, try removing from the heat and adding a touch more water. Also consider starting with medium heat -- nothing is worse than the smell of burnt fruit!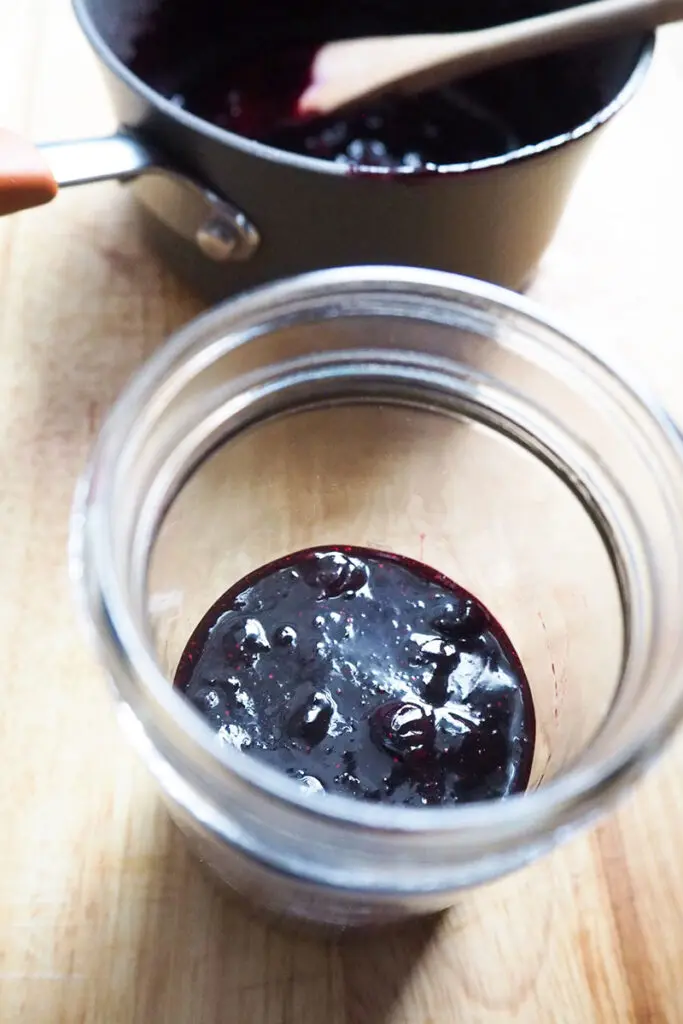 New to a Keto Diet?
You've probably heard everyone and their mother talking about Keto by this point. In case you haven't, there are plenty of free resources on my site to get you started!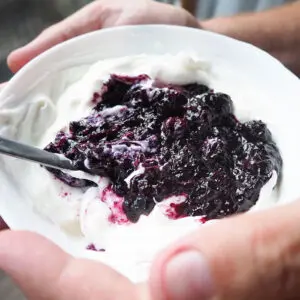 Keto Jam with Fresh Blueberries
A delicious and simple Keto jam recipe that features farm fresh blueberries. This low carb recipe requires no pectin!
Equipment
small sauce pan

wooden spoon
Ingredients
1

cup

blueberries

fresh

⅓

cup

allulose

2

tablespoon

water

1

teaspoon

lemon juice

½

teaspoon

xanthan gum
Instructions
Add blueberries, lemon juice and water to a small saucepan and turn heat to medium-low.

Stir occasionally until mixture starts to boil. This takes approximately 8-10 minutes.

Add in allulose and stir. Reduce heat to a low simmer and cook for another 5-10 minutes. Your blueberries should start to pop and release their juices.

Stir in xanthan gum and mix evenly.

Remove from heat and let set for 10 minutes.

Serve immediately or let cool completely before storing in the refrigerator for up to 1 week.
Nutrition
Calories:
10
kcal
Carbohydrates:
2
g
Protein:
0.5
g
Fat:
0.5
g
Fiber:
1
g
Tried this recipe?
Tag @nobunplease or #nobunplease on Instagram!
Which berry jam is your favorite flavor?