"This post contains affiliate links, and I will be compensated if you make a purchase after clicking on my links."
Zesty Keto Cheddar Biscuits are a saving grace when you just want a comforting and dense bread to serve up with your low carb meals.
This biscuit recipe couldn't be easier, and best of all, the ingredients are completely suitable for a Keto diet!
Can you believe they're only 3g net carbs per serving?
It all started with sausage gravy
Recently, I was discussing some possible weekend breakfasts with the husband. You know, the ones that take a little more effort and result in more than scrambled eggs.
One recipe that we both missed was a delicious plate of biscuits and gravy.
The gravy part seemed pretty doable.
All we had to do was just reduce heavy whipping cream with sage sausage and spices and ta-da -- we have sausage gravy!
The biscuits however, threw us through a loop.
A lot of the lower carb biscuits out there are lacking in flavor and still typically contain wheat flour.
Since wheat is simply not an option for me at this point, I developed a healthier version to suit my needs.
What do they taste like?
Quite honestly, these biscuits are delicious on their own. They're dense and flavorful from the cheddar cheese, with just a pinch of sweetness from the coconut.
They remind me of the famous Red Lobster biscuits with a slightly denser texture.
Another great feature is that they are extremely filling, even for two grown men like us.
As the recipe states, these Keto cheddar biscuits will become even more dense if they are left out for a couple of hours.
Why coconut flour?
Coconut flour adds great structure to low carb baked goods, much like traditional flour.
Since we are using a small amount of coconut flour, there is very little actual coconut flavor in the dish. It also helps that we have strong flavors like garlic powder, sharp cheddar cheese and green onion.
If you have an allergy to coconut, almond or lupin flour may also work.
Try these recipes with biscuits
Aside from being a great a base for sausage gravy, these biscuits also work well for an egg and sausage sandwich. Or if you're like me, just slather them up in butter, sour cream or cream cheese.
I bet they would also work perfectly for Eggs Benedict with a delicious hollandaise sauce.
Serve up my cheesy Keto biscuits recipe alongside some of these classics:
Better than Red Lobster
These cheddar biscuits have even won over the hearts of my non-Keto friends.
As I mentioned earlier, a few have even claimed they are better than Red Lobster's Cheddar Bay biscuits!
Do they freeze?
I would assume these would freeze well, but honestly, they never last long enough to attempt.
If you try to freeze yours, let us know how they held up in the comments below!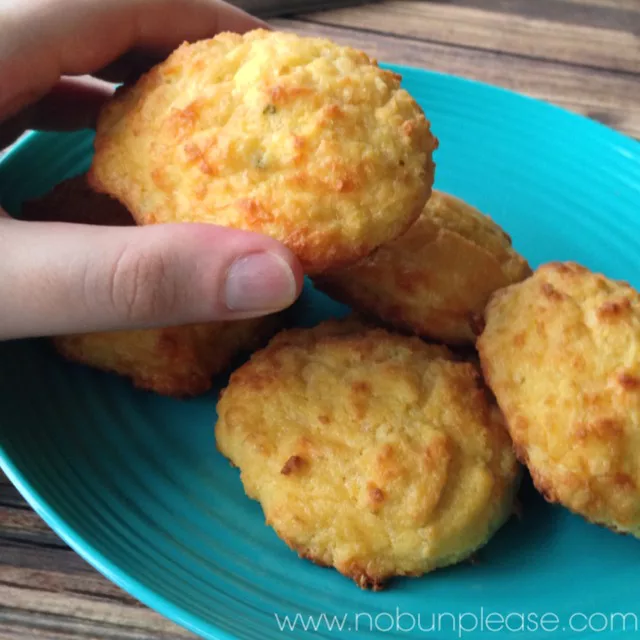 Toasting your biscuits
If you'd like to toast your biscuits before serving, it is recommend to do so in a pan or toaster oven until golden brown. An air fryer will also work well.
Avoid using a traditional toaster as they can sometimes crumble and get stuck.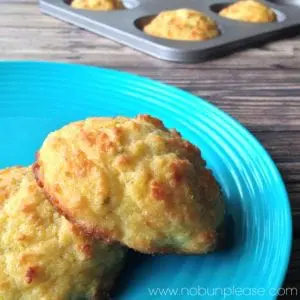 Zesty Keto Cheddar Biscuits
Zesty Keto Cheddar Biscuits are an easy low carb bread substitute that goes great with almost any main dish!
Ingredients
3

eggs

⅓

cup

coconut flour

6

oz

sharp cheddar cheese

⅓

cup

butter

melted

1

teaspoon

garlic powder

1

teaspoon

chopped green onion

¼

teaspoon

baking powder

salt and pepper to taste
Instructions
Preheat the oven to 400 degrees F.

In a mixing bowl, combine coconut flour, baking powder, garlic powder, salt and pepper.

In a separate bowl, whisk together eggs and butter until evenly distributed.

Slowly incorporate the wet ingredients into the dry and mix until there are no lumps.

Fold in the cheese and green onion.

Drop spoonfuls of the batter onto a greased cookie sheet.

Bake for about 13 minutes or until the edges of the biscuits are brown and the tops are golden.

Brush top with additional melted butter out of the oven.

Cool for at least a half hour. These will get even more dense if they are left on the counter for a couple of hours.
Notes
Keto Cheddar Biscuit - 3g net carbs per serving
Nutrition
Calories:
264
kcal
Carbohydrates:
5
g
Protein:
11
g
Saturated Fat:
14
g
Monounsaturated Fat:
3
g
Sodium:
299
mg
Potassium:
73
mg
Fiber:
2
g
Tried this recipe?
Tag @nobunplease or #nobunplease on Instagram!
How would you enjoy a biscuit on a low carb, Keto diet?