by Dom Geracia
Being that the name of this blog is, "No Bun Please," you're probably wondering why I would possibly post another "bread-like" recipe on this blog.
Sometimes you just want a comforting, dense slice of something(?) to serve up your meals with.  That's where my Zesty Cheddar Biscuits come into play!
I may not have the bun, but I do know that this website isn't "No Biscuit Please!"
Recently, I was discussing some possible weekend breakfasts with the boyfriend. You know, the ones that take a little more effort and didn't result in just a quick egg scrammble.  One recipe that we both missed was a delicious plate of biscuits and gravy.
The gravy part seemed pretty doable, we could just reduce heavy whipping cream down with sage sausage and ta-da! Sausage gravy.
The biscuits, however, were a bit of an issue.  Unfortunately, a lot of the lower carb biscuits that are out there have been kind of meh or made with a lower-carb wheat flour.   Since wheat is simply not an option for me, I had to try and develop something on my own.
These biscuits are delicious on their own, honestly. They're dense, flavorful, and just a pinch of sweetness from the coconut.  Another great feature is that they are extremely filling.  Both of us could only finish one before we were stuffed!
As the recipe states, these cheddar biscuits will become even more dense if they are left out for a couple of hours.
They make a great a base for sausage gravy and biscuits (obviously), egg biscuit sandwiches or just slathered with butter.  I bet they would be great as Eggs Benedict with a delicious hollandaise sauce.
These cheddar biscuits have even won over the hearts of my non-low carb friends.  They liked them more than the Red Lobster rival!
I would assume these would freeze well, but honestly, they never last long enough to attempt!
As always, this recipe is gluten-free, low-carb, keto friendly and even suitable for primal diets!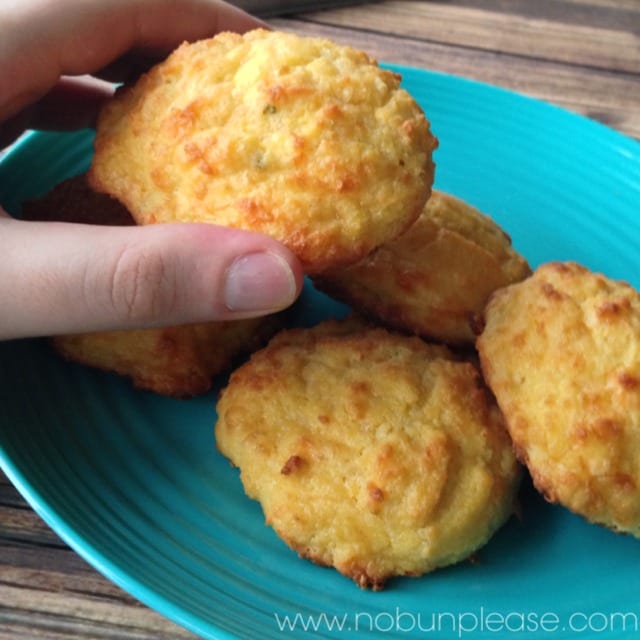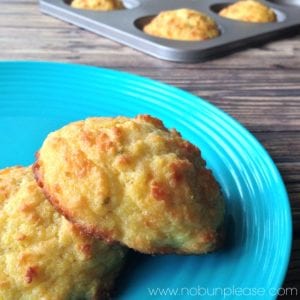 Ingredients
3

eggs

1/3

cup

of coconut flour

6

oz

sharp cheddar cheese

1/3

cup

butter

melted (1 tablespoon reserved for brushing after)

1

teaspoon

of garlic powder

1

teaspoon

of chopped green onion

1/4

teaspoon

baking powder

pinch

of salt and pepper
Instructions
Preheat oven to 400 degrees F.

In a mixing bowl, combine coconut flour, baking powder, garlic powder, salt and pepper.

In a separate bowl, whisk together eggs and butter until evenly distributed.

Slowly incorporate the wet ingredients into the dry and mix until there are no lumps.

Fold in the cheese and green onion.

Drop spoonfuls of the batter onto a greased cookie sheet.

Bake for about 13 minutes until the edges of the biscuits are brown and the tops are golden.

Brush top with additional melted butter out of the oven.

Cool for at least a half hour. These will get even more dense if they are left on the counter for a couple of hours.
What's your favorite breakfast food? Comment below!
Dom Geracia is a long time Keto diet follower who is passionate about simplifying the low carb lifestyle for beginners. When he's not posting yummy food pics on Instagram, you can likely find him cuddling the nearest cat or guzzling down (yet another) iced coffee.
Posted 04/06/2014
Never miss a post!
Get e-mail updates sent directly to your inbox.