"This post contains affiliate links, and I will be compensated if you make a purchase after clicking on my links."
One of the most requested desserts I've had from my followers is for a Keto ice cream recipe.
It seems as though almost everyone has a soft spot for ice cream. I'm no exception.
Funny enough, I never made it for myself until I started following a ketogenic diet.
My version of Keto ice cream features a super creamy vanilla flavor that can be done up with all of your favorite toppings.
Standards for ice cream
There is always a set of criteria I look for when tasting ice cream and it includes:
Flavor - Is it a great base for toppings or does it stand on it's own? Either way, the ice cream has to taste good.
Consistency - Creamy is an absolute must with minimal ice crystals!
Ingredients - I like to keep things simple without a ton of specialty ingredients.
Cost-effective - If it's good enough to eat every day, can I afford to?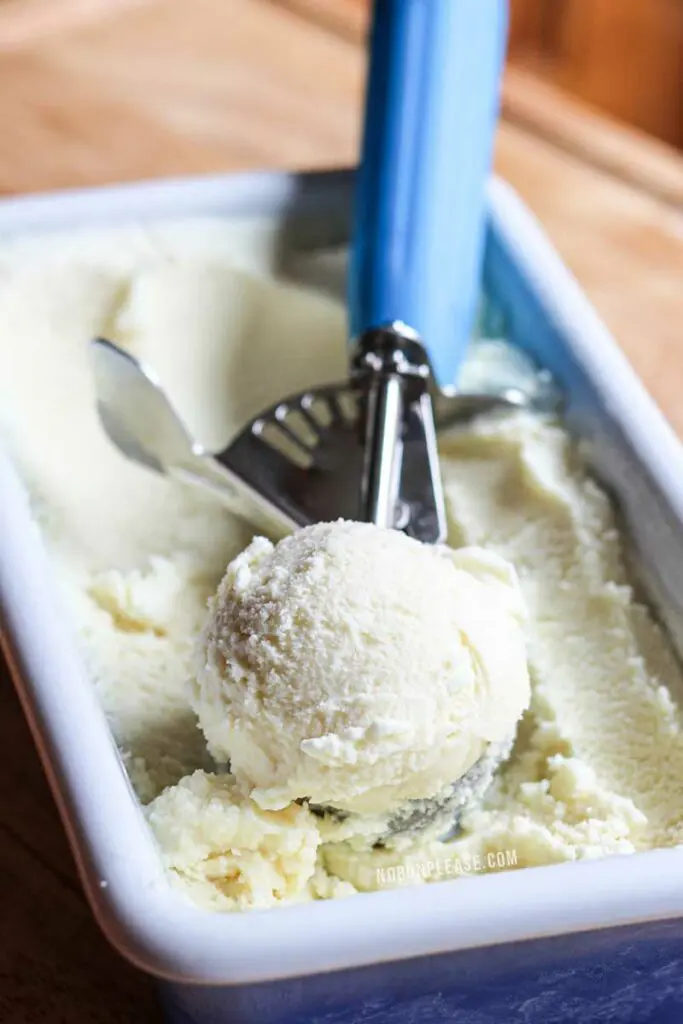 No tempering required
When it comes to making ice cream, it's fairly common for recipes to call for egg yolk. As an emulsifier, it adds richness and and a smooth consistency to the ice cream.
The typical process to add egg yolk is called tempering, where you slowly incorporate it with heated cream to blend the mixture.
If you incorporate too much off the heat at once and cook the egg, there's a chance you end up with scrambled eggs in your cream.
With simplicity always on my mind, I much prefer my low carb ice cream recipe with no egg at all.
Ice cream makers
An ice cream machine is not essential for this recipe, but it sure does help.
I've tried a few different brands models throughout the years, but I've fallen in love with my Cuisinart ICE-100.
The ICE-100 is a compressor-base model, which means it does all of the cooling for you.
You never have to worry about freezing a bowl or using rock salt!
I've also heard good things about the DASH Ice cream maker (freezer bowl) and Whynter ICM-201SB (compressor) models.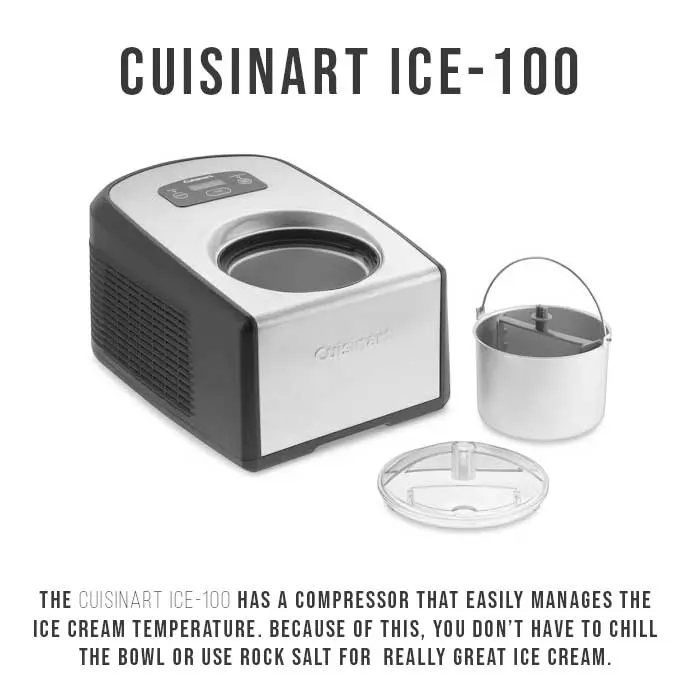 How to prevent ice crystals in ice cream
One of the signature differences between great and decent ice cream is the ice crystals.
An icy texture is often a sign of low quality, not-so-delicious ice cream.
Here are some of the most common additives to prevent ice crystals:
Gums
If you look at most store-bought ice creams, they often have multiple gums added. Gums are an easy way to add thickness and a creamy texture, but they often lack richness.
Typical gum additives include xanthan gum, guar gum, and locust bean gum.
Alcohol
Believe it or not, some ice cream recipes call for small amounts of vodka.
Alcohol works great at preventing ice crystals from forming in the freezer.
Just be careful not to add too much unless you're aiming for boozy ice cream!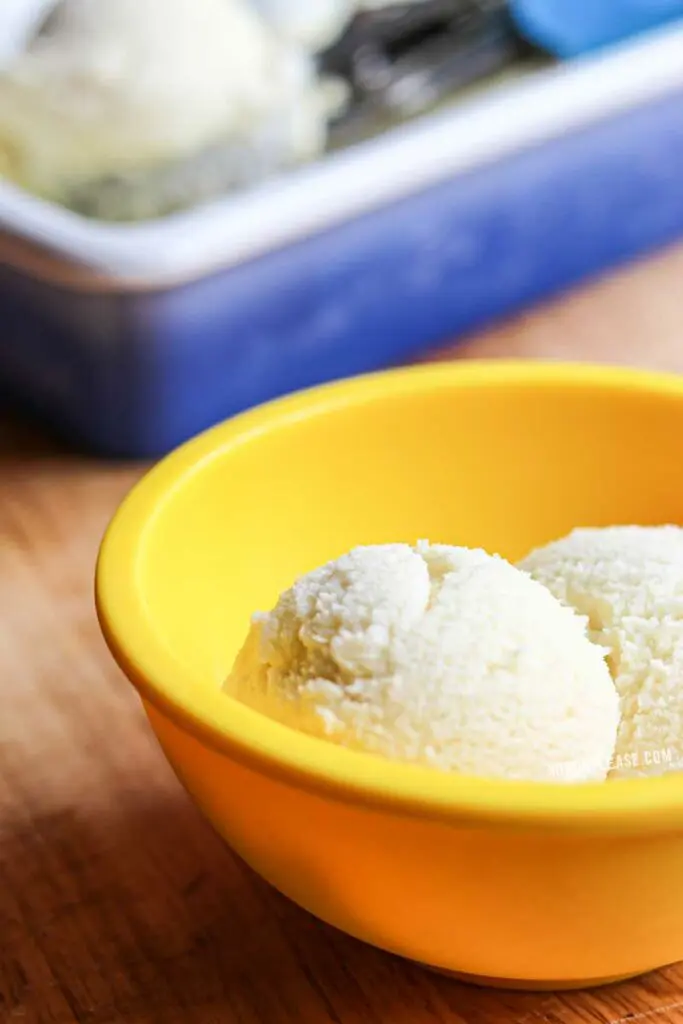 Fats
Adding fat is another way to reduce ice crystals and achieve a creamy, smooth texture.
Fat also adds that much needed richness that the gums often lack.
Common fats to add to ice cream include coconut oil, butter and MCT oil powder.
For this recipe, I find the best results using MCT oil and sunflower lecithin.
What does sunflower lecithin do?
Sunflower lecithin is an ingredient I've been experimenting with and have grown to love.
It is a natural emulsifier that helps water and fat bind together. As the name suggests, it's harvested from sunflowers.
Sunflower lecithin improves consistency and keeps everything blended evenly. I use this in place of the egg yolks.
It has been shown to promote heart health and better digestion, and may even help ward off dementia symptoms.
Can I use a different milk?
The creamy components of my ice cream recipe are heavy whipping cream and milk. Yogurt can also work to make a frozen yogurt dessert.
For dairy free substitutes, coconut milk and/or almond milk should work just fine.
Your measurements may need adjusted, though.
Milk isn't especially Keto-friendly, but it does make really great ice cream.
I use the Fairlife brand because it has only 6g net carbs per cup. Spread out over the entire recipe, the carb count is still fairly low per serving.
Why allulose?
Allulose is a sugar alcohol that is newer to the low carb community, but it is a game-changer in the kitchen.
Unlike erythritol, allulose blends into liquids very easily and has no aftertaste. It also does not re-crystallize like erythritol does.
Erythritol-based ice creams freeze into solid rocks, which I'm not a big fan of. They can take up to an hour to soften up.
With allulose, ice cream is scoopable directly out of the freezer.
Keep your ingredients cold
When making ice cream, it's always best to keep your ingredients as cold as possible. Avoid letting your ingredients come to room temperature as this could prevent the ice cream from forming properly in the machine.
Ice cream flavor variations
This recipe is a great base for creating all of your favorite flavors. Feel free to change it up in different ways to make it totally your own!
vanilla bean - in addition to vanilla extract, vanilla bean adds a lovely flavor with beautiful black specks throughout.
butter pecan - incorporate melted butter and toasted pecans into your ice cream for this classic flavoring pairing.
chocolate - add cocoa powder or melted sugar-free chocolate chips to your batter for a low carb chocolate ice cream.
coffee - cold brew blended with ice and ice cream makes a luxurious iced coffee drink!
Low carb ice cream toppings
toasted, shredded coconut
chopped nuts
sugar-free chocolate chips
warm peanut sauce (see recipe below)
sugar-free syrups
crushed peanut butter or chocolate chip cookies
whipped or coconut cream
Warm Peanut Sauce Recipe
This warm peanut sauce is so indulgent when poured over your ice cream! This makes enough for one serving.
If you let it set for a moment, it forms a peanut butter shell over the ice cream.
Servings: 4
Ingredients
2 tablespoon peanut butter
1 tablespoon butter or refined coconut oil
2 teaspoon allulose
handful of roasted peanuts
salt to taste
Directions
Microwave peanut butter and butter in mug until melted, roughly 20-40 seconds. Add allulose and stir to combine.
Stir in peanuts. Pour over ice cream.
Sprinkle with flaky salt.
Enjoy!
Per serving: 200 calories, 19g fat, 4g net carbs, 6g protein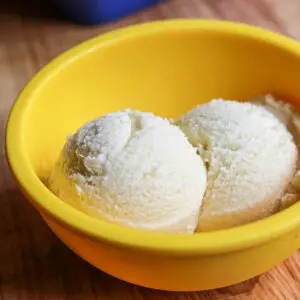 Keto Ice Cream - Classic Vanilla
Nothing is more satisfying than an evening bowl of Keto ice cream, especially with my warm peanut sauce. The ultimate low carb indulgence!
Instructions
In a large bowl, whisk all ingredients together.

Cover with plastic wrap and chill for at least two hours. Overnight is best.

Prepare your ice cream maker according to instructions.

Add ice cream mixture to machine. Let it mix until dense and creamy, roughly 30 - 40 minutes.

Serve immediately or store in air-tight container in freezer. Ice cream will harden slightly but will still be creamy and scoopable directly out of the freezer.
Notes
This recipe makes one pint of ice cream.
For one quart, double the recipe.
If you don't have cake batter extract on hand, just use additional vanilla.
Nutrition
Calories:
310
kcal
Carbohydrates:
3
g
Protein:
5
g
Fat:
33
g
Tried this recipe?
Tag @nobunplease or #nobunplease on Instagram!
Keto friendly store-bought ice cream
When I first started following Keto, there were no store bought options available! My how the times have changed.
Looking for store-bought ice cream? These ones are low carb and very delicious:
What's your favorite ice cream flavor?