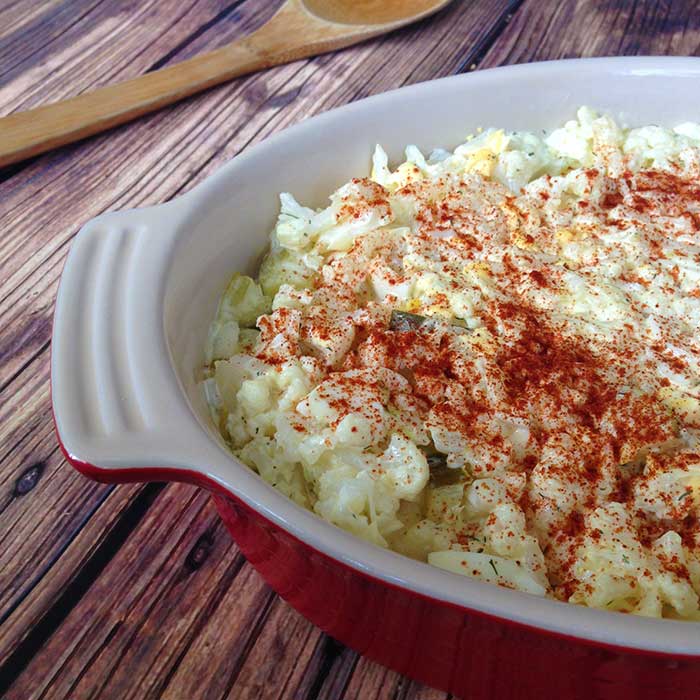 With grilling and picnic season quickly approaching, it is important to have some summertime staples that will not only be delicious, but also align with your eating plan.
One of my favorite side dishes a really great, homestyle potato salad.  While potatoes aren't necessarily low carb, you don't have to navigate the summer without potato salad!
My low carb potato salad utilizes cauliflower instead of potatoes, and it is just as delicious.  The cauliflower is really good for absorbing the flavors that a traditional potato salad gives off.
This low carb potato salad is the perfect side for any of your favorite summer proteins: hotdogs, hamburgers, or sausages!
The flavor gets better as it sets in the fridge, which is why it is recommended to refrigerate for at least 2 hours first.
For an interesting new twist, try using my bacon mayonnaise as the base and possibly swapping cauliflower for broccoli!
Want a printable version of all recipes from No Bun Please?
Get the printable e-book for just $5 and get an updated version every time I add a new recipe for FREE!
I have gotten rave reviews over this recipe.  Some people didn't even realize that it wasn't a potato dish!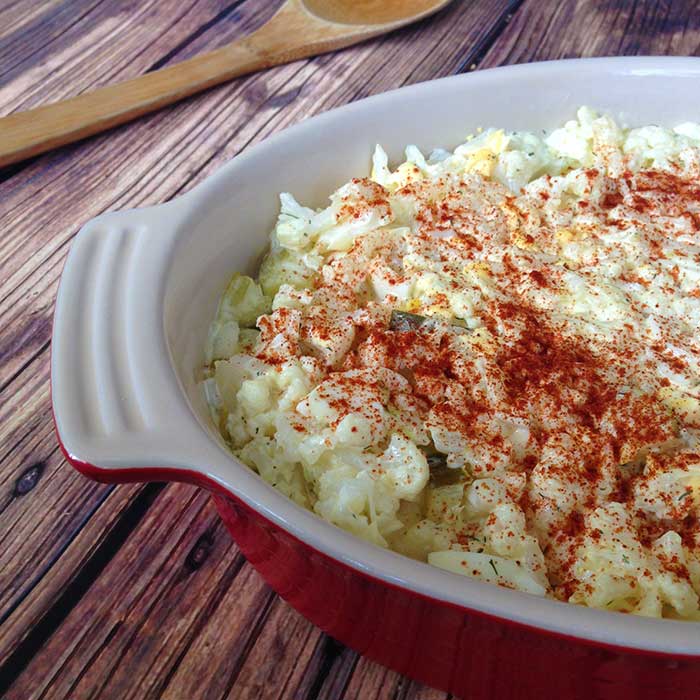 This is perfect for almost any kind of diet, including dairy-free.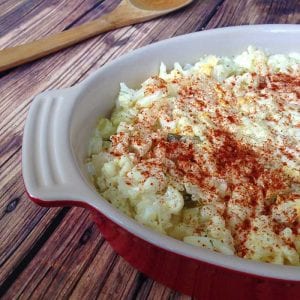 Ingredients
1

head of cauliflower

broken down into florets

1

cup

of mayonnaise

3

dill pickles

cubed

2

hard boiled eggs

diced

1/4

cup

of red onion

diced

3

tablespoons

of mustard

2

tablespoons

of fresh dill

2

tablespoons

of pickle juice

optional

1

tablespoon

of lemon juice

1

tablespoon

of smoked paprika

salt and pepper to taste
Instructions
Boil cauliflower in water until fork tender

Remove from water, drain and set aside

Combine together mayonnaise, pickles, hard boiled eggs, red onion, mustard, dill pickle juice, lemon juice, salt and pepper.

Pour over cauliflower and mix until evenly incorporated

Garnish with paprika over top

Refrigerate for at least 2 hours before serving

Enjoy!
What's your favorite summertime side dish? Comment below!