"This post contains affiliate links, and I will be compensated if you make a purchase after clicking on my links."
One of the easiest ways to ease into a Keto diet is to replace all of your favorite foods with low carb, high fat alternatives. Through the years I have learned a thing or two about satisfying the snacking sensation that is associated with potato chips. While my usual bag of Doritos and salsa con queso wasn't exactly keto-friendly, I knew I had to find something new. These are my favorite low carb substitutes for potato chips that I discovered so far in my journey.
1. Pork Rinds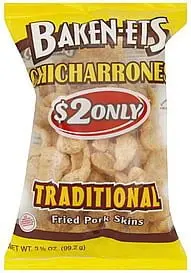 Pork rinds (or chicharrones) are probably the most quintessential potato chip replacement in the low carb world -- and for good reason! They're crispy. They're crunchy. They're high in protein and fat. They have nearly zero carbs! How can you argue with qualities like that? Not only do they serve as a wonderful vehicle for dishes like Buffalo Shrimp Dip, but you can even use them to make fried chicken. Imagine that?
I have noticed that there are some places where it's really hard to find pork rinds. If they aren't sold in any of your local supermarkets, I highly suggest trying out a dollar store or even a convenience store. I almost always see them when I am getting gas!
If you've looked everywhere and can't find them, that's okay. You can still order some on Amazon. Oh, and there's microwavable ones?!
2. Cheese Chips
If you've never had cheese chips, you're in for a real treat! Imagine eating a Cheez-it but it's only made of one single ingredient. They're that good.
To make cheese chips, just following the recipe for my Cheesy Cheddar Crisps.
If you're lazy (me most of the time), you can pick up some of these delicious Parmesan cheese crisps called WHISPS.
3. Raw Vegetables
These are the go-to appetizer at any party. Who doesn't love vegetables with dip? As far as veggies go, stick to those lowest in carbs.
The vegetables with the lowest amount of carbs include celery, cauliflower, broccoli, cucumber and zucchini.
4. Low carb vegetable chips
Other than kale chips, you probably haven't seen many other low carb vegetable chips. Fortunately for us, these are now becoming more mainstream with product like Tyrrell's Beetroot, Parsnip and Carrot Crisps. These are so delicious and are only 8 net carbs for an ounce.
I've heard that Trader Joe's stocks parsnip chips by themselves that are even lower in carbs! Hardbite also has a brand of parsnip chips that I haven't been able to find in stores yet.
Another fun find are these chips from Quest. They're made with potatoes, but come in at only 5 net carbs per bag! These are high in protein, so if track your macros, do so accordingly.
5. Prosciutto and Pepperoni Chips
Crispy cured meats. Does it get any better? My Crispy Proscuitto Chips are always a hit when I bring them to parties and events. They're elegant, smokey, salty and unbelievable!
Pepperoni is another great Italian meat that can be crisped up to make the perfect low carb chip substitute. Check out this simple recipe for Pepperoni Chips from Food.com.
What's your favorite low carb potato chip swap? Comment below!