"This post contains affiliate links, and I will be compensated if you make a purchase after clicking on my links."
When I first started following a Keto diet, I knew that I'd miss one of my absolute favorite meals -- a big bowl of pasta. At first I didn't have high hopes, but I discovered that there are plenty of low carb pasta replacements that I could use instead!
What's wrong with regular pasta?
Pasta, while delicious, is a concentrated source of carbohydrates with minimal nutritional value.
The high carb count contributes to a rapid increase in blood sugar levels that may trigger sugar cravings.
The combination of high carb AND fat is also a recipe for weight gain and lethargy.
Even if you aren't following a Keto diet, you could easily lower the carb count of your favorite dishes by swapping regular wheat pasta for these alternatives.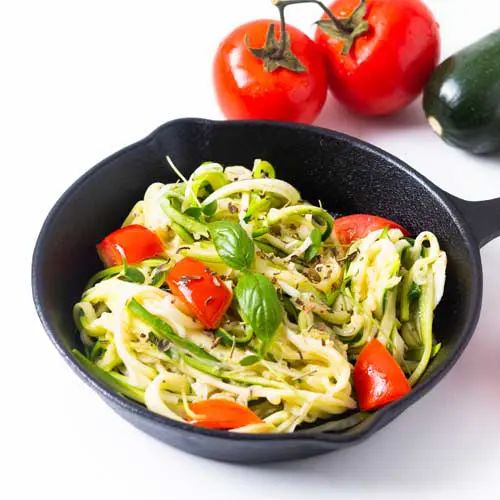 1. Zucchini Noodles, "Zoodles"
With the help of a vegetable spiralizer, you can quickly whip up huge batches of zucchini noodles, commonly referred to as "zoodles."
Zucchini is very mild and does an excellent job of taking on the flavor of your sauce. It's also loaded with water, so it may be necessary to pan fry before adding to your favorite dish.
For one cup of zucchini noodles (1 medium):
38 calories
0.5g fat
7g carbs
2g fiber
5g net carbs
3g protein
These work great in my Low Carb Pasta Salad recipe!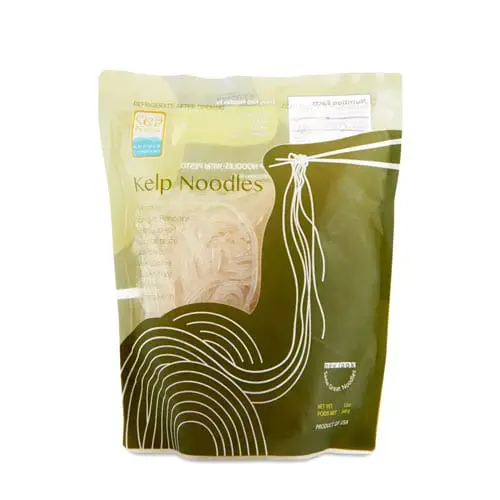 2. Kelp Noodles
Kelp Noodles are made from brown seaweed and are a popular item in different Asian cuisines. They're great in hot or cold dishes, so long as they are prepared right.
Out of the package, they do have a funky smell to them. The makers recommend soaking them in your favorite milk (nut or dairy) to neutralize the flavor.
Expect a pasta texture with a bit of a chew to it.
For 4 oz of kelp noodles:
6 calories
0g fat
3g carbs
1g fiber
2g net carbs
0g protein
These work great in a homemade pho, pad thai or even alfredo based noodle and pasta dishes.
Purchase at your local Asian grocery store or pick them up on Netrition.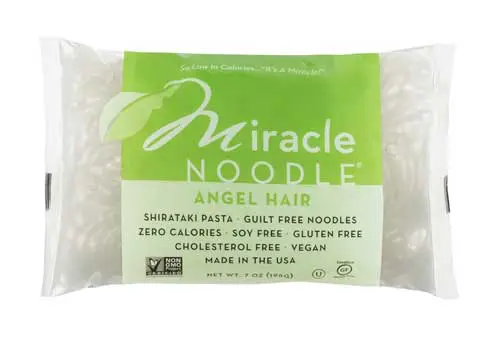 3. Shirataki Noodles
Shirataki are another great low carb noodle alternative. They're made from konjac flour and also require some preparation before adding to your dish.
These have an odor that can be removed by rinsing, soaking, or pan-frying. I highly recommend Martina's directions for preparation.
Shirataki noodles come in a variety of traditional pasta shapes including spaghetti, fettuccine and rice.
For 4 oz of shirataki noodles:
10 calories
0g fat
3g carbs
3g fiber
0g net carbs
0g protein
At your grocery store, they're likely in the refrigerated section (near the tofu) or on the shelf in the Asian ingredients aisle.
Some shirataki noodles are made with soy and oat fiber in an effort to improve texture.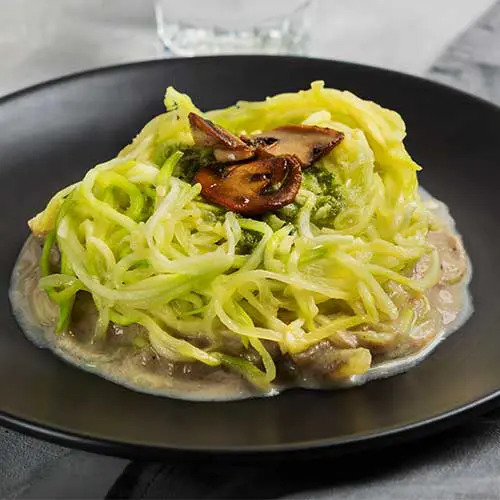 4. Spaghetti Squash
Nature does all the work in this one! Just prepare the spaghetti squash and scoop out the insides with a fork.
Spaghetti squash is super filling and goes great with tomato or cream based sauces.
For one cup of spaghetti squash:
30 calories
0.5g fat
7g carbs
2g fiber
5g net carbs
1g protein
Looking for a recipe to try? My Italian Spaghetti Squash Casserole is delicious!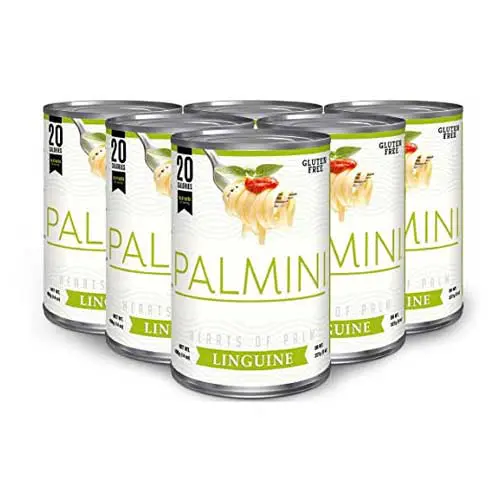 5. Hearts of Palm
Hearts of palm are another vegetable that can be made to resemble a bowl of noodles.
I find that creamy, cheesy sauces work best with this Keto friendly pasta substitute.
There are sustainability concerns with products made from palm. The Palmini brand uses environment-friendly methods of cultivation.
For roughly 4 oz of Palmini (⅓ can):
15 calories
1.5g fat
3g carbs
2g fiber
1g net carbs
2g protein
I love the convenience of having these in pantry!
Purchase Palmini on Netrition
6. Edamame Noodles
Edamame noodles have a neutral flavor and very similar texture to pasta. I'd say they're probably closest to the real thing.
They are less chewy than shirataki noodles and hold sauce very well.
For 2 oz of edamame spaghetti:
180 calories
3.5g fat
20g carbs
13g fiber
7g net carbs
24g protein
While the label reads 20 grams of carbs, keep in mind that there are only 7g net.
Check out those other macros -- 13 grams of fiber and 24 grams of protein!
I've seen these in TJ Maxx and Marshall's quite a bit. You can also order the Explore Cuisine brand online.
Some brands include additional ingredients to make combinations like edamame and black bean pasta.
Soy is a controversial ingredient. Please research and make a decision based on your goals.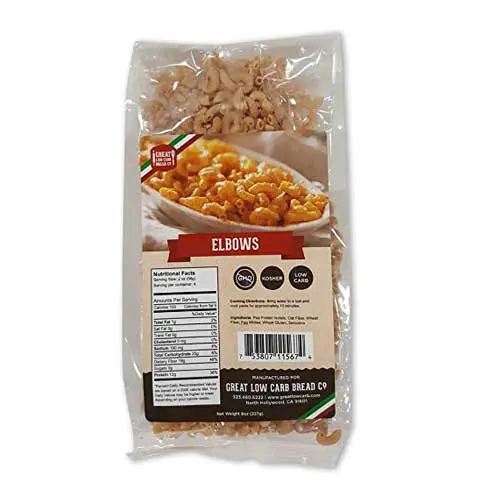 7. Pea Protein Pasta
If you absolutely must have pasta, consider picking up the elbow macaroni from Great Low Carb Bread Company.
The pasta itself is pretty filling and makes a great macaroni and cheese (without the high carb count from regular wheat flour!).
For 2 oz of dried pasta:
100 calories
1g fat
25g carbs
18g fiber
7g net carbs
12g protein
If you are sensitive to wheat or large amounts of fiber, this product may cause some digestive issues. Be mindful of your portion.
This pasta comes in a few different shapes that are available on Netrition.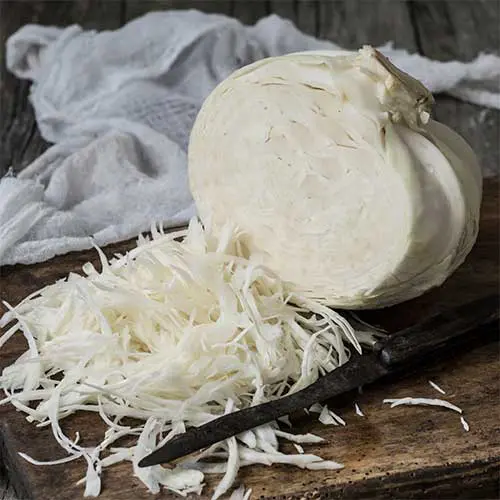 8. Cabbage
Surprisingly enough, cabbage actually does make a decent replacement for regular pasta.
When preparing, cut in long thin strips that resemble noodles. As they heat when cooking, they'll become more limp and pasta-like.
Sauté with fresh garlic, olive oil and a touch of butter. So quick and very delicious.
For one cup of sliced cabbage:
25 calories
0g fat
5g carbs
2g fiber
3g net carbs
1g protein
What's your favorite low carb diet pasta substitute?