"This post contains affiliate links, and I will be compensated if you make a purchase after clicking on my links."
For those following a ketogenic lifestyle, raise your hand if you miss beer! I see you and I'm right there with you. Beer lovers know the true difficulty of relinquishing a favored hoppy beverage in the name of health.
You've probably heard someone say that the Keto way of eating isn't hard. That if you tailor it to your needs and goals and budget, the diet is relatively easy to follow. While part of that is true, I don't think those people are beer lovers.
Fear not, thy lovers of foam! I'm here to tell you that there are far superior low-carb beer options than those found in the domestic section at the store (you know the ones).
In this post I'll reveal five beers that are low in carbs, flavorful, and are bound to bring any true beer fan out of the depths of Keto despair.
A quick note before you read on...
This post in no way condones imbibing to drunkenness or underage drinking. If you plan to drink, never get behind the wheel and always find a safe ride home. Moderation should always be the aim, but I will never judge should you surpass your moderate level.
Beer on Keto? You've got to be crazy.
Firstly: YES! I am crazy but that has nothing to do with beer and is something I discuss only with my therapist, mmkay?
Secondly: YES! If you love beer, you can absolutely make it work with your goals. This is good news if you've been crying into your sparkling water and vodka drink while dreaming of a pint brimming with suds–you're very welcome.
It's easy to see why beer tends to be the hidden shame of the Keto community; the beverage is often calorically dense and high in carbs. While there are alternative options that are lighter in both calories and carbs, it must be noted that all alcohol has two things in common that aren't ideal for those attempting to lose weight:
Calories: Pure ethanol is 7 calories per gram. If you drink 1.5 fl oz of a hard liquor that is 80 proof (or 44 percent ethanol), you just drank 98 calories and that's only if you didn't mix in anything with additional calories. Blessings to the Wikipedia writer for doing the math.
It stalls weight loss: Alcohol has no nutritional value and is metabolized quickly, therefore alcohol is burned before your fat stores. In fact, Keto expert Maria Emmerich states that fat metabolism is reduced by 73 percent after just two low-carb alcoholic drinks.
My point: While it may be true that hard liquors have no or fewer carbs than beer, it's a wash. Because it sounds like none of us drinkers are burning fat while drinking in moderation and beyond, right Maria?
I still want a beer. Do I have to drink low carb beers while on Keto?
You don't have to drink low carb beer.
There. I said it.
If you want to splurge on a double IPA you've never tried or a fruity gose at a brewery, do it! Life is all about balance.
If you want the beer, drink the beer.
Just remember:
The higher the alcohol content, the likelier you are to kick yourself out of ketosis since the body prioritizes burning alcohol over fat stores.
Ask yourself whether you can stop after one or two. If not, you might reconsider.
Is this beer easily accessible at the store or is it a seasonal small-batch that's never to be brewed again? If the chances of you having the beer again are slim, go for it!
Don't forget your electrolytes! Hangovers are rough for those on a low carb diet. Before tipping back a cold one, make sure you've had your electrolytes. This small, simple action makes a huge impact.
5 Amazing Low Carb Beers for Keto folks
As a beer enthusiast, finding tasty low-carb beer has been essential in making the Keto way of eating a lifestyle instead of merely a diet. It became quite clear my first month of Keto living that removing beer wasn't going to be a sustainable option.
So, I set out on a quest to find beer options that were both low in carbs and calories while delivering that hoppy face-punch I've come to love.
I needed flavor.
I needed life.
I needed more than what the sad domestics could ever deliver.
Without further jabbering, here are 5 low-carb beers that are sure to please all, including you craft beer lovers.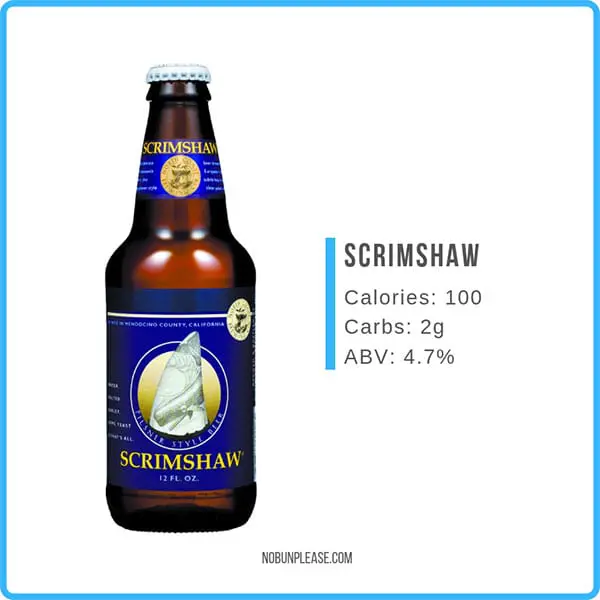 Scrimshaw
Brewery: North Coast Brewing, Co.
Beer Type: Pilsner-Style
If you're looking for something light to drink while barbecuing with friends, this is what you're looking for. The flavor is just malty enough and it features floral notes at the top. Its finish is crisp, dry and utterly refreshing.
Scrimshaw has become a staple at my favorite local bar that is owned by some of my most favorite drink snobs, so you know it's a great option. With only 2 grams of carbs, this is one of the lowest carb beers!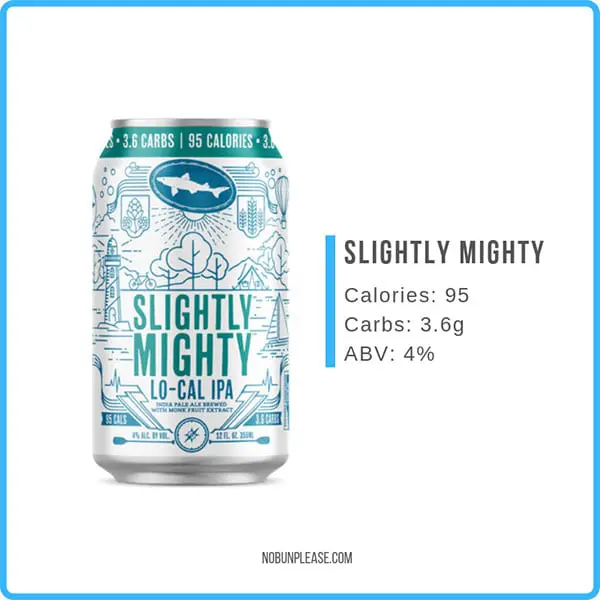 Slightly Mighty
Brewery: Dogfish Head Brewing
Beer Type: American IPA
There have been many a weekend where I lament this gem of a beer isn't distributed in my state. In fact, I only get to drink it when I'm in Missouri, so I guess that makes it extra special. If you are scared of low-cal IPA based on past experience, this one may shock you.
It features a nice hoppy punch and balances sour notes with a touch of sweetness that comes from monk fruit. Don't let the low calorie beer branding fool you -- it's a fantastic choice for easy drinking and kicking it lakeside.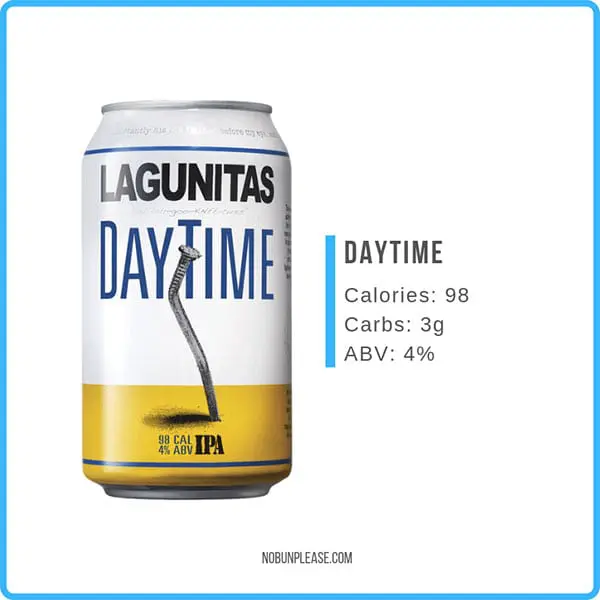 Daytime
Brewery: Lagunitas Brewing Company
Beer Type: American IPA
This is such a solid session beer. While it may be pale when poured, the color doesn't reflect the flavor. This beer has a strong scent (if you like that sort of thing - yay!) and a bold hop. If you like your beer to have a bready finish, this is your low-carb dream come true.
It's like bread without consequences!
As a writer, I would be remiss if I didn't mention the copywriting on the cans. Make sure to read whatever is printed near the top of the can. I have yet to see a repeat and the phrases are always delightfully random.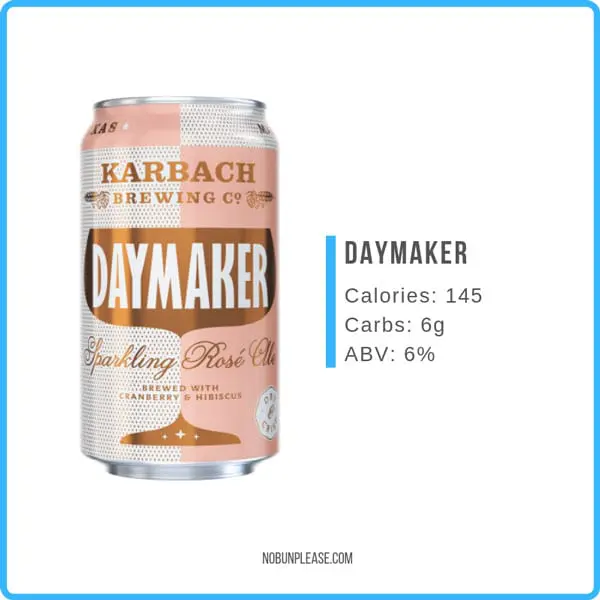 Daymaker
Brewery: Karbach Brewing Co.
Beer Type: American Brut IPA
Brut IPAs are all the rage right now, and I can only assume it's because people finally tired of drinking beer that felt more like a dare than as a way to enjoy oneself. They're more champagne-like and yet still deliver hoppy notes.
Karbach's Daymaker delivers the crisp lightness of a sparkling rosé with a light hoppiness and notes of hibiscus. I have a tough time finding this one and it's probably for the best; they are so delicious that I have a hard time stopping. You've been warned.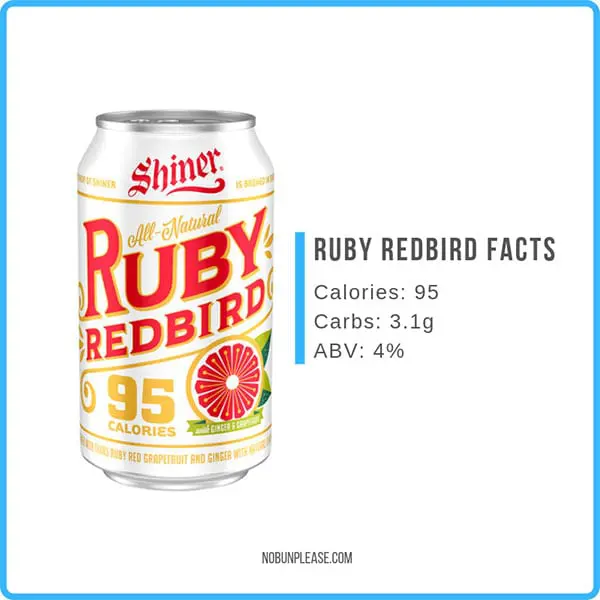 Ruby Redbird
Brewery: Shiner aka Spoetzl Brewery
Beer Type: Fruit and Field Beer
I don't tend to enjoy beers in the fruit and field category (beers brewed with fruit and.or veggies and herbs) and often avoid beers that lean on the sweet side. I also don't like Shiner Bock. BUT Shiner's Ruby Redbird bubbled its way into my beer snob heart and I've been charmed ever since.
If you want something ultra crisp with a light and fruity sweetness, this beer is a great option. Bonus points if you drink it from a salt-rimmed glass.
You can have your beer and drink it, too!
As more beer drinkers adopt a ketogenic diet and lifestyle, more craft breweries are looking for a way to serve those customers. Whether you're a self-prescribed beer snob or you're simply looking for a Keto-friendly beer option, there are plenty to choose from. Knowing that all beer isn't on the Keto naughty list widens your options and ultimately makes low-carb eating a lifestyle rather than just another diet.
If domestic light beers are more your thing, there are plenty of options like Michelob Ultra and Miller Lite listed in the Keto Diet Alcohol Guide.
Which beer brand is your favorite on a Keto Diet? Have you tried any of these beers? What did you think? Comment below or send a direct message to @ketonesjones on Instagram.