"This post contains affiliate links, and I will be compensated if you make a purchase after clicking on my links."
With the changing of the seasons usually comes a change in food cravings for me. In the past, I've been known to create/eat/destroy anything with pumpkin. This year is a bit different, though. Since I've embarked on this gluten-free and low-carb journey, that means there's a lot of experimenting to do with some new recipes.
...and I am not the least bit upset by this.
As soon as fall hits, I am ready for my kitchen to become a spice market.
Cloves, cardamon and anise are all really nice, but there is one pairing of spices that make me melt - cinnamon and cumin.
I wasn't always a fan of cinnamon with savory dishes. In fact, the only time I used to eat cinnamon growing up was in pumpkin pie, on my applesauce or the fake tidbits in my Pop tarts.
Cumin, on the other hand, I've quite familiar with growing up. I am pretty sure my favorite food growing up was the delicious tacos my mom would make. Let's be real. Tacos aren't tacos without cumin!
But together...AMAZING!
This spice pairing is fairly common in Moroccan cuisine, which just so happens to be my inspiration for this dish - Spiced Moroccan Stuffed Peppers.
Normally, I'd serve these Moroccan Stuffed Peppers with some rice, but from a low-carb, ketogenic perspective, this isn't a viable option. Instead, try some of the following:
Cauliflower rice
Sauteed sugar snap peas
Pureed low-carb root vegetables (daikon, radish, etc.)
For this recipe, I used 80/20 ground beef for the fat content. You could experiment with different cuts of meat for different flavors. I would have really love to try this with lamb!
Macro/Nutrition: For 1 Moroccan Stuffed Pepper, this come out to roughly 350 calories, 7 carbs, 5 NET carbs, 20 grams of fat , 2 grams of fiber and 29 grams of protein per serving!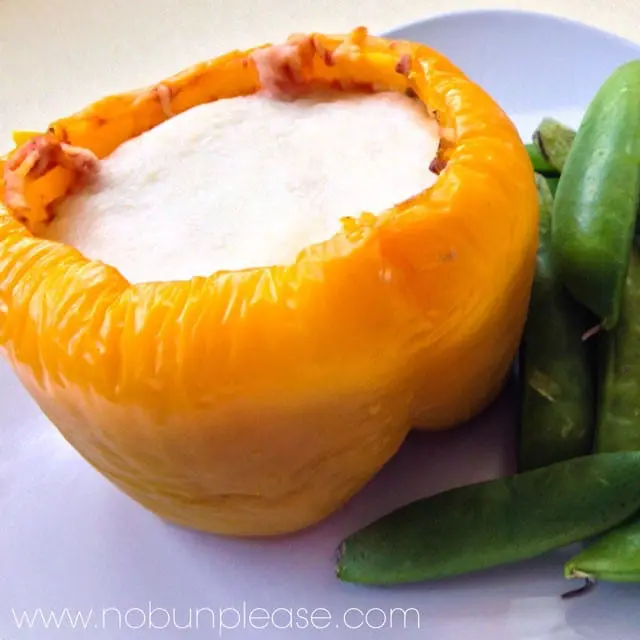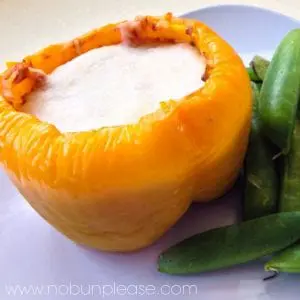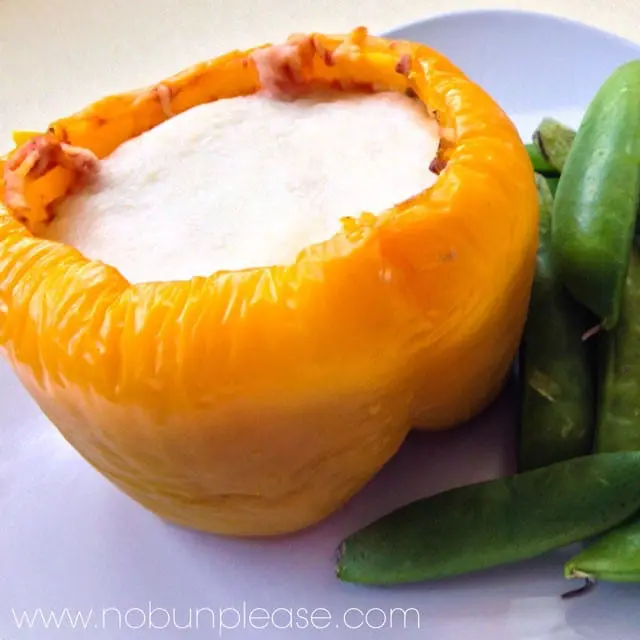 Spiced Stuffed Peppers (Moroccan Inspired)
Ingredients
4

bell peppers yellow

1

pound

ground beef

1

tablespoon

black pepper ground

1

tablespoon

cumin

1

tablespoon

mint chopped

1

tablespoon

tomato paste

1

teaspoon

onion powder

1

cup

mozzarella cheese shredded

1

teaspoon

smoked paprika

½

teaspoon

cinnamon
Instructions
Preheat oven to 375 degrees F.

Next, mix all of the ingredients (except for the cheese) in a bowl until they are evenly distributed.

Begin by slicing the tops off of the peppers and removing the seeds and ribs with a knife.

Split the meat and spice mixture into 4 equal sizes. Stuff each pepper with ¼ of the mixture

Stand them up, meat side up in a baking dish and top with cheese.

Put into oven for roughly 25 minutes or until the meat inside is fully cooked.

Enjoy!
Tried this recipe?
Tag @nobunplease or #nobunplease on Instagram!
What's your favorite autumn time dish? Comment below!