"This post contains affiliate links, and I will be compensated if you make a purchase after clicking on my links."
When structuring a new lifestyle change, it is important to be able to still enjoy your favorite foods. When I deny my body/brain of a food I really want, I naturally strike back, but at a three-fold. Instead of having a grilled cheese sandwich, I would eat three. Instead of one beer, I would have five.
But this disordered way of eating doesn't have to exist. Finding a substitute is a great way to combat the binge eating. Luckily, for those of us on a low carb diet, we can still have our "cake" and eat it, too. My cake (so to speak) happens to be pizza.
A low carb pizza you say? Yes! You can still enjoy pizza on this new way of eating.
Now, I have very specific for a good pizza crust:
must be able to hold sauce and toppings
must be seasoned well
must not contain a million different ingredients
Now, I've tried a few different recipes. Coconut flour, almond flour, flax seed, psyllium husk, etc. and they were ok but...
After trying a few different variations of a low carb pizza, I have come to the conclusion that the best one, without a doubt, is the Keto-friendly, no-dough, low-carb pizza crust from Healthy Keto.
This low carb pizza can be topped with all sorts of different toppings.
Want to switch it up? Try topping with these:
sausage
chicken
different herbs and spices (basil, oregano, rosemary, chopped garlic)
meatballs
veggies (mushrooms, zucchini, peppers)
alfredo sauce
pesto
garlic butter
fresh tomatoes
Still have a pizza craving but aren't in the mood to make an entire low carb pizza?
You should check out my Zesty Keto Pizza Dip or my Caprese Baked Tomatoes.
Macro/Nutrition: For ¼ Low Carb Pizza crust (no toppings), this come out to roughly 260 calories, 6 carbs, 5 NET carbs, 21 grams of fat , 1 grams of fiber and 9 grams of protein per serving!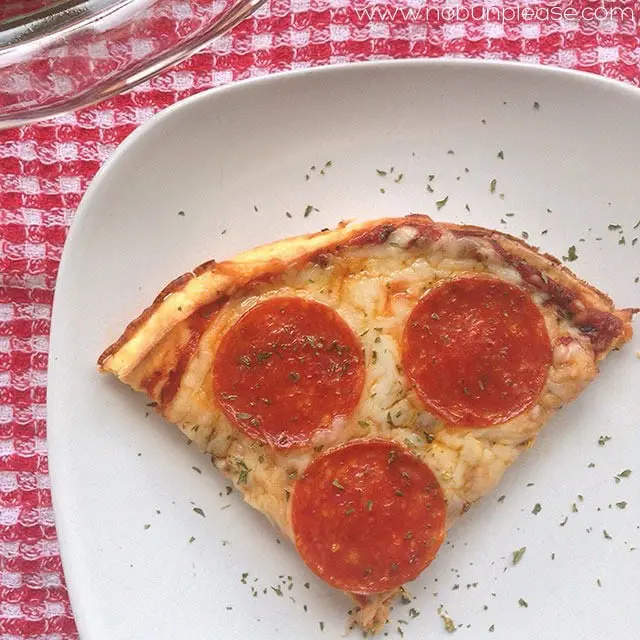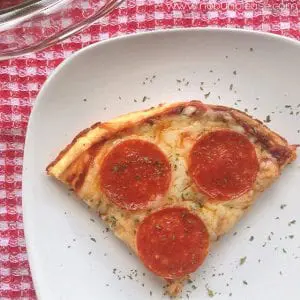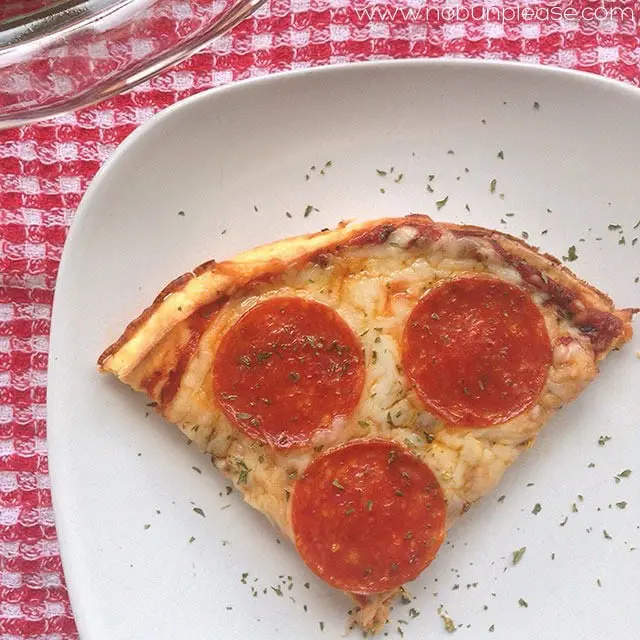 Low Carb Pizza
Ingredients
1 8

oz

package cream cheese

room temperature

2

eggs

¼

cup

parmesan cheese

grated

1

teaspoon

garlic powder

¼

teaspoon

black pepper

ground
Instructions
Preheat oven to 375 degrees F.

With a hand/stand mixer, beat together together cream cheese, eggs, pepper, garlic powder and parmesan cheese until combined.

Spread batter into a greased 9x13 cooking dish.

Bake in the oven for 20-25 minutes, until the top is golden brown.

Remove from oven and let cool for 15 minutes.

Add desired toppings and place back in oven for an additional 10 minutes or until the cheese is melted and the toppings are heated through.
Tried this recipe?
Tag @nobunplease or #nobunplease on Instagram!
What are your favorite pizza toppings? Post below!