"This post contains affiliate links, and I will be compensated if you make a purchase after clicking on my links."
Fall is my favorite time of the year. I love everything about it — the leaves turning colors, pumpkin flavored everything, hoodie weather, and most importantly, football season!
Like any Pittsburgh Steeler's fan, I look forward to the days when I can just hang out with my buddies, drink and eat delicious food! The only hard part is avoiding the usual high carb snacks…
That's where my Keto Pizza Dip comes into play. It's everything you love about enjoying a pizza minus the carbs: the zesty tomato sauce, the melty and crispy cheese, and most importantly, the meaty toppings! In this case, I used a nice, zesty pepperoni.
Not only will this Keto Pizza Dip be a touchdown at your football parties, it's also great to keep on hand throughout the week. It's tasty served cold or warm.
I served this with sliced celery sticks and for my gluten eating friends, crackers and sliced baguette for dipping.
There's a variety of ways you can alter this recipe. Try adding in different toppings to your Keto Pizza Dip. It is tasty with leftover meatballs, salami, mushrooms or black olives. I have also made this with smoked Provolone cheese in place of Mozzarella and it was fantastic!
Just be prepared to be asked for the recipe, it's a hit at any party!
Macro/Nutrition: For 1/12 recipe (roughly 3 tablespoons), this come out to roughly 160 calories, 2 carbs, 2 NET carbs, 14 grams of fat, 0 grams of fiber and 7 grams of protein per serving!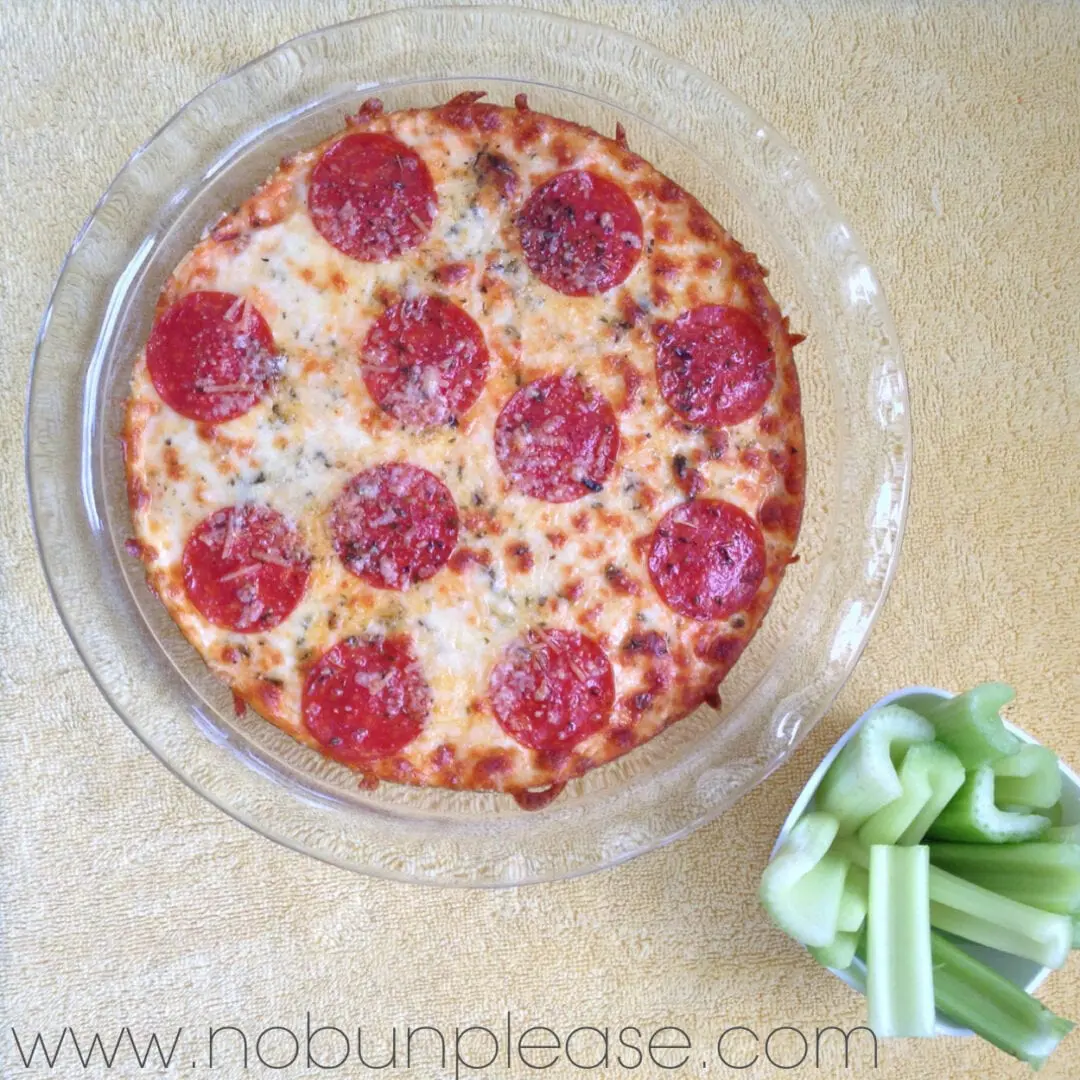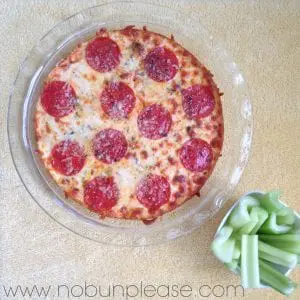 Zesty Pizza Dip
Instructions
Preheat oven to 350 degrees F.

Begin by melting the room temperature cream cheese over low heat on the stop top. When the cream cheese is melted, add the marinara sauce until it is completely incorporated.

Slice up all of the pepperoni (except for what you will use on top) into quarters and add to the cream cheese and marinara mixture.

Stir in 1 cup of the cheese and the Italian seasoning until they are melted together.

Spread your mixture into a non-stick dish (I used a 9" pie pan) and spread it out so it's even.

Top with remaining mozzarella cheese and pepperoni. I also decided to add a bit more Italian seasoning on top, but that is optional!

Baked for 18-20 minutes. If you would like a browned crust on top, set your oven to broil and watch it carefully so it doesn't burn for an additional couple minutes.

Enjoy!
Tried this recipe?
Tag @nobunplease or #nobunplease on Instagram!
What's your favorite low carb snack to enjoy during a sporting event? Comment below!