"This post contains affiliate links, and I will be compensated if you make a purchase after clicking on my links."
V8 Splash is a popular juice brand available in various flavors. Several people following the ketogenic diet want to know – is V8 Splash keto friendly? This post will discuss the nutritional value of this drink to find out if it is keto friendly. However, before that, let us find out what V8 Splash is.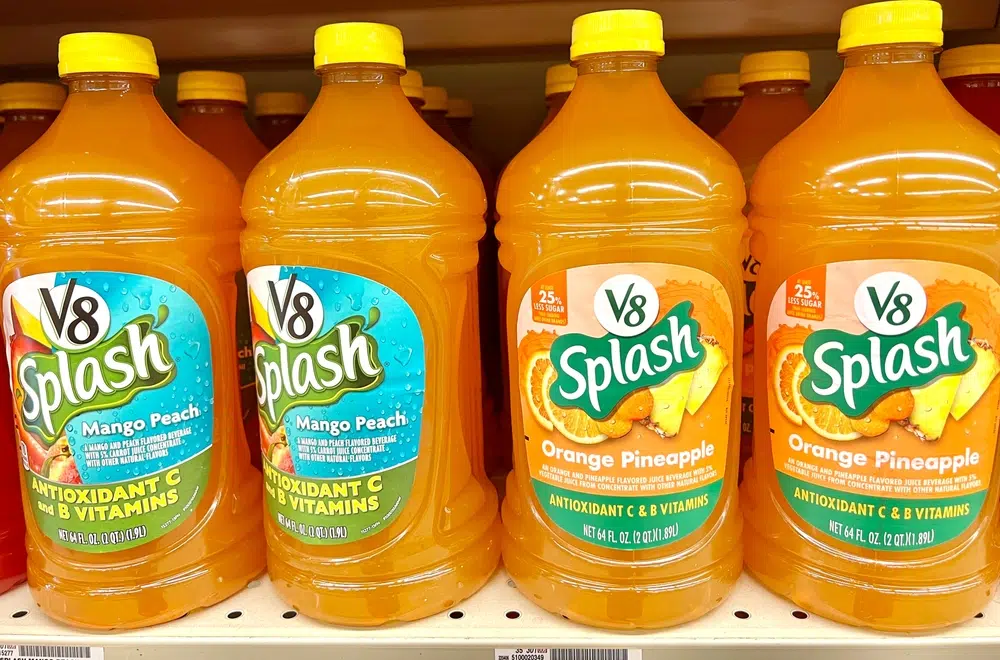 What is V8 Splash?
V8 Splash is a juice cocktail containing high-fructose corn syrup, concentrated juice of carrots, vegetable juice, apple juices, natural flavoring, and mango puree. It is available in Strawberry, Orange, Lemonade, Cran Strawberry, and more. So the ingredients may differ depending on the flavor.
Campbell Soup Company produces V8 Splash. It is a US-based processed food and snack company.
Nutritional Information for V8 Splash
If you read the nutritional value of the V8 Splash Berry Blend, you'll find it gives you 70 calories per portion size of 243g. It also contains 34mg potassium. Furthermore, the net amount of carbohydrates per portion size is 18g.
Can You Drink V8 Splash on Keto?
Is V8 Splash Keto Friendly? No. V8 Splash juice is not keto friendly. It is a highly processed drink that contains 18g of carbs per portion size of 243g.
And since you have to limit your net carb consumption to 30g to 50g per day, you can't afford to get 18g of carbs from just one drink. V8 Splash also contains high-fructose corn syrup, which may elevate your blood sugar and prevent you from reaching ketosis.
But don't worry, there are better keto friendly alternatives to V8 Splash available in the market.
Keto Alternatives to V8 Splash
Organifi Red Juice
Organifi Red Juice is an organic superfood powder drink that gives you 2g of net carbs per serving. This energy powder drink contains organic berries, beetroot powder, acai, and more.
5 Hour Energy
5 Hour Energy is an energy shot from Essentials LLC. The energy drink provides energy for hours and keeps you alert. It contains zero net carbs per serving.
Humm Probiotic Kombucha
Humm Probiotic Kombucha is a gluten-free drink that contains organic raw carbonated Kombucha, Green tea, black tea, and monk fruit. The serving of 330ml gives you only 3% of net carbs.