"This post contains affiliate links, and I will be compensated if you make a purchase after clicking on my links."
Seriously, is there anything more refreshing and satisfying than a Root Beer Float? Just add alcohol and you have a delectable adult drink.
In the beginning, I stuck to my guns. I would drink either gin or vodka with soda and lime. If I was going to drink a shot, it would be either whiskey or more vodka.
That was one of the reasons that I started Keto. It gave me the freedom to still enjoy nights out with friends drinking alcohol, all while I could still lose weight!
Thanks, reddit!
One day, I was browsing the Reddit Keto group on Facebook and came across quite a few people who were enjoying their diet sodas with a splash of cream in them.
I was a bit skeptical and to be honest, it seemed a little weird.
I splashed a bit in my Diet Dr. Pepper and took a drink. OH MY GOSH. It was kind of like a root beer float, only with Dr. Pepper.
It was perfectly creamy and such a great treat.
Substitutions
This beverage is very easy to customize to exactly what you have on hand.
If you are out of heavy whipping cream and happen to have some low carb ice cream in the freezer, you can use that as well.
You can use chocolate ice cream or even a couple small scoops of vanilla ice cream.
Just pour the root beer over the ice cream, stir and enjoy.
Ice cream floats are a great treat for kids and who would ever know it has such little sugar?
Just makes sure to prepare your beverage in a tall glass to prevent any soda from running over.
Which alcohol?
For this recipe, I used The Kraken spiced rum, but you can use whatever you like!
As always, remember to be responsible when drinking -- especially because it's VERY easy to get drunk on a ketogenic diet.
There are many types of low carb alcohol to choose from, so find one that aligns with your tastes.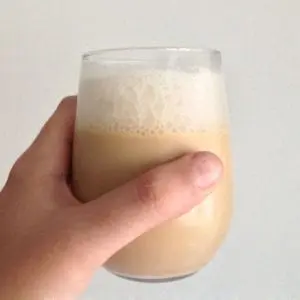 Spiked Root Beer Float
When you're in the mood for a sweet treat, fix yourself a root beer float! If you consume alcohol, it goes great with a shot of rum!
Ingredients
1

cup

diet Root Beer

1

oz

spiced rum

2

tablespoon

heavy whipping cream

handful of ice
Instructions
Pour diet soda into your favorite glass.

Pour into fancy glass and enjoy!

Add a splash of heavy and shot of alcohol (optional).
Nutrition
Calories:
170
kcal
Carbohydrates:
1
g
Protein:
1
g
Fat:
10
g
Tried this recipe?
Tag @nobunplease or #nobunplease on Instagram!
Have you made any really surprising discoveries on keto or low carb?