Loaded potato skins on a keto diet? Nah, not so much. However, these loaded "faux-tato" skins are sure to satisfy that rich and crunchy craving!
I had my first loaded potato skin at TGI-Fridays about a decade ago and was immediately hooked. Traditionally, they are a crispy, fried potato that is filled with cheddar cheese, bacon bits, sour cream and topped with a little green onion. ALL OF MY FAVORITE THINGS.
Now, I know you're probably thinking, "but potatoes don't have gluten..why can't you just use potatoes for this?"
Want a printable version of all of my recipes?
Get the entire collection for just $7.99 + an updated version every time I add a new recipe for FREE!
I could if I weren't following a ketogenic diet (I try to stay below 30 carbs a day). Also, there have been mixed feelings about tubers (potato and whatnot) within the paleo community about whether or not they coincide with the OFFICIAL dietary guidelines.
Now, I'm going to be honest. One VERY important thing about the foods I try to create is that I try to make them simple, delicious, and relatively inexpensive, unless it's a special occasion. All of the ingredients for the recipe were were already staples in my kitchen and pantry, making it super affordable and easy!
The base of these "faux-tato" skins are comprised of another post I have already made, my Crispy Cheddar Crisps.
Now, let's get started.
These can be served as appetizers or even a quick snack. I've been known to eat these for dinner sometimes, just because they're that good.
Also, if you'd like to make these even more decadent and delicious, dip into your favorite creamy dressing. Ranch works well, but bleu cheese just melts my bacon-fueled heart!
While these are completely fulfilling, I may experiment with cauliflower next.
Macro/Nutrition: For 3* loaded potato skins , these come out to roughly 335 calories, 5 carbs, 5 NET carbs, 27 grams of fat, 0 grams of fiber and 17 grams of protein per serving!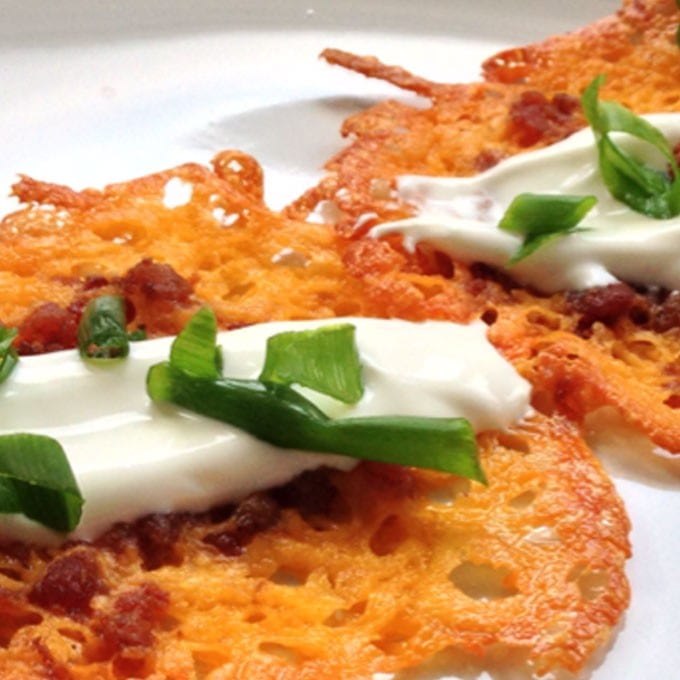 Loaded "Potato" Skins
Ingredients
6

tablepsoons Cheddar cheese shredded

3

tablespoons

Real bacon bits

3

tablespoons

sour cream

1

tablespoon

green onion chopped
Instructions
Begin by preheating your oven to 375 F.

On a non-stick silicon baking mat (or cooking sprayed cookie sheet), drop three separate piles of cheddar cheese evenly spaced apart. You want to make sure they're somewhat formed into small piles.

Top the cheddar piles with 1 tablespoon each of the real bacon bits.

Place in oven for roughly 10 minutes or until the edges are golden brown.

Remove from oven and let cool until hardened (about 10 minutes).

Top each crisp with a tablespoon of sour cream and a sprinkling of green onion.
What's your favorite appetizer when you dine out? Comment below!

Share This!

Keep Reading