by Dom Geracia
As mentioned in a previous post, I'm really not a big sweets lover. Given the choice over a delicious plate of meat and potatoes over a decadent birthday cake, I'm always going to choose the meat and potatoes.
However, during the Christmas holiday season, my mother makes what I would call "the absolute best" peanut butter cookies. They're creamy and just perfectly sweet, and very easily consumed. One of my favorite ways to eat these was to break a bunch of them up into a glass and submerge them into a big glass of milk.
Ever since I decided to go grain-free and low-carb, the nostalgia that these cookies ignite has been a bit daunting, knowing that I wouldn't be able to enjoy them during the holidays.
My recipe for Keto Peanut Butter Cookies isn't an exact duplicate of my mother's cookies, but the flavors and memories are definitely there!
For a summertime treat, I decided to put two of these cookies together and sandwich a small scoop of All Day I Dream About Food's, "Perfect Low Carb Vanilla Ice Cream" between them. Let me tell you this, this ice cream really is perfect! Carolyn really killed it in perfecting this summertime treat!
If you don't have the time to make the ice cream, a quick swap would be to use one of Breyer's No Sugar Added Vanilla Ice Cream or So Delicious No Sugar Added Coconut Milk Ice Cream.
For some variety, you can change the ingredients up in my Keto peanut butter cookies.  Try using almond butter or adding a low carb chocolate chip. Whatever suits your palate!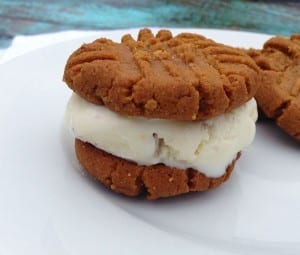 Ingredients
1

cup

natural peanut butter

1

teaspoon

stevia

1

egg

1

teaspoon

vanilla

1/2

teaspoon

sea salt
Instructions
Beat together peanut butter, egg, vanilla and salt.

When thoroughly mixed and combined, add in the sweetener and blend until completely incorporated.

Store mixture in refrigerator for at least a half hour.

Preheat oven to 350 degrees F.

Remove dough from refrigerator and roll into small balls, approximately an inch in diameter.

Place them on a parchment lined cookie sheet, about 3 inches apart.

With a fork, stamp them down creating a criss-cross pattern.

Bake for roughly 10-12 minutes, until they turn golden brown (they will be soft).

Remove from oven and cool COMPLETELY (failure to do so will make these crumble to dust).
What's your favorite summertime dessert? Comment below!
Dom Geracia is a long time Keto diet follower who is passionate about simplifying the low carb lifestyle for beginners. When he's not posting yummy food pics on Instagram, you can likely find him cuddling the nearest cat or guzzling down (yet another) iced coffee.
Posted 07/10/2014
Never miss a post!
Get e-mail updates sent directly to your inbox.