"This post contains affiliate links, and I will be compensated if you make a purchase after clicking on my links."
When we think of Keto, chicken nuggets are probably not one of the first things that come to mind.
I mean, who doesn't love a juicy piece of chicken with a crispy, crunchy crust? It's the perfect bite, especially when paired with the right dipping sauce.
While delicious, the nuggets sold in the drive-thru are often loaded with carbohydrates and sugar.
Instead, give my Keto recipe a try to satisfy your chicken nugget craving. With minimal ingredients and only 2 net carbs per serving, these are sure to please!
Chicken
If you take a look at the recipe, mine calls for canned chicken. I'm a big fan of this as an ingredient because it's something I always have on hand.
Canned chicken is the main ingredient in my Chicken Crust Pizza as well. Be sure to give that post a look and pin it if it's something you'd be interested in making.
Shredded or ground chicken breast can also be used, but do note that the cook time and texture will vary.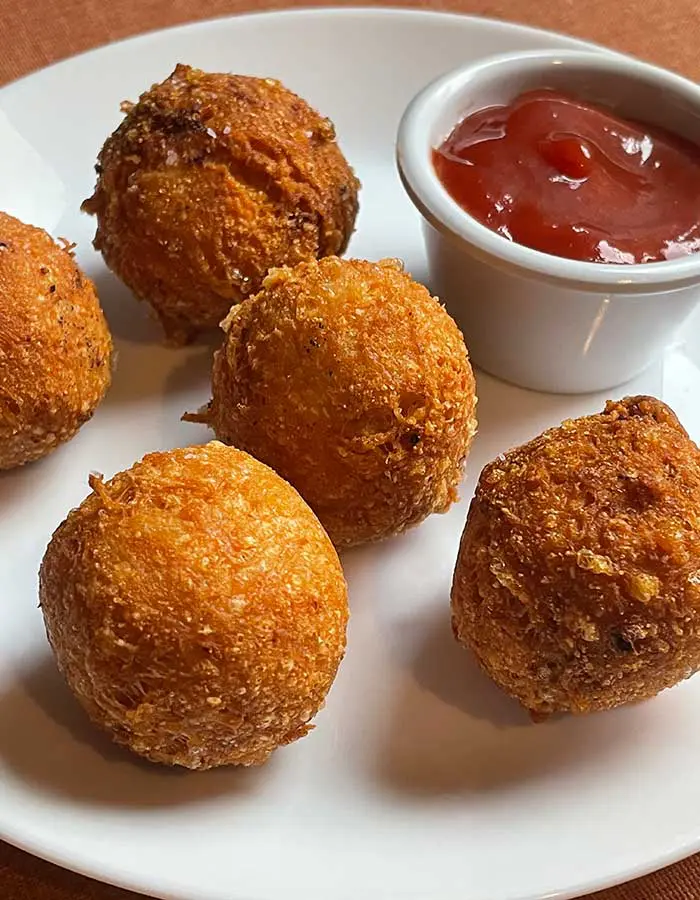 Fast food nuggets
For a similar look to fast food chicken nuggets, a food processor can easily break down all the ingredients and equally distribute the seasonings.
While I prefer this texture, I personally skip the food processor as it's just another dish to clean.
I promise they are just as good without it!
Nugget Size
The size of your nuggets really depends on your preference, really.
For ease of use, I tend to mix everything in a bowl and portion it with a small cookie scoop.
Then, I roll them into a ball shape before cooking.
You can also flatten and form these into a familiar chicken nugget shape to make them look like their fast food counterpart.
Do you miss boneless wings?
If you really want to take it to the next level, this chicken nugget recipe can also be used as boneless wings as well.
Just toss them In your favorite sauces and serve. I like mine in a mixture made from garlic, butter and Parmesan cheese.
It's easily one of my favorite meals I've had on Keto.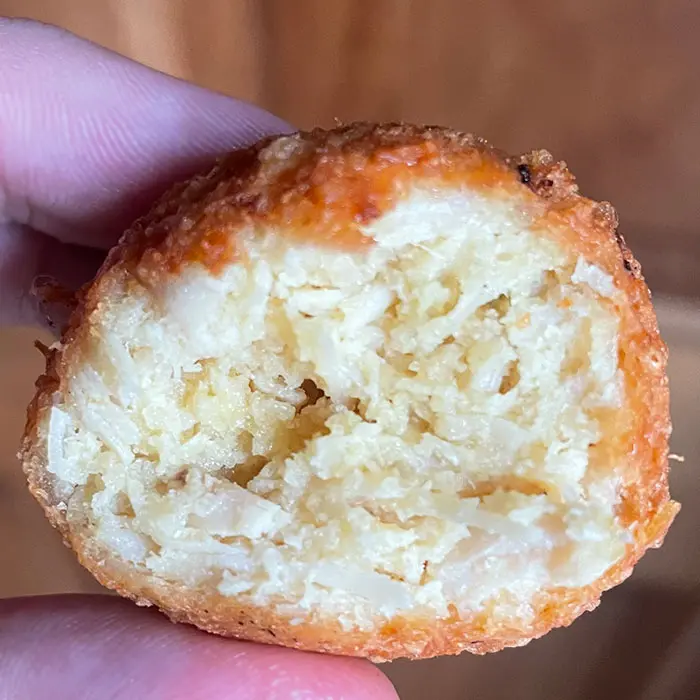 Dipping sauces
When it comes to dipping, the sky is seriously the limit. Just make sure to check those nutrition labels to avoid a high carb count.
Some of my favorite sauces include:
Can I air fry them?
One of the best parts about this recipe is that it can be completed in the air fryer instead of deep-fat frying.
While I do prefer the crunch of deep-frying, it's another instance where I don't want to make a huge mess in my kitchen.
To air fry these chicken nuggets, cook at 370 degrees F for roughly 10 minutes. Flip them halfway through until all sides are golden brown and crispy.
Can I freeze them?
Absolutely! You can actually full cook these and then freeze them.
When you need a serving of chicken Nuggets, just grab a serving and pop them in the air fryer.
This is such an easy meal to put together and the kids will love it, too!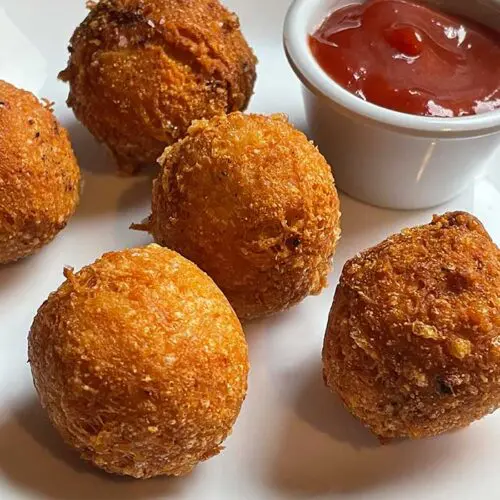 Keto Chicken Nuggets
Juicy and flavorful chicken nuggets with a crispy, crunchy crust. Best of all, they're low carb, too!
Instructions
In a bowl, combine all ingredients until equally distributed. A food processor makes this very easy.

As the ingredients mix, they should start to form a mixture that can be molded in your hands. If it's too wet, add more Parmesan cheese. If it's too dry, add a few drops of water at a time and mix.

Divide your mixture into equal servings and form into desired shape. To make this process super easy, I use a small cookie scoop and roll them in my hands to create perfectly round balls.

In a cast iron pan, add your preferred cooking oil and heat to medium-high heat, roughly 350 degrees F. Fry nuggets until golden brown and crispy on all sides, roughly 5 minutes total. Do not to overcrowd your pan.

After cooking, carefully remove the chicken nuggets from the oil and rest them on a plate lined with paper towels. This will help absorb any excess oil. Also, be sure to salt your chicken nuggets immediately after cooking.

Let cool for 2 minutes before serving. Enjoy!
Notes
Prefer to cook these in the air fryer? Add your nuggets at 370 degrees F for roughly 10 minutes, flipping halfway through. They will come out golden brown and crispy, too!
Nutrition
Serving:
3
nuggets
Calories:
205
kcal
Carbohydrates:
2
g
Protein:
26
g
Fat:
11
g
Potassium:
276
mg
Tried this recipe?
Tag @nobunplease or #nobunplease on Instagram!
Which sauce would you use for this low carb chicken nugget recipe?