"This post contains affiliate links, and I will be compensated if you make a purchase after clicking on my links."
The Chinese Mid-Autumn festival is incomplete without delicious mooncakes. However, is mooncake keto friendly? This is a significant concern for millions of people. So, let us learn about this popular delicacy in detail.
This post will help you find out if mooncake does affect the state of ketosis.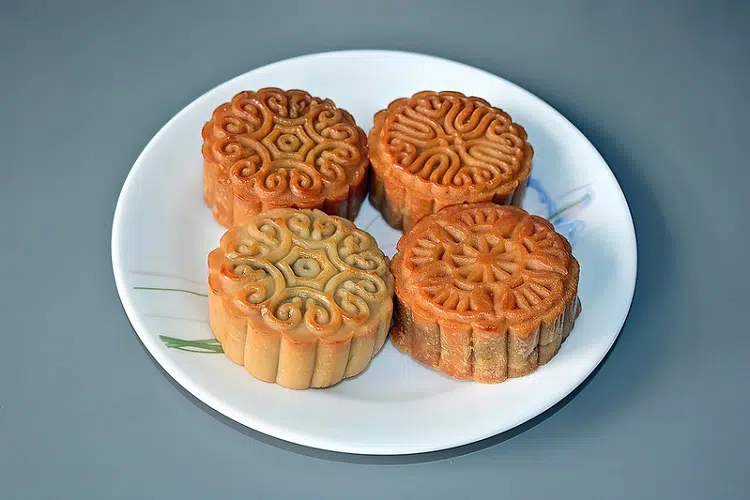 What is Mooncake?
Mooncake is a renowned Chinese bakery product that people eat during the Mid-Autumn Festival. This festival occurs on the 15th day of the eighth lunar month every year.
The Mid-Autumn Festival is among the most significant Chinese festivals. But aside from China, Taiwan, South Korea, Singapore, and Japan also celebrates it.
The festival is about moon watching, lunar admiration, and eating these delicacies. Individuals offer mooncakes to friends and family to celebrate.
Mooncake is a kind of pastry with a sweet or savory filling. And the cake replicates the shape of the moon. But some people prefer to make it in a square shape.
Mooncake's fillings include lotus seed paste, duck egg yolks, and red date paste. On the other side, the savory filling includes roast pork, ham, and Chinese sausage.
Apart from the Chinese, many people outside of China also enjoy mooncakes and their varieties.
Nutritional Information for Mooncakes
One mooncake weighing 138g gives you 394 calories, 470mg cholesterol, and a total fat of 16g. Apart from this, you get 315mg sodium, 185mg potassium, and 13g protein.
The mooncake is high in carbs. You get 50g of total carbs with 27g of sugar and 2.6g of dietary fiber. In addition, you also get Vitamin A, Vitamin C, Calcium, and Iron in a small amount.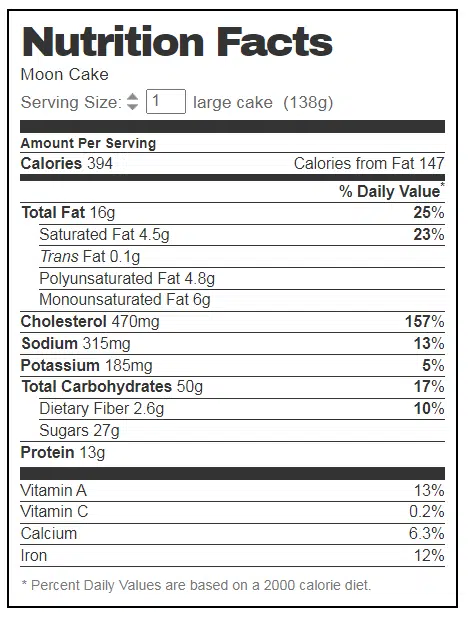 Can You Eat Mooncake On Keto?
No. You have to avoid mooncakes when on the keto diet. It is high in net carbs. Per 138g, you get 47.4g of carbs. Even if you won't eat that much cake, the carb count is still too high. Furthermore, it is processed food.