"This post contains affiliate links, and I will be compensated if you make a purchase after clicking on my links."
Fat bombs are something that I have been hearing around different low carb communities for years. It wasn't until recently that I accidentally fell in love with them! Now you know that I'm not a huge fan of sweets and desserts (as mentioned in my Keto Raspberry Swirl Cheesecake recipe), but these delightful bites of low carb chocolate goodness are fantastic!
What are Fat Bombs?
In a ketogenic/keto diet, our main source of energy comes from fat (roughly 75%). For some people, this ratio is difficult to hit or maintain. The most obvious and usual solution is to simply consume a concentrated source of fat.
For some, this includes:
Butter
Coconut Oil
Olive Oil
Flax Seed Oil
MCT (medium-chain triglyceride) Oil
For most, taking these fat sources straight is somewhat unpalatable and they don't usually any additional protein/carbs from other foods.
This is where fat bombs come into play.
Making Fat Bombs
There are many different recipes for making fat bombs. A majority of them are sweet, but I've even come across a few savory fat bombs that have incorporated ingredients like cheese and bacon!
When making fat bombs, you need three basic things:
Fat base that solidifies (coconut oil and butter work best)
Flavoring (chocolate powder and flavored syrups work well)
Mix-ins (nuts, seeds, shaved coconut, etc.)
It also helps if you have neat molds to make your fat bombs in. I found a really cool ice cube tray in the shape of lightning bolts at Target for $1 and I tend to use that!
My favorite recipe that I've been using as of late have been my Chocolate Raspberry Fat Bombs.
One thing that needs to be stressed is that fat bombs MUST be cold. They will melt. They are, after all, comprised of mostly fat!
Also, when you put these in the freezer, put them on a cookie sheet or something flat so that they won't spill. Believe me, you don't want a chocolate meltdown everywhere in your freezer!
Macro/Nutrition: For ⅙ recipe, this come out to roughly 100 calories, 1 carbs, 0 NET carbs, 10 grams of fat, 1 grams of fiber and 1 grams of protein per serving!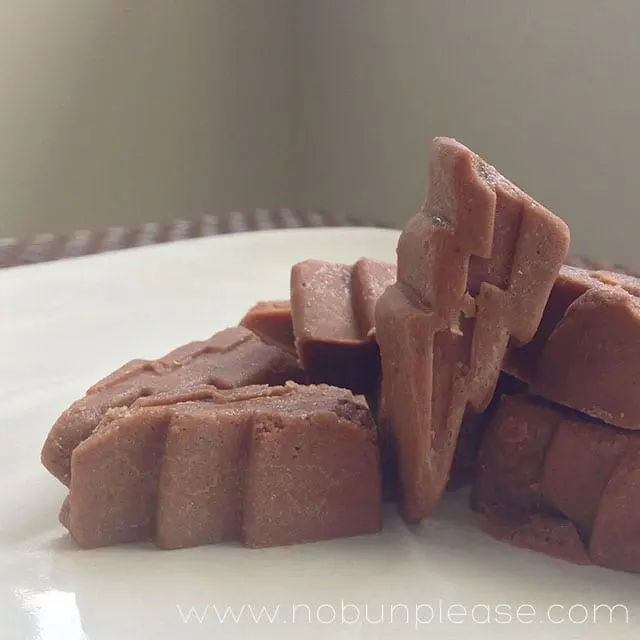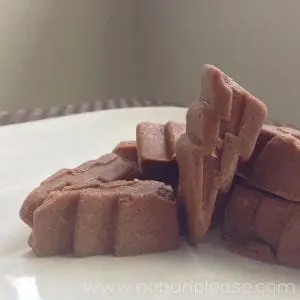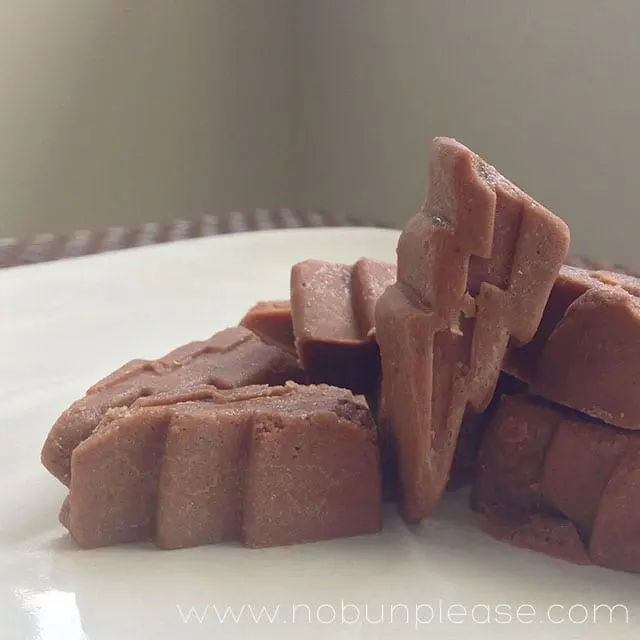 Chocolate Raspberry Fat Bombs
Instructions
Combine all ingredients in sauce pan over extremely low heat until chocolate sauce consistency.

Pour into mold and freeze for at least 2 hours.

After frozen pop out of the mold and enjoy.
Tried this recipe?
Tag @nobunplease or #nobunplease on Instagram!