"This post contains affiliate links, and I will be compensated if you make a purchase after clicking on my links."
Pizza is the biggest comfort food for many people. When you progress into a low-carb or grain-free diet, you might think that pizza is off limits. Fortunately for you, this is not the case!
I have seen and tried many recipes over the years, and I have compiled this list of low carb pizza recipes to make your journey a little easier!
1. Keto Pizza from Warfield Family
This Keto Pizza recipe from Warfield Family is super simple and so tasty! It is packed with fat for energy and is so filling! This is a recipe that easy to throw together and have dinner up in a jiffy!
Recipe: warfieldfamily.com/2013/02/keto-pizza/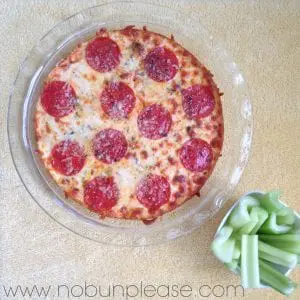 2. Low Carb Pizza Dip from No Bun Please
This recipe is one of my own and is a staple for entertaining. Whether it be a football game or casual night in with friends, this low carb pizza dip will satisfy even the high-carbers in your life. I like to eat mine with celery and pork rinds!
Recipe: nobunplease.com/zesty-keto-pizza-dip-low-carb-gluten-free/
3. Fat Head Pizza Crust from Fat Head Movie
This is definitely one of the most popular low carb pizza crusts and with good reason. It's insanely good! With a mixture of cheese and almond flour, the outcome is a crispy thin crust that can stand up to the toppings! When I make these, I make a bunch at a time and have it on hand. It's really great reheated!
Recipe: www.fathead-movie.com/index.php/2013/06/30/weekend-bonus-the-older-brothers-oldest-sons-faux-carb-pizza/
4. Cauliflower Pizza Crust from Cooking Classy
Seriously, is there anything you can't make with a cauliflower? Over at Cooking Classy, they've formulated a pizza that looks absolutely delicious using cauliflower as the base. Check it out!
Recipe: www.cookingclassy.com/2014/04/cauliflower-pizza-crust-gf/
5. Low Carb Pepperoni Pizza from Ruled.Me
Craig is always coming up with all sorts of delicious recipes with beautiful photos, and this one is no exception. This crust uses a unique blend of ingredients to create a thin, crispy crust. Perfect New York style low carb pizza!
Recipe: www.ruled.me/low-carb-pepperoni-pizza/
6. Deep Dish Pizza from Eat Keto
Low Carb Deep Dish Pizza. Need I say more? The masterminds at Eat Keto have formulated a keto-friendly deep dish pizza that is filling as much as it is delicious!
Recipe: eatketo.com/chicago-style-stuffed-pizza/
7. Meatza from Free The Animal
Last but not least, we could not forget the ever popular meatza! That's right, a low carb pizza crust that is made entirely from meat (ground beef)! Can you really go wrong with a crust made entirely of meat?
Recipe: freetheanimal.com/2009/09/meat-crust-pizza-its-meatza.html
What's your favorite pizza recipe? Share below!