"This post contains affiliate links, and I will be compensated if you make a purchase after clicking on my links."
Every once in a while, I get a craving for something sweet. And when I say that, I really mean once in a while.
One day, I was browsing my grocery store and noticed that there were some pre-packaged coconut macaroons for sale, highlighting the words, "Gluten-Free!"
I took a look at the ingredient list and to my surprise, aside from the shit ton of sugar (it was the first ingredient), these weren't half bad.
I knew that I could make a much healthier version that would satisfy my dietary needs!
Enter the Keto Coconut Macaroons.
These Keto Coconut Macaroons make a delicious snack or dessert. Â Not only are these keto-friendly, but they are also suitable for primal and paleo diets. While the carb count is essentially fairly low, you can lower it even more by using a different sweetener that is low in carbs like Stevia or Erythritol. Â I personally prefer the taste of honey and prefer to bake/cook with minimally processed ingredients.
If you want these to be more stable at room temperature, instead of using cocoa powder, melt some high-quality dark chocolate chips or bar. Â Just make sure you check the ingredients to make sure they don't contain any ingredients you are avoiding (a lot of these have soy and dairy).
These are packed with an awesome healthy fat content and totally satisfy any dessert cravings. What are you waiting for? Go make these!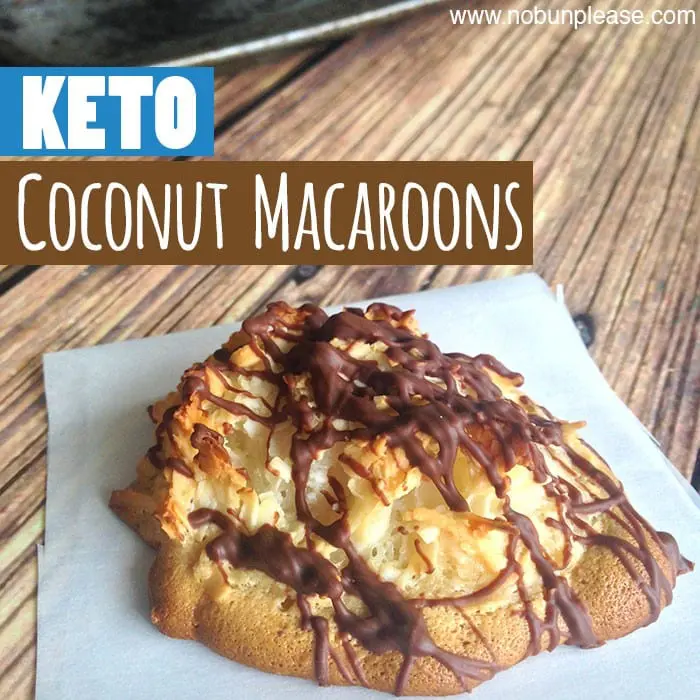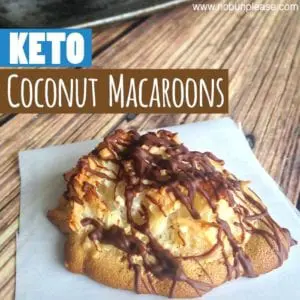 Keto Coconut Macaroons
Instructions
Preheat your oven to 350 degrees.

Whisk egg whites until they form loose peaks (should double in size).

Whisk in honey, vanilla, melted butter and salt until evenly incorporated.

Fold in the shredded coconut. Do not overmix, you want to keep the air in the egg whites.

On a parchment lined cookie sheet, spoon mixture into even mounds, roughly 2 inches in diameter.

Place into oven and bake for roughly 15 minutes or until the edges start to brown.

Once they are browned on the edges, remove and cool on a wire rack.

While cooling, combine the liquid coconut oil and cocoa powder together to create a sauce.

Once the macaroons are cool, drizzle the tops with the chocolate sauce.

Cool and keep refrigerated until consumption. Be wary of warm temperatures, chocolate can melt.
Tried this recipe?
Tag @nobunplease or #nobunplease on Instagram!
What's your favorite dessert? Have you been able to find a suitable swap for your eating lifestyle?
Comment below!