"This post contains affiliate links, and I will be compensated if you make a purchase after clicking on my links."
Ever since I started reading the Harry Potter series in third grade, I've been obsessed with trying to create my own version of an old wizard favorite -- Butterbeer. The perfect accompaniment to a handful of chocolate frogs.
Now, I don't believe there are specific ingredients out there for this magical beverage. While the recipe may be up for interpretation, the book describes butter beer as a "less sickly butterscotch." It's also served hot and with a generous serving of whipping cream!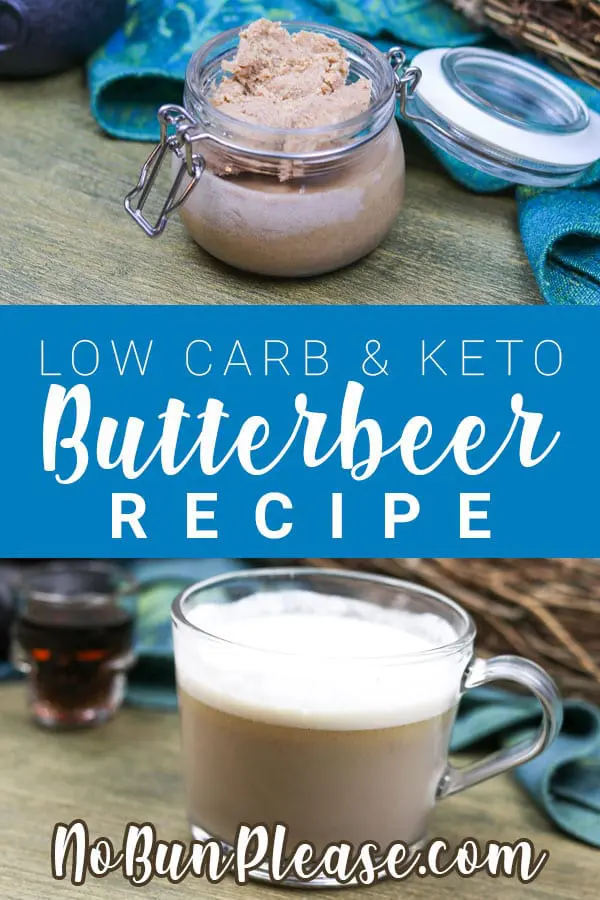 At any rate, the recipes that I did find online varied greatly -- some with sugar and water, pumpkin juice, and even frozen butterbeer.
Out of desperation, I decided to take matters into my own hands. With a few flicks of my wand I was off to the kitchen with a warm drink in my heart.
My Butterbeer recipe is the perfect beverage for a holiday gathering, a Harry Potter themed party, or pick-me-up on a cold winters night. In fact, even Madam Rosmerta of the Three Broomsticks would be so lucky to get her hands on this one!
Steps to Preparing Butterbeer
Pour boiling water into mug
Add spoonful of butterbeer mixture
Stir, froth or use an electric mixer to combine
Optional: Finish it off with whipped topping (or a scoop of Keto friendly ice cream) and sprinkling of nutmeg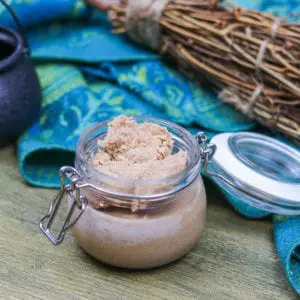 Keto Butterbeer Mixture
You'll think you've been instantly transported back to Hogsmeade with my Keto Butterbeer recipe. Careful, these go down quite easy!
Ingredients
½

cup

butter

unsalted

½

cup

heavy whipping cream

½

cup

golden monkfruit sweetener

¼

cup

erythritol

powdered

1

teaspoon

salt

1

teaspoon

cinnamon

½

teaspoon

vanilla extract

¼

teaspoon

nutmeg

¼

teaspoon

ginger
Instructions
In a sauce pan, melt butter over medium heat. Stir occasionally until a light brown color develops (approximately 8-12 minutes)

While butter is browning, combine rest of the ingredients (aside from the vanilla) and stir to combine.

When butter is slightly browned, turn heat to medium low and stir in the other ingredients. I find that a whisk works best.

Add in heavy whipping cream and whisk to combine. Stir every so often. As soon as you start seeing a few small bubbles, remove from heat.

Cool mixture for at least 20 minutes before pouring into a glass jar. Mixture can be used immediately or cooled in the fridge for up to 5 days.
To Prepare the Butter Beer
Add half a cup of boiling water to your favorite mug.

Take a heaping spoonful (or 2) of your Butter Beer mixture and melt it in the boiling water. Blending with a milk frother works really well.

If you're feeling boozy, add a shot of spiced rum. This recipe is delicious either way!

For something extra indulgent, add a spoonful of whipped cream!
Nutrition
Serving:
1
tablespoon
Calories:
159
kcal
Carbohydrates:
1
g
Fat:
17
g
Tried this recipe?
Tag @nobunplease or #nobunplease on Instagram!
The butterbeer mixture will come out sort of like a thick butterscotch topping. The flavor is amazing and deep -- it would probably go great in coffee, too.
Tips & Substitutions
Make the butterbeer mixture in advance if you'd like to serve this at parties or have it ready to go after a long day at work!
This recipe is just as delicious without the rum, but they do go down fairly easy! Be careful.
If you'd still like to leave a taste of rum without a shot of alcohol, consider adding rum extract.
If you don't have any of the golden sweeteners (or those meant to be a brown sugar substitute), you can use all regular sweetener.
While it's very unlikely to be Keto-friendly, the Wizarding World of Harry Potter at Universal Studios serves their own version of the wizard drink.
Are you a Harry Potter fan? Would you try Butterbeer?