"This post contains affiliate links, and I will be compensated if you make a purchase after clicking on my links."
I love Indian food. There is just something about the food from this area that feels comforting and satisfying. The heavy mix of spices, rich ingredients, and simplicity always keep me coming back for more.
While following a keto diet, I find that there are some staples at Indian restaurants that I can generally still enjoy. Most dishes have proteins that are not breaded and the sauces aren't overly sweet... or so it seems. That is my problem with eating out at restaurants that you can't quickly access the nutritional information for. You just never know what ingredients go into making a dish. It could be thickened with flour or have added sugars, and it is not always easy to determine that.
That's why I find that cooking at home is the best way to ensure that there are no hidden carbohydrates in my food. Not to mention, it's cheaper AND you have leftovers for days. Who doesn't like to save money?
I have a few favorite go-to Indian dishes, but by far my favorite is Palak Paneer. Palak Paneer, for those not familiar, is a pureed spinach dish with cubes of paneer (a salty, firmer cheese) and blend of aromatic spices. I have scoured the internet for recipes and after making some adjustments, I have come up with a very keto-friendly version that can be made at home.
Palak Paneer is a simple dish that could easily be used as a side dish, entree or even an appetizer!
All ingredients for Palak Paneer can be found at your local Indian Grocer or specialty store. You should also be able to find most of these spices online, including at Amazon.com.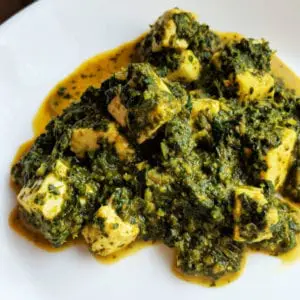 Palak Paneer (Low Carb & Keto)
Ingredients
16

oz

paneer cheese

2

cups

water

as needed

2 10

oz

packages of frozen spinach

thawed and drained

¼

cup

sour cream

2

tablespoon

ghee or coconut oil

1

tablespoon

minced onion

1

tablespoon

minced garlic

2

teaspoon

ground coriander

2

teaspoon

turmeric

2

teaspoon

garam masala

2

teaspoon

red pepper flakes

you can omit this or adjust it depending on what spice level you like

2

teaspoon

curry powder

2

teaspoon

ground cumin

2

tablespoon

minced ginger

1

teaspoon

salt

2

tablespoon

tomato puree
Instructions
Drain excess water from spinach and place in a blender with sour cream. Use excess water as needed, just to make sure spinach is pureed. Set aside.

If paneer is not cubed (most of the time it's a block), cut into ½ inch cubes and set aside.

Place oil in a skillet with all spices and tomato puree. Cook on low until aromatic, about 2 minutes.

Once you have heated all your spices, increase the heat to medium, add your spinach, and at least one cup of water.

Once your mixture is heated, add your paneer cubes and turn the heat to low. After 5 minutes the mixture should be completely heated and you can turn the heat off, but I prefer to cook mine for about 15 minutes to really meld the flavors together.
Tried this recipe?
Tag @nobunplease or #nobunplease on Instagram!
Substitutes and Modifications for Palak Paneer
If you don't have access to an Indian grocery store, there are some alternatives that you can use in place of the paneer cheese.
Farmer's cheese, tofu, ricotta, cottage cheese, queso blanco and panela can also be used to impart that delicious creaminess!
To make this Keto dish vegan-friendly, use tofu and be sure to use oil instead of ghee.