"This post contains affiliate links, and I will be compensated if you make a purchase after clicking on my links."
This recipe for cheese taco shells uses a microwave to create tasty, crunchy vessels for all of your favorite toppings!
These are great for Taco Tuesday and the kids will love them, too.
Low carb taco shells are gluten-free and comes together in just minutes.
Step 1. Cheese circles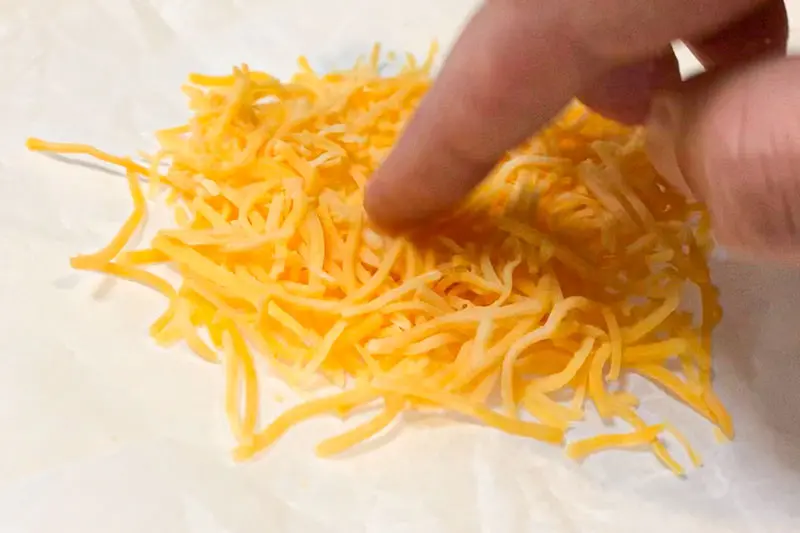 On a microwave safe plate lined with parchment paper, add your cheese and form it into a circle shape. Try to make it approximately the size of a tortilla.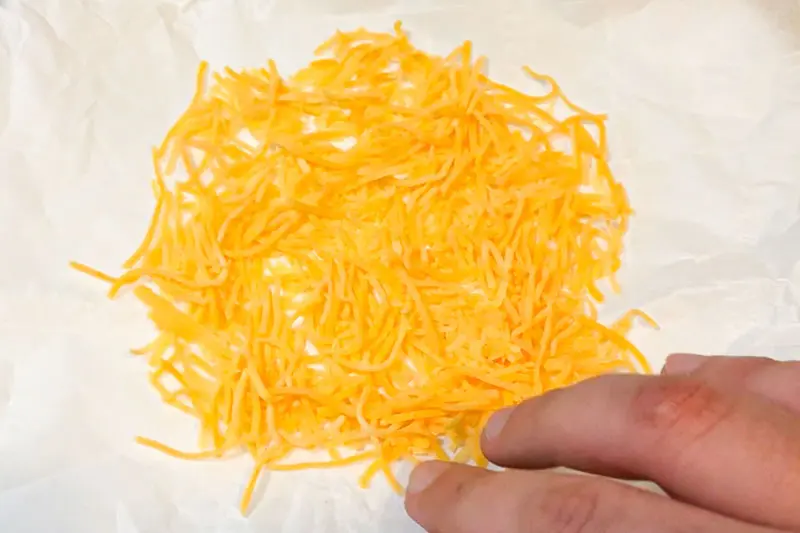 If you find that your parchment paper is rolling up and causing issues, try crumpling it up before you start. This makes the paper more pliable and easy to manipulate.
Pro Tip: Sprinkle the cheese with taco seasoning for even more flavor!
Step 2. Microwave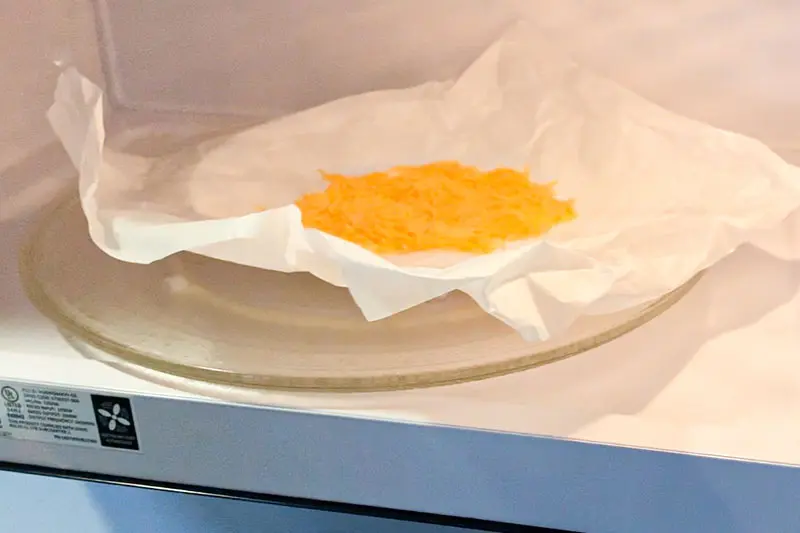 Once your cheese is shaped to your preference, microwave the cheese for roughly 40 - 60 seconds. This will vary depending on the power of your microwave.
At first, the cheese melts, but it eventually starts to become firm and crispy.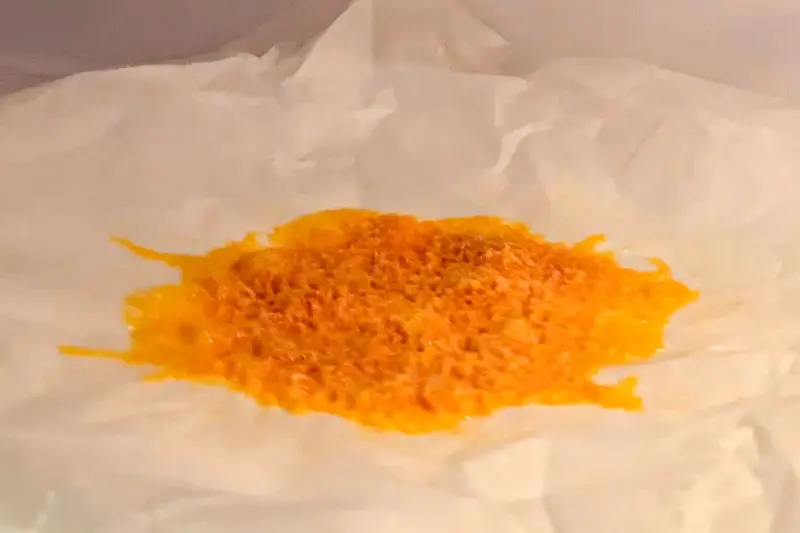 Keep a close eye and when the edges start to brown and get crispy, remove your cheese shell from the microwave.
Step 3. Form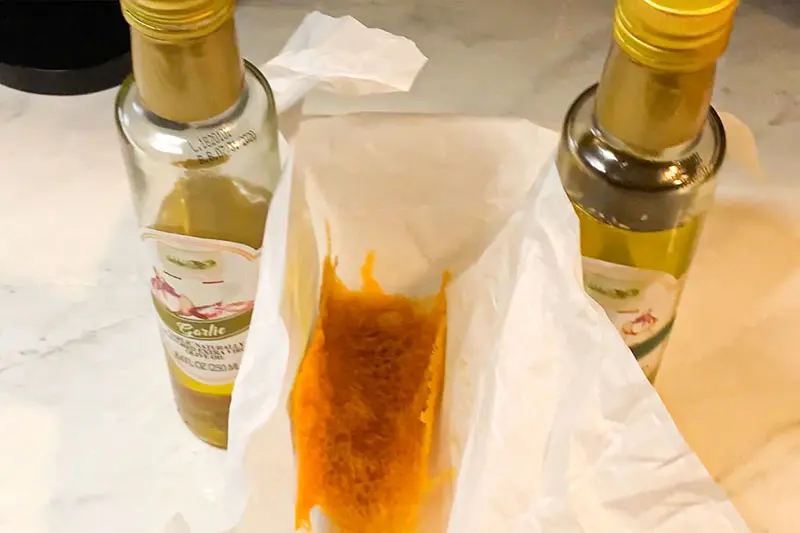 Immediately after removing from the microwave, bend your parchment paper to position the cheese into a taco shape.
Secure it between two solid objects — I use two olive oil bottles. It is important that you do this before it cools completely.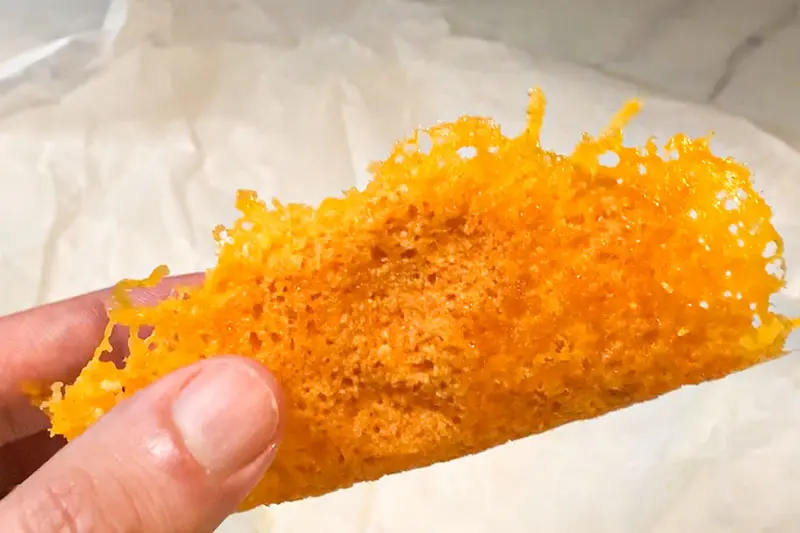 After a minute or so, the Keto taco shell will harden, forming the low carb "crunchy taco shell."
Step 4. Toppings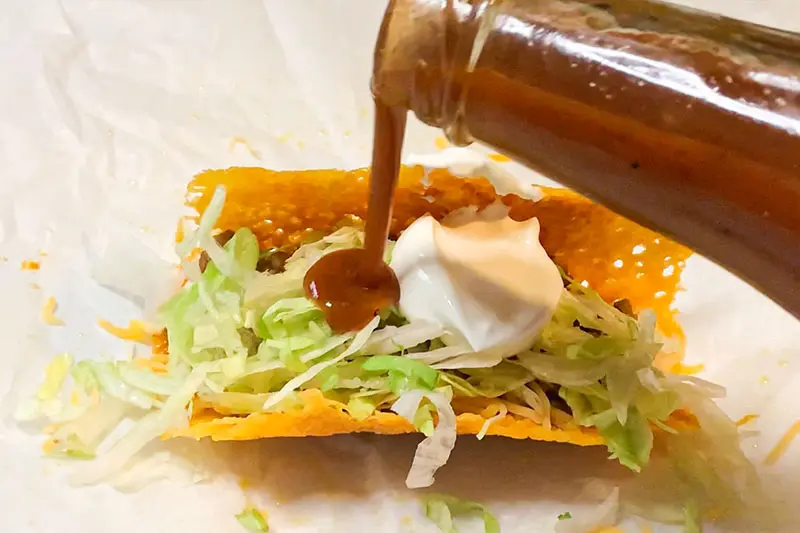 After your taco shell has hardened, it should easily stand up to all of your favorite toppings.
I make mine just like Taco Bell with seasoned taco meat with cheese, shredded iceberg lettuce and sour cream. I top it off with taco sauce, of course!
By the way, did you know that Taco Bell offers low carb options as well? If I'm on the go, I'll sometimes swing by the drive-thru and pick up a protein bowl.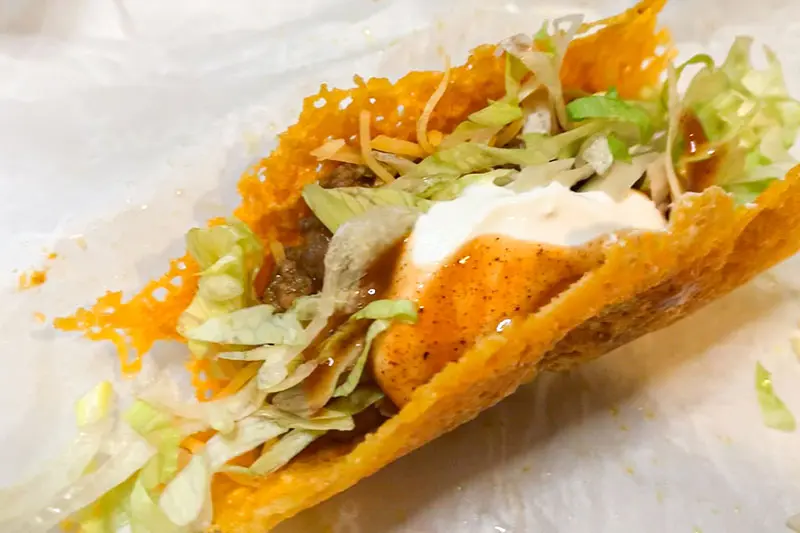 Can I make these in the oven?
Yep, but it does take a little extra time. You have to be extra careful forming them too, as you'll have to remove them from the parchment.
I highly recommend checking out my Crispy Cheddar Crisps recipe if you decide to go with the oven.
How do I make multiple shells in the microwave?
Unfortunately, you have to make these babies one at a time. But the good news is that they take almost no time at all!
Between batches, simply wipe your parchment down with a paper towel and repeat the process. The paper towel will sop up any excess oil and keep the mess minimal.
Taco Variations
If you're looking for something a little different than a typical taco, switch it up by:
Swapping ground beef for chicken or pulled pork
Adding different crunchy greens like romaine, arugula, cilantro or spinach
Trying garlic aioli, chipotle mayo or even Greek yogurt in place of taco sauce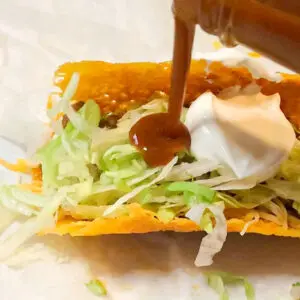 Cheese Taco Shell
Nothing compares to a crunchy cheese taco shell piled high with all of your favorite toppings!
Ingredients
¼

cheddar cheese

shredded
Instructions
On a microwave safe plate lined with parchment paper, add cheese and form into tortilla size.

Microwave for 40-60 seconds, until cheese is slightly golden and crispy.

Immediately after removing from the microwave, form the shell between two solid objects. Let it cool for about a minute.

When the shell had hardened, top with all of your favorite toppings.
Notes
Less than 1g net carbs per serving
Nutrition
Calories:
100
kcal
Carbohydrates:
0.5
g
Protein:
7
g
Fat:
9
g
Tried this recipe?
Tag @nobunplease or #nobunplease on Instagram!
This recipe is so simple and serves as a great base for all of your favorite flavors.
Because the only ingredient is cheese, these work out to just 0.5g net carbs per serving.
Customize it to fit your exact tastes and stuff it with whatever ingredients you have on hand.
What would you put in your Keto Cheese taco shell?