"This post contains affiliate links, and I will be compensated if you make a purchase after clicking on my links."
When I visited Columbus, Ohio for the first time in 2009, I started my culinary excavation at a locally-recommended diner called Cap City. On the outside, it looked like a very traditional run-of-the-mill diner you'd see anywhere. On the inside, it was like being transported to a chic European bistro.
Already intrigued by the surprising interior, I scoured the menu and came a cross a very interesting appetizer consisting of potato chips, Maytag blue cheese, alfredo sauce and scallions. Needless to say, I was confused, but my curiosity was piqued.
The waiter brought out what seemed to be a mountain of crispy potato chips drizzled with a creamy alfredo sauce, and topped with the pungent Maytag blue cheese.
It was heaven. It was slightly warm and packed a great crunch. I was immediately hooked.
Now that potatoes are essentially a no-no on a ketogenic diet, I had to find a different base to provide that familiar crunch and was also low carb. Enter pork rinds.
To assemble, just pile a mound of pork rinds on a plate and drizzle with as much alfredo sauce as you'd like (it's best warm, in my opinion). After, top with Maytag blue cheese (traditional, other brands would work). For a deeper depth of flavor, I drizzled a very tiny amount of white truffle oil over top. Be careful with truffle oil; a little goes a long way!
I thought it might be a little silly to make a recipe out of this as it is mostly just assembly, so instead I decided to include a homemade alfredo recipe that is not only low-carb, but also gluten-free!
I'm honestly not a fan of pork rinds by themselves, but when mixed with other things, I quite like them. Thanks to my Columbus experience and new lifestyle of eating, this is and will be a major favorite in my keto repertoire.
Macro/Nutrition: For ⅙ of the Alfredo sauce recipe, this come out to roughly 280 calories, 2 carbs, 2 NET carbs, 27 grams of fat , 0 grams of fiber and 7 grams of protein per serving!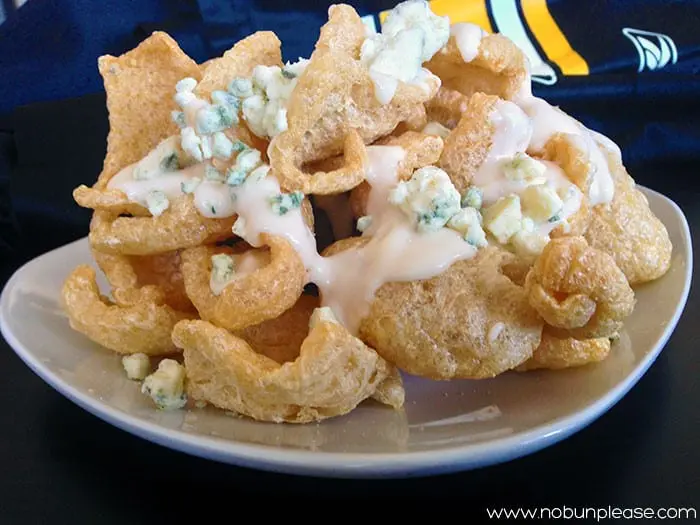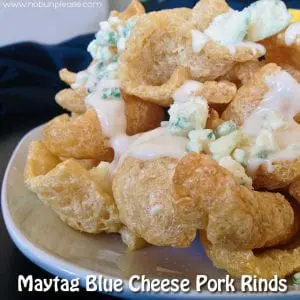 Maytag Blue Cheese Pork Rinds
Ingredients
8

oz

cream cheese

softened

¾

cup

heavy cream

2

oz

parmesan cheese

grated

½

teaspoon

crushed red pepper

salt and pepper to taste
Instructions
Heat cream cheese on low until melted.

Gradually add in heavy cream, continuously stirring.

Once those are combined, add cheese and spices.

If mixture is a little too thick, add water in small amounts to thin it out.
Tried this recipe?
Tag @nobunplease or #nobunplease on Instagram!
Has a restaurant dish ever inspired one of your kitchen creations? Comment below!