"This post contains affiliate links, and I will be compensated if you make a purchase after clicking on my links."
For a while now, I've been seeing the Ketologie shakes all over Instagram and I'll be honest -- I automatically wrote it off as something that wasn't for me.
I'm not typically a person that consumes shakes -- I prefer to eat my calories. However, I recently received a sachet of the strawberry flavor in my Keto Krate and I thought it was delicious! I knew I had to try the others, too.
This is an honest review, along with some of my thoughts on the Ketologie shakes.
What is Ketologie?
Ketologie is a company that has formulated nutrition shakes and supplements for those specifically on a ketogenic diet.
The shake's label highlights that the product is made up of 75% fat, 20% protein and <2% net carbohydrates.
For following a standard Keto approach, that's a perfect macronutrient ratio breakdown.
There are three different flavors to choose from: strawberry, chocolate and vanilla.
For a standard 2 scoop serving of Ketologie, you're looking at:
300 calories
25g fat
0g net carbs
15g protein
Ingredients: coconut oil, grass fed bovine collagen protein, organic erythritol, natural vanilla flavor.
Contains less than 2%: sea salt, xanthan gum, organic stevia, soluble corn fiber, sodium caseinate, sunflower lecithin
Depending on the flavor, there may be another additional ingredient. For example, the chocolate flavor contains real, dutched cocoa powder.
Honestly, I was surprised to see that it's mostly made up of natural ingredients. The only ingredient I'd question is the soluble corn fiber. I seem to handle it fine, though!
Ketologie recommends that you mix each shake with water or your favorite unsweetened nut milk. I tried it both ways and honestly, I prefer it with just water.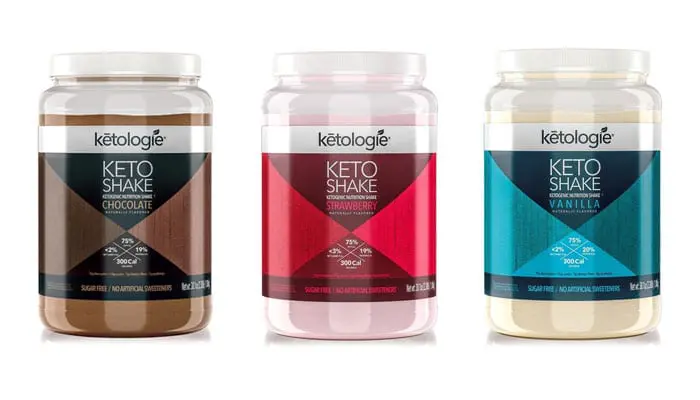 Who is Ketologie for?
I would say Ketologie is perfect for those of us who are looking for:
a Keto-friendly shake that just happens to taste delicious
a snack or meal replacement beverage
a source of drinkable energy
a means to strengthen hair, skin and nails
I don't believe Ketologie is for everyone, and I'll tell you why.
First and foremost, most shakes tend to focus on protein and are used as a means to recover and/or put on muscle. The main ingredients are typically sources like whey, egg or plant proteins.
Ketologie isn't like most Keto protein shakes -- I like to think of it as an energy/beauty type of shake.
The main reason is because the major protein source comes in the form of collagen -- which is not a complete protein. This means that it does not contain all 9 essential amino acids. However, the amino acids that it does contain are types that we don't typically get enough of in our diets.
Collagen protein has been shown to strengthen hair, skin and nails, as well as aid in repairing a damaged gut lining.
I definitely noticed faster and stronger nail growth. My hair also grew in thicker and faster, too.
With that being said, if you're looking for a shake to use as a protein supplement, this probably isn't what you're looking for.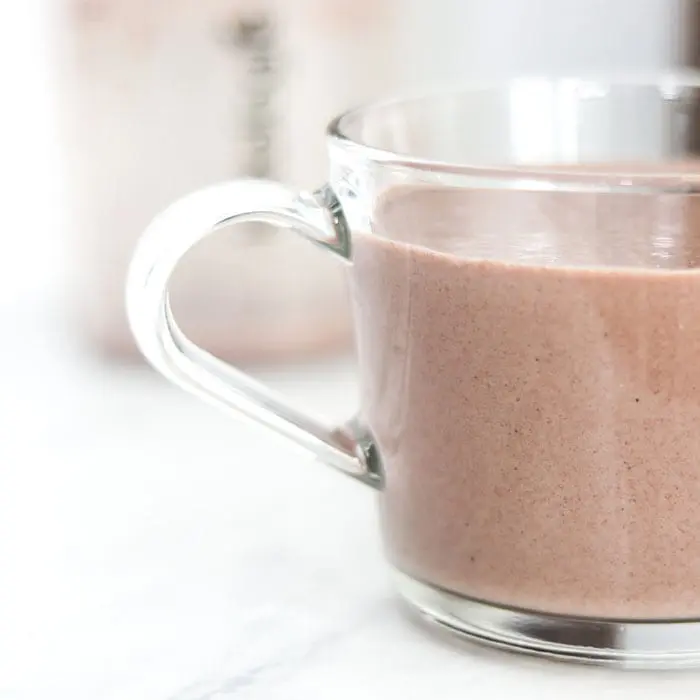 How's the taste?
The flavors of the Ketologie shakes are off the charts -- I was shocked by how delicious they actually are.
The strawberry flavor reminded me so much of one of my favorite treats from my childhood -- Strawberry Pocky!
The chocolate flavor is the perfect substitute for chocolate milk... it's amazing. Perfectly sweetened.
And finally, the vanilla. If I had to choose a favorite, it's this one. The flavor reminds me of three things specifically: the filling between Oreo cookies, vanilla tootsie rolls, and the vanilla frosty from Wendy's. All mixed into one.
There was absolutely no aftertaste from any of the flavors.
What's the consistency and texture like?
The main issues I have with most shakes are grittiness and a funky aftertaste. I can confidently say that Ketologie has neither of these qualities.
When mixed, it's very smooth with no grittiness. It also has a very satisfying mouth-feel, which is something I pay particular attention to. This is thanks to the high fat content.
A blender or shaker bottle is required, otherwise it can be a little clumpy. Take that into consideration.
Can I make other things with Ketologie?
Absolutely! I think the versatility of Ketologie is what makes it most appealing to me. In addition to being a tasty beverage, it also mixes well with other flavors and ingredients.
Here are some things I've experimented with thus far:
Chocolate mousse - add some heavy whipping cream to your Ketologie chocolate shake and whip for a luxurious chocolate mousse.
Nut milk replacement - this has been a game changer for me. While I love nut milks, I hate the amount of packaging that often comes along with them. I have been using Ketologie in place of almond milk and it works out much better for me. I can also whip up a batch as I need it, too!
Dessert fat bombs - yep, you read that right! I've been using Ketologie to make fat bombs as well, and they're really good! For a super simple recipe, I just mix 2 oz of cream cheese (room temperature) with 1 scoop of Ketologie and freeze. I like to add a few chocolate chips to complete the look.
Orange Julius, who? - in addition to the shake mixes, I also tried the Mandarin Turmeric elixir. Just for fun, I added a scoop to my vanilla shake and discovered it tastes exactly like an Orange Julius!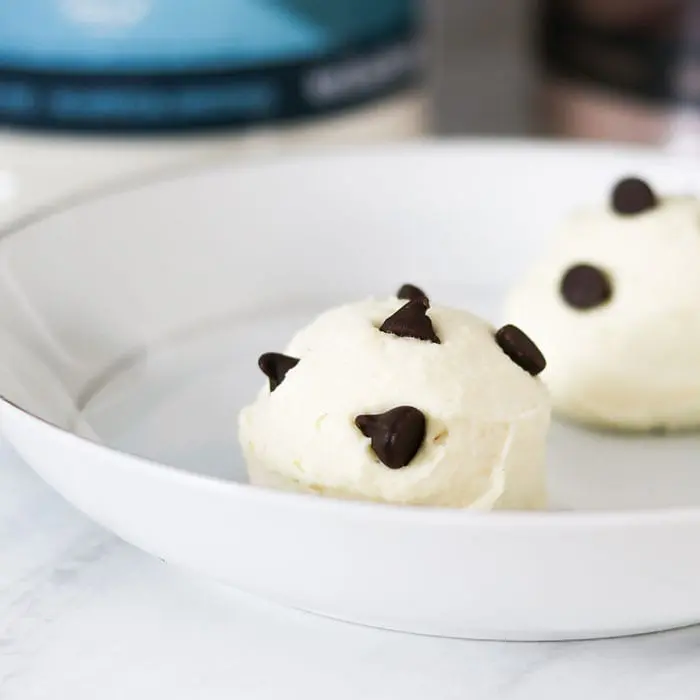 Price
Price was probably the biggest hang-up I had with this product offering. Each shake comes out to roughly $2.50/serving.
This actually isn't that bad of a price, considering you'd pay that (or more) for any of the ready-made shakes in the stores. I tend to use 2 scoops when I want a very indulgent shake as a dessert.
To stretch it a little more, I tried mixing it with just one scoop. It still tastes AMAZING, it's just not as thick. This is the consistency I like using for a nut milk substitute.
If you were to use just one scoop, it works out to $1.25 per serving.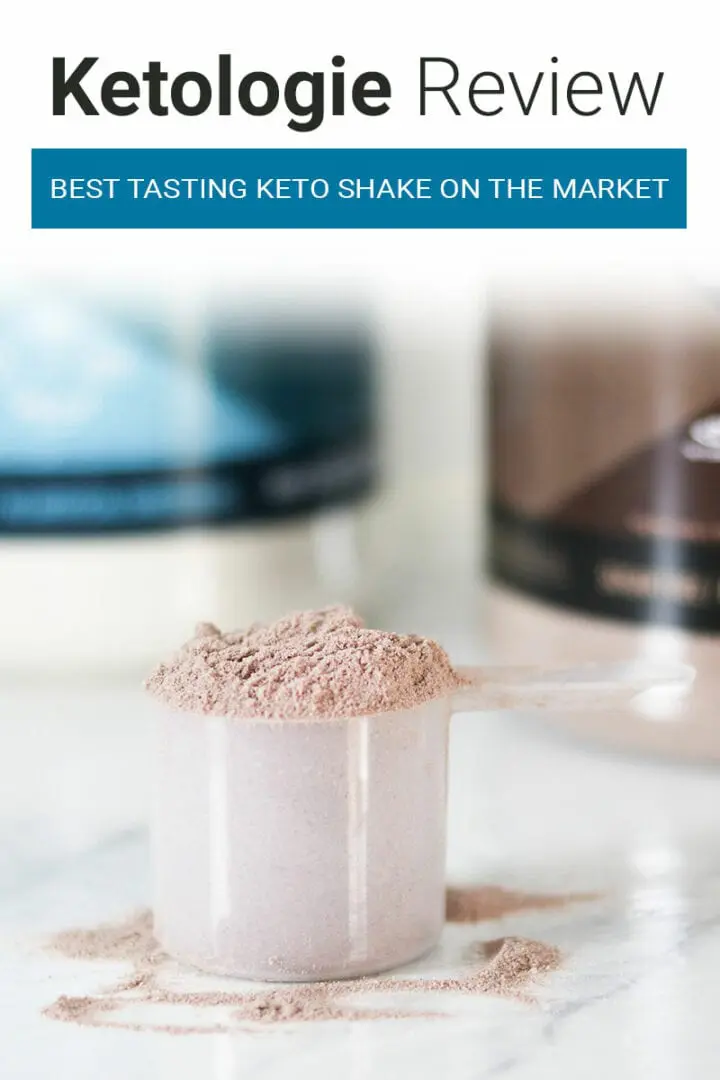 Final thoughts on Ketologie Shakes
Bottom line, I would say this is one of my favorite Keto products and I would recommend it.
Some additional thoughts I had:
The shakes are loaded with healthy fat from the coconut oil. In addition to the energy it provides, coconut oil is another ingredient that is excellent for the skin.
Ketologie shakes are very satisfying. Wanna know why? Those 25g of delicious, high quality fats!
Thinking about travelling or want to share with friends? Ketologie offers their shakes in packets, too.
Check out some of the other Ketologie products -- they even have powdered bone broth!
Order Ketologie
Have you tried Ketologie shakes? Let me know what you thought in the comments!