"This post contains affiliate links, and I will be compensated if you make a purchase after clicking on my links."
One of my ultimate comfort foods is a big plate of french fries topped with bacon and cheddar cheese! While I do still sometimes indulge in these (no worries, I still make everything myself without gluten/strange ingredients), I am always looking for side dishes that I can make on a more regular basis that are equally delicious and a little lighter in carbohydrates.
After hours of researching root vegetables, I decided I would attempt to make fries out of daikon radish!
A daikon radish? What the f*&% is that? I immediately thought the same thing. Apparently, daikon radish is a very popular vegetable in Asia that is used in many different soups, salads and fermented foods.
First off, I have never cooked with a daikon radish before I started on my quest for a low carb french fries substitute. It was a new vegetable to me and I was actually kind of freaked out by it's size. Couple that with the fact that these are so hard to find in Pittsburgh (I had to go to an Asian grocer) and you'd say this was quite an expedition of an experiment.
Fortunately for me, the time it took to make these fries definitely paid off and I've since made these weekly.
The outcome of this recipe is a crispy exterior and a soft interior, with just a slight natural sweetness. This makes it the perfect vehicle for herbs and spices.
I really enjoy the versatility of this recipe most of all. Some days, I like to spice these with cinnamon and cumin. Others, I just like them roasted with salt and pepper, then topped with raw cheddar cheese and bacon. My favorite way to eat these however, is drizzled with truffle oil and topped with a pungent bleu cheese and sprinkling of chives.
Initially, I was intrigued by the fact that daikon is just a fraction of the carb count in comparison to potatoes. After all was said and done, the unique and subtle flavor that these fries naturally give off is what keeps me making these!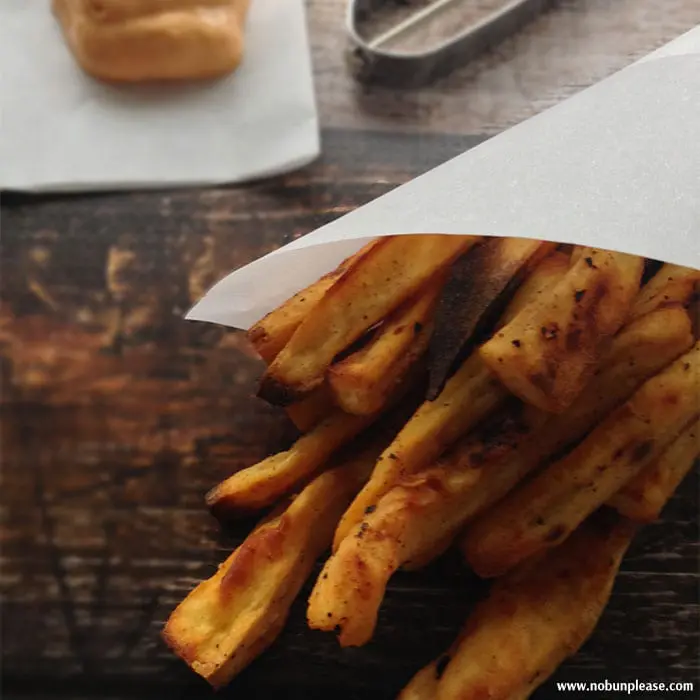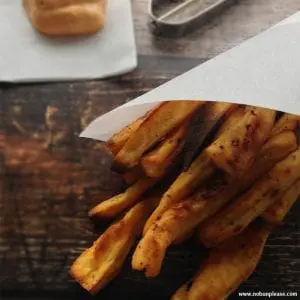 Crispy Daikon Fries
Ingredients
1

daikon radish

peeled and sliced into french fries

¼

cup

coconut oil

melted

1

generous pinch of sea salt

spices of your choice
Instructions
Preheat oven to 475 degrees F.

Peel the daikon radish with a vegetable peeler and then slice into french fry shapes (about three inches long, half an inch thick).

Run under cold water a few times to remove any excess starch and pat dry.

In a large mixing bowl, combine melted coconut oil, salt, pepper and spices of your choice.

Cover daikon radish fries with mixture evenly and spread out onto a baking sheet in a single layer.

Place into the oven for about 15 minutes.

After 15 minutes, flip them and bake for roughly another 15 minutes (baking time will vary for ovens and the thickness of your fries).

After all of the fries are golden brown and crispy, remove from the oven let them cool on an additional baking sheet lined with paper towels.

Serve with a dipping sauce of your choice (chipotle mayo works really well).
Tried this recipe?
Tag @nobunplease or #nobunplease on Instagram!
What's your favorite alternative to french fries? Comment below!