A lot of the questions I receive from my readers are in regards to what Keto essentials I use in my everyday life. Here you'll find a growing list of low carb products that are tried-and-true -- right here in my Pittsburgh kitchen. If it's on the list, I use or consume it. Regularly. No one paid me to put their products here.
Keto Pantry Essentials
Sukrin Powdered Sugar Substitute Sweetener
An easy to blend sweetener unlike the granular ones.
Stevia Liquid Sweetener
---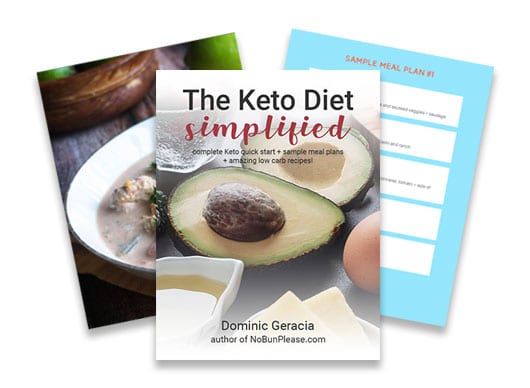 Want a printable version of ALL recipes from No Bun Please?
No ads + Lifetime Updates for just $9.99!
I'll even include my Keto Simplified Guide (exactly how I follow Keto) + Sample Meal Plans as well!
⇒ ⇒ Get it here ⇐ ⇐
---
I like this one because it doesn't have a strong aftertaste.
Keto Friendly Kitchen & Appliances
GoWise Air Fryer
I use this every day. Seriously. Perfect for cooking and heating up leftovers.
Ninja Blending System
I use my Ninja single blend cup daily for smoothies and the food processor is awesome!